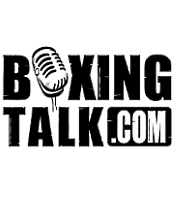 Press release:
Russian heavyweight Ruslan Chagaev, 13-0 (11), and German cruiserweight Alexander Petkovic, 29-2-3 (15), headline a fightcard next Tuesday, Nov. 16, in Cuxhaven, Germany.
The hard punching 26-year-old Chagaev, nicknamed "White Tyson," is facing Croatian Asmir Vojnovic, 22-5-1 (12). Chagev is on a five fight knockout streak with his last victories coming over the Americans Sedreck Fields (KO2), Garing Lane (KO5) and Willie Williams (KO3). European contender Vojnovic is coming off a decision loss to undefeated Polish heavyweight Tomasz Bonin and won the Croatian national title during his three previous victories.
Alexander Petkovic is making his second comeback fight after suffering his first two career losses in consecutive contests in 2003 and 2004. On November 15, 2003, Petkovic dropped a unanimous decision to WBO cruiserweight champion Johnny Nelson and suffered a technical knockout loss to underrated South African contender Baldwin Hlongwane on February 14, 2004. On September 18 Petkovic came back with a convincing unanimous decision over WBF Americas champion Damon Reed.
In Cuxhaven the Universum promoted Petkovic will take on Robert Sulgan, 10-3 (6) from the Czech Republic.
The event is promoted by Spotlight Boxing and will be televised live on Eurosport at 21:30 CET.
The official weigh-in will be on Monday, Nov. 15, at Outfit Cuxhaven, Brockeswalder Chaussee 113, D-27476 Cuxhaven.
FIGHTCARDSuper Lightweight:

Ali Ahraoui vs. Pavol Durdik
Welterweight:

Marco Cattikas vs. Jozef Kubowsky
Super Middleweight:

Lukas Wilaschek vs. Frank Kary
Heavyweight:
Denis Boytsov vs. Aleh Dubiaha
Super Middleweight:

Dimitri Sartison vs. Andrzej Butowicz
Cruiserweight:
Alexander Petkovic vs. Robert Sulgan
Super Lightweight:

Willy Blain (Pro Debut) vs. Francisco Jose Babiano Gomez
Heavyweight:
Ruslan Chagaev vs. Asmir Vojnovic