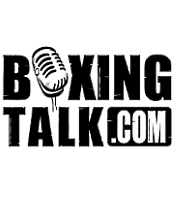 Dawson eyes Alan Green!
Boxingtalk.com recently caught up with undefeated Middleweight prospect "Bad" Chad Dawson 19-0(12) who will step up in class this Friday night live on ShoBox, when he makes his Super Middleweight debut against former NABO Jr. Middleweight champion Ian "The Cobra" Gardner 19-2(7) for the vacant NABO Super Middleweight title. In this one on one exclusive, Dawson makes it clear he'd be surprised if this fight, which will take place in his hometown of New haven, CT, went the distance. "Me personally in my heart, I think that once I connect with one good punch that will be it" he stated with confidence. Read on as he talks about his preparation for this fight, his thoughts on fellow prospect Jaidon Codrington recent loss and potential match up with Allan "Sweetness" Green.
RC: Chad what's going on how's training been for your Friday night bout against Ian Gardner?
CD: Training camp has been good. I have been up in Reno, Nevada training with Jeff Lacy & Winky Wright. So you all ready know that is REAL good training right there. Real good sparring, I mean you know nothing special for this fight against Ian Gardner. He took the fight like on a three weeks notice because a lot of opponents turned me down. I am glad Ian Gardner took the fight though, other wise it looks like I wouldn't have been fighting. So I am just happy he took the fight.
RC: Most of us know Ian Gardner as a very awkward fighter, what can you tell us about him?
CD: I have seen him fight a few times and he has a real awkward style, and he is a southpaw. But I think the size matter is going to be the big difference in the fight.
RC: You feel that you being the naturally bigger guy will be the deciding factor?

CD: I mean yeah, the deciding factor is point blank I don't think he is strong enough, I don't think he has the style to beat me. I mean he beat a lot of good guys with the style he has, but I have fought many guys with that same style and I always came out on top. So I am not worried about his style. The only thing that I am worried about is the referee, because he holds and punches a lot, that is the only thing that I need to be worried about with him.
RC: During a recent press workout open to the media, you boldly stated this fight won't go past five rounds, and despite him being in the ring against very decent opposition, and never been stopped before. That's a pretty bold statement, are you sticking with that as the fight gets closer?
CD: Yeah I am sticking to that, and if he does make it past five rounds and it=goes to the decision I would be really surprised. I am not taking nothing away from him, I know he has a good record, he has fought good guys and he beat good guys, but my whole point is, I definitely know I am a stronger guy. I know my jab is going to dictate the whole pace of the fight. My jab is the whole matter right there that is it.
RC: Many boxing insiders have felt that you are one of the better, least talked about prospects in the sport. Yet, many still don't know much about you. Do you feel that you have to come out on ShoBox Friday night and make this your statement fight against Gardner?
CD: That is why when they called me and asked me about Ian Gardner I took the fight. Because I know that it would be a tough fight, and he beat a lot of good guys and if I beat him that right there would make a big statement.
We did a radio interview the other day, and we both were on the line, and his promoter was like they don't think I have the punching power to beat him, they don't think I am fast enough. They was saying Ian Gardner is going to dance around me, hit me and make me miss all night So I guess that is there game plan for them to box me to death, but I don't know how that is going to work.
RC: I guess your confidence should be that high when you have been sparring for weeks with probably the best southpaw (Winky Wright) in the wor…..
CD: (Cutting in) He doesn't have the style that Winky has, but to get in there with Winky…. I mean to hit Winky is a problem; it is hard to hit him. He has that good defense. I mean this guy is not like Winky's defense, and I think his chin is suspect too.
RC: I spoke to your trainer Dan Birmingham not too long ago and when I asked about you he said is "Chad is awesome, he is going to be my next world champion". That's a pretty big statement coming from a guy that trains one of the pound for pound best in the world in Winky Wright and probably the youngest and most exiting young champion in boxing, in Jeff Lacy. What can we expect new from Chad Dawson under the tutelage of Dan Birmingham?

CD: You can expect a much better fighter and a much stronger fighter. I have been working with strength and conditioning Darryl Hudson (has worked with Lamon Brewster, Shane Mosley, Winky Wright and countless others). Gary Shaw, Dan Birmingham, and Darryl Hudson, those three are the best thing that has happened to me. I mean you are going to see a stronger fighter. My jab is going to be hitting him all night. Darryl has been doing a good job with me, right now I am I still have a few days before the fight and I am already about 171lbs
RC: You just mentioned that Gary Shaw is one of the best things to happen to you, and everyone in the business knows that he is one of the best at getting fighters in position for huge opportunities, what has it been like working with him and how motivated are you about your future if all goes well Friday night
?
CD: I am excited, he told me before I signed with him that this was going to be the best thing for me and that he is going to take of me. He said everything that I need, he is going to handle, and since then he has lived up to every word he said, so I am happy with him. He is a great promoter, I look at the way he moves Jeff (Lacy), and that is the way promoters should move fighters.
RC: Now, again you boldly predicted a an early K.O. in the first half of the fight, you also are going to be in front of your hometown crowd on National television in what you said is going to be your statement fight. That's a lot of pressure and all that can potentially turn out to be disastrous if you are not careful against a guy like Ian Gardner. How will you manage to keep focused fight night and not let any of that pressure get to you?

CD: You know the other day I did an interview with Showtime, and the guy said something like that. He mentioned Jaidon (Codrington, one of the chin checkers just got knocked out a week or so live on ShoBox, and asked could that be one of the reasons young up and coming fighters are getting knocked out, because they are in the spotlight live on television in big fights. But to me, that doesn't really have nothing to do with it. I mean if you are a fighter, you are a fighter man. If you go in the ring, you just go in the ring; you go in the ring to fight. You are not worried about the fans on the outside; it is just you and the other fighter in the ring. It is just you and the fighter in the ring. I mean that is how I look at it. If the fight does go to the decision I would be very, very surprised. Me personally in my heart, I think that once I connect with one good punch that will be it.
RC: So are you saying that if you hit him with a good clean shot in the first it can be a wrap for him?

CD: Yeah, truly, I believe once I connect that is going to be it. I am definitely much stronger since I have been with Darryl, and I have been training with these dudes for like Six months already. I got bigger, I am stronger, and I couldn't hold 160lbs anymore. Since then I have really had time to put some muscle on, and just train and not have to worry about starving myself to death. So I definitely feel that I am much stronger than he is.
RC: Working with a young world champion like Jeff Lacy, and working with a great fighter like Winky Wright, how has that motivated you, and what has that done for your confidence to be able to work with those guys?

CD:  I definitely hold me own too, don't get that wrong (Starts to laugh). But just getting in the ring with those two just lets me know I am on a different level from these other prospects. I mean Ian Gardner, he is a good prospect, but I think just from me sparring with those guys, and doing good with those guys, I feel that puts me on another level from Ian Gardner. He said that I haven't fought the level of opposition he has fought, but my sparring alone makes up for the opposition he has faced. I mean… I spar with Winky and Jeff Lacy; I mean the guys that he has fought are no where near as good as those two right there. So that is how I look at it.
RC: OK, moving away from the topic a bit, what are your thoughts on what was suppose to be a very intriguing match up between two Super Middleweight prospects, Allan Green and Jaidon Codrington on ShoBox?
CD: I think that was just the promoter or manager moving a fighter too fast. I mean that was a big step up in competition for him, 9-0 versus 17-0. I wouldn't have done it.
RC: What are your thoughts on Allan Green as a fighter?
CD: He is a good fighter; I am looking forward to that fight too.
RC: (Despite Gardner being an EXTREMELY tough task for Dawson, I think about the possibility of Dawson and Green facing one another, and after I stopped drooling I had to ask) Has there been any discussions that providing you are successful Friday night against Gardner, a potential fight  between you and Green will take place?
CD: That same night (November 4th) we started talking about it. I am supposed to be fighting December 10th on Winky Wright's undercard at the Mohegan Sun in Connecticut, so hopefully we can do it then if everything goes right for this fight.