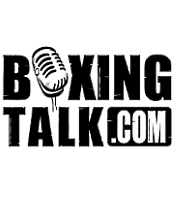 After his impressive showing this Past Friday night on ShoBox against Ian "The Cobra" Gardner 19-3(7) to pick up the vacant NABO Super Middleweight title, "Bad" Chad Dawson 20-0(14) was nice enough to speak with Boxingtalk about his performance "I did what I told everybody I was going to do, except I didn't get him as early as I thought I would. He is a good survivor. stated the 21 year old Southpaw from New Haven, CT. and then added "Before I watched it on T.V., I thought maybe a B-, but then I saw it on T.V. and now I would say it was B+ or A-" In this one on one exclusive, Chad lets us in on his future plans, which consist of his next bout on taking place on December 10th (On the Wright-Soliman undercard in CT), an appearance on the recently announced Lacy-Calzaghe unification bout undercard in Manchester, England) on March 4th, his desire to be world champion in 2006, plus much more, read on as you don't want to miss what else he had to say.
RC: Chad, give us your thoughts on your recent 11th round TKO victory over Ian Gardner to become NABO Supper Middleweight champion?
CD: I felt good, and I feel good now. I did what I told everybody I was going to do, except I didn't get him as early as I thought I would. He is a good survivor; I knew I had the size advantage and that I was the stronger fighter, so I didn't really have too much to worry about going in. Before the fight, when I was talking to him and his promoter on the radio, they said, "We don't think he (Chad) has the punching power" but I guess I showed them wrong
RC: It kind of look like he wasn't really into the fight, and he was kind of looking for a way out from the fifth rou…..
CD: (Cutting in) I know, I caught him with some good shots. And trust me everything I hit him with, he felt. I caught him with two good body shots, I knew after the second round that there was now way he could win, and he knew that.
RC: How did you manage to stay focus on him and not be distracted by his antics, I mean he was doing some pretty crazy things in there that would have distracted 9 out of 10 fighters. You looked a little frustrated but you didn't let it affect your performance, how did you prepare for that?
CD: I am a real fighter man; all I want to do is fight. I wasn't really worried about the tactics he was doing because I knew that is what he does. I know he is a crazy fighter, so I just stayed focus on what I was trying to do, and that was trying to knock his head off. I knew that all I had to do was get one good shot in and that would have been it.
RC: (Jokingly) Come on Chad, be honest, did you have Jeff Lacy and the sparring partners you worked with in the gym do break dancing moves to help you ….

CD: (Cuts in) (Starts to laugh) Ahh Man. Actually Jeff is fighting Calzaghe and I will be fighting out in England too, but I am going to be Jeff's main sparring partner for that fight.
RC: All kidding aside, what actually went through your mind when he (Gardner) bust out that break dancing move on the canvas?
CD: (Starts to laugh) actually in my head I was laughing. It was funny to me. I was laughing in the inside, I said to myself ahh man look at this dude. All I could think about after the fight was that I think he has head problems or something. But to me he kind of disrespected the sport by doing that. 
RC: Looking back on your performance, do you feel you could have taken him out earlier, or do you feel it was best to take your time and not risk it against an awkward guy like him?
CD: I feel like I could have taken him out earlier, but I also felt that it was better that I play it safe. I didn't want to get caught with a wild punch. You know when I am focused on one thing, and that was trying to knock him out. You just focus on that one thing and you forget about everything else. I might have tried to throw a flurry trying to knock him out and let my hand down or something and he might have caught me with a lucky punch. So I just stayed calm and stayed cautious, I knew the victory was going to come.
RC: What do you feel you learned from that fight?

CD: Patience, Patience and timing that's it right there.
RC: How would you rate your performance overall?
CD: Before I watched it on T.V., I thought maybe a B-, but then I saw it on T.V. and now I would say it was B+ or A- because he is an awkward fighter and for me to overcome that, that is a big thing.
RC: How did you feel actually being at a168lbs for the first time in which you actually used a strength coach to prepare you to fight at that weight?
CD: Actually I only weighed in at 166lbs. I think the strength and conditioning Coach Darryl Hudson; he came in and was a big key factor to it all. I felt real strong, mentally and physically I felt strong. I just felt so strong, I was eating the right food, and training properly in training, I felt like an Animal the other night.
RC: Before the fight, you mentioned that you will be fighting December 10th, and you said that hopefully you and Allan Green can do it there, but a fight with you and Allan would definitely have to be a T.V. so it pretty much can't take place then. With that said, what type of opponent can we expect to see you in with on the 10th on the Winky Wright Sam Soliman undercard?
CD: I don't know, I just fought 11 rounds. So I don't know, whoever Gary Shaw puts in front of me, I will fight anybody right now. 
RC: After the fight, were their any discussions about a possible match up between you and Allan Green?
CD: Nah, I haven't got a chance to speak to Gary Shaw yet, I did speak to my manager and they are looking for an opponent for me for the 10th as we speak.
RC: If all goes well on December 10th, what's the plan for 2006 with Chad Dawson and GSP (Gary Shaw Productions)?
CD: I want to be a world champion in 2006, that's my year.
RC: Obviously Jeff Lacy is one of the key players in the division if not THE key player in the division, and you guys are promoted by the same promoter. How would that work out? I mean is Gary going to send you on a different route and have the two of you meet up later? How would that work?
CD: I mean I don't know I will go anywhere to fight for a title. I know Jeff and Calzaghe have that big fight coming up, and it would be a BIG pleasure if I can get the winner of that fight.  But you know… I don't know, we are promoted by the same promoter so I don't know what is going to happen, because I am going to stay at 168lbs definitely, so it has to happen sometime.
RC: So as of right now you feel you are ready for the Joe Calzaghe –Jeff Lacy winner by the end of this year?
CD: (With no hesitation) Yeah, definitely. I think I am ready right now
RC: Wow, that's a pretty big statement…what are your thoughts on the other champions at 168lbs other than Calzaghe and Lacy
?
CD: Like I said, I am happy right now. As long as I am in the gym the way I have been, I think I can hang with any of those guys. As long as I am in the gym, and I am in shape and I am doing what I am suppose to do. I have confidence in my talent and my ability, and I know I what I can do in the ring.
RC: Some may wonder about that, but then again you have sparred with Jeff Before, so I am sure you have more of an idea of how that went down. But another factor is you guys are trained by the same trainer (Dan Birmingham), how would that work?

CD: Well that is another thing; I mean honestly as long as we have the same trainer and same promoter I don't think it will ever happen. I think Jeff is really thinking about going up to Light heavyweight and it is an option that I might go up to Light Heavyweight, but like is aid I felt so good at 168lbs that I don't think I am going to go up to Light Heavyweight
RC: I'm assuming that you and Jeff Speak every now and then, have you guys actually ever spoke to one another about facing each other?

CD: Nah we never talked about that. Actually we barely even spar, when sparred twice, and when we are in the gym we don't really spar. I mean we spar other people but we don't normally spar each other.
RC: Chad, before I let you go is there anything else you would like to add in closing?

CD: I just want to thank my whole team, my manager, my promoter (Gary Shaw) my trainers, and Showtime. I want to thank you Ray, and Boxingtalk.com for showing me love. I am just looking forward to bigger and better things in 2006.
Send questions and comments to: ray@boxingtalk.com