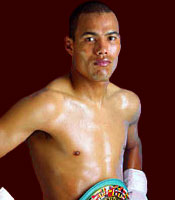 In the past 12 months, there have been several major upsets on SHOWTIME CHAMPIONSHIP BOXING, including most recently Carlos Baldomir over Zab Judah and O'Neil Bell over Jean-Marc Mormeck on Jan. 7. Among the favored boxers to come up short on America's No. 1 Boxing Network in 2005 were Kostya Tszyu, who fell to Ricky Hatton in the consensus Upset of the Year, Wayne Braithwaite (Guillermo Jones and Mormeck), Owen Beck (Ray Austin) and Cory Spinks (Judah).
Jose Luis Castillo is aware of the risks involved any time he steps into the ring – and that anything can happen on SHOWTIME CHAMPIONSHIP BOXING - but the two-time World Boxing Council (WBC) lightweight champion is primed for a top effort and says he will not take anything for granted when he faces Rolando Reyes in the 12-round main event Saturday, Feb. 4, on SHOWTIME (9 p.m. ET/PT, delayed on the west coast). Reyes is a replacement for WBC titleholder Diego Corrales, who suffered a rib injury during training and withdrew late last week. Castillo will meet Reyes at a contracted weight of 137 pounds.
In the opening bout of the SHOWTIME doubleheader from the Don Haskins Center on the University of Texas El Paso (UTEP) campus, Jose Armando Santa Cruz will defend his North American Boxing Federation (NABF) lightweight title against Edner Cherry. The twin bill is co-promoted by Top Rank, Inc. and Gary Shaw Productions, LLC.
"Any time you fight a young, hungry opponent, you know it is not going to be an easy fight," Castillo (53-7-1, 47 KOs) said. "Reyes is fighting for everything and has nothing to lose. I cannot afford to take anyone lightly because my future fights depend on me winning. For those reasons, along with the fact that big upsets can happen anytime in boxing, I have continued my training with the same intensity as always.
"It is going to be an interesting fight. Reyes is going to come and box me and stay away from me as much as he can. But I will eventually catch up to him and do my thing.
"I was very disappointed when I heard that I would not be able to fight Corrales, but I understand that injuries happen. I am looking forward to fighting Corrales again. Like I said after the last fight, if they want to make this like the 'Rocky' movie series, I do not care. I will fight Corrales five or six times."
Castillo is expected to meet a healthy Corrales later this year in one of the most highly-anticipated rubber matches in the history of boxing.
Castillo, of Sonora, Mexico, lost the historic first bout against Corrales when Corrales dramatically rallied from the brink of near-certain defeat to record a memorable 10th-round TKO on May 7, 2005. Castillo won the brief, but brutal sequel with an impressive and sudden fourth-round knockout on Oct. 8, 2005. Castillo won the WBC 135-pound belt the first time with a 12-round decision over Steve Johnston on June 17, 2000. Following three successful defenses, he lost the title and a subsequent rematch to unbeaten Floyd Mayweather in April and December of 2002. Castillo regained the WBC belt with a 12-round decision over Juan Lazcano on June 5, 2004.
Prior to a third encounter against Corrales, however, Castillo must face Reyes.
"This is as big, or bigger, than a world title fight and I am going to win it," said Reyes, the World Boxing Organization (WBO) No. 5 and International Boxing Federation (IBF) No. 14 lightweight contender. "This is the kind of opportunity I have been looking for my whole career.  Castillo is a great champion, but this is my chance to shine."
Those who have seen Reyes in action believe he possesses the style to give Castillo fits.
"Reyes can fight the type of fight that could end up beating Castillo,'' said Gordon Hall, executive producer of "ShoBox: The New Generation." "Reyes (who has fought on 'ShoBox' twice) has the style that many people think Corrales should have utilized when fighting Castillo the first two times. Reyes fights from the outside; he gets behind his jab and moves well. It will be a very competitive match."
An excellent counter-puncher with impressive skills, movement and power, Reyes, of Oxnard, Calif., has won five consecutive bouts, and 19 out of his last 20.  His biggest victory came on July 22, 2005, when he scored a devastating eighth-round knockout over Courtney Burton on "ShoBox."
Reyes, who has never been knocked out, floored his opponent once en route to a 10-round split decision over Ivan Cabrera in his last start on Oct. 8, 2005; ironically, on the undercard of Corrales-Castillo II. The bout represented Reyes' first outing since reuniting with trainer/former world champion/fellow Oxnard resident Robert Garcia.
Santa Cruz (21-1, 12 KOs), of Los Angeles, is an aggressive-minded boxer-puncher who has faced decent opposition in his five-and-one-half-year career. In his last outing, he regained the vacant NABF 135-pound title with a fourth-round TKO over Michael Lozada (19-2-1 going in) on Jan. 6, 2006, in Albuquerque. Lozada started fast and fought aggressively, but Santa Cruz rallied and staggered him late in the third round. Santa Cruz staggered Lozada again in the fourth, and the referee stopped the fight at 1:01.  
"Lozada was a tough fighter, but I knew I had to weather his early storm and pick my shots," said Santa Cruz, who has scored 10 victories inside the distance in his last 14 fights. "I thought I had him at the end of the third round, but knew I would finish him in the fourth.
"Having just fought in January, this is a quick turnaround for me. I do not know anything about Cherry, but I am in shape and ready to go.''
Cherry (19-3-2, eight KOs), of Wauchula, Fla., by way of Nassau, Bahamas, also is coming back quickly after an impressive victory. On Jan. 13, 2006, Cherry captured the North American Boxing Association (NABA) lightweight crown with a first-round knockout over Marco Perez (22-8 going in) from Tampa, Fla.
"I do not know anything about my next opponent," Cherry said. "I do not want to see any tape of Santa Cruz because I will see one thing, and I will be concentrating on it, and he might do something different. I will just leave the instructions in my trainer's hands. I just go in the ring and do my thing.''
 SHOWTIME CHAMPIONSHIP BOXING's Steve Albert and Al Bernstein will call the action from ringside with Karyn Bryant serving as roving reporter. The producer of the SHOWTIME telecast will be David Dinkins, with Bob Dunphy directing.
SHOWTIME CHAMPIONSHIP BOXING celebrates 20 years of hard-hitting, explosive programming in 2006.  On March 10, 1986, SHOWTIME CHAMPIONSHIP BOXING was born when "Marvelous" Marvin Hagler defeated John "The Beast" Mugabi in a spectacular and unforgettable 11th-round knockout in Las Vegas.  Since that time, the network has aired some of the most historic and significant events in the sport including both Holyfield-Tyson bouts.
Always at the forefront of boxing, SHOWTIME has set itself apart by telecasting "great fights, no rights" on the first Saturday of every month.  SHOWTIME is the first network to regularly deliver live boxing in High Definition.  In addition, SHOWTIME continues to be a pioneer in sports television with a number of interactive features across multiple platforms making SHOWTIME CHAMPIONSHIP BOXING telecasts the most enjoyable, immersive viewing experience for the boxing audience.
 For information on SHOWTIME CHAMPIONSHIP BOXING and "ShoBox: The New Generation" telecasts, including complete fighter bios and records, related stories and more, please go the SHOWTIME website at
http://www.sho.com/boxing
.