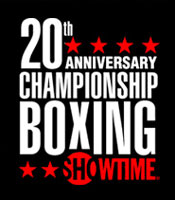 Former two-time WBC lightweight champion Jose Luis Castillo faces Rolando Reyes in the 12-round main event (contracted weight is 137 pounds) Saturday, Feb. 4, on SHOWTIME (9 p.m. ER/PT, delayed on the west coast). Castillo will face WBC lightweight champion Diego "Chico" Corrales in a highly anticipated rubber match later this year. In the second half of a SHOWTIME doubleheader at the Don Haskins Center on the University of Texas El Paso (UTEP) campus, Jose Armando Santa Cruz will defend his North American Boxing Federation (NABF) lightweight title against Edner Cherry.
Opening Comments
Castillo:  Regarding Corrales getting injured, I think it is very unfortunate, but those things happen in boxing.  He got injured.  I could have gotten injured.  Those things just happen.  Hopefully, we will get to fight with him pretty soon, hopefully in April.
Reyes:  This is the biggest opportunity that I have had in my life.  It is the biggest fight.  I have been training hard and will do the best that I can do with the fight.
Begin Press Questions
Question: Jose Luis, what have you done to prevent underestimating Rolando?
Castillo:  It will probably take me a few rounds to get to know him.  I think he will probably be a good boxer and someone who will be very quick.  So I will have to make some adjustments once we are up in the ring.
Question: Rolando, do you get even added inspiration knowing that Baldomir beat Judah and there have been so many upsets on SHOWTIME recently? 
Reyes:  This is everything to me.  It is like a world title fight to me.  It is very, very important.  Winning this fight will put me where I want to be – on the top. 
Question: Jose Luis, you had plans for fighting Corrales and then Cotto in mid-year.  Where do you think the Cotto fight is now?
Castillo:  I will take care of business in February and then Corrales and then I should be fighting Cotto at the end of the year.
Question: Jose Luis, are you going to have any more trouble making the 135 pound limit?
Castillo:  I am hoping to be fighting Corrales in April.  So this fight I am going to be at 137 against Reyes, so that will keep me pretty close to the weight. I should not have any problem making the weight two months later.
Question: Jose, does this give Corrales a little bit more advantage because he will get more time to rest and heal up while you will be having another fight in the interim?
Castillo:  I think it will be a hard and difficult fight because of Reyes' boxing style, but I really do not expect a tough fight like I had before. 
Question: Jose, when you heard that Corrales had to pull out of the fight because of his injury, did you change your training at all because of Reyes?
Castillo:  We are still working, but probably not at the intense level that we were before.  I changed my sparring a little bit also. 
Question: Jose, again there is the question of overconfidence. Reyes is fighting really with nothing to lose.  If you win, everybody is going to say, "Well, it was a last minute replacement."  How are you going to avoid that kind of mental letdown?
Castillo:  I do not think that I am overconfident that I will win this fight, but I am very confident that I can win. 
Question: Rolando, tell us why you think you can win this fight?
Reyes:  I am going to give this fight everything I have.  I am going to go in and use my speed, and use my full mitts (arsenal) and try to throw counterpunches and outbox him. 
Question: Rolando, had you been training for another fight when you got word that you would be in this one?
Reyes:  I was supposed to have a fight at the end of this month.  I am always in the gym, always training, so this opportunity came up and I started training even harder.
Question: Jose Luis, if you had your preference, would you already be fighting at 140 and how hard is it to make the lightweight limit?
Castillo:  It has always been difficult; 135 is always going to be hard for me.  I still have some things to finish with Corrales at 135 and until I do, I am not thinking of 140.
Question: (Promoter) Gary (Shaw), regarding Rolando, win or lose, if he performs in a very good fashion, what do you have for him in the future?
Shaw: If he wins, he will be on top of 135 and we will be right there for a title shot.  If he loses and he shows well and who I think he really is, I think he will be maybe two or three fights away from another shot at a title. 
Question: Rolando, what was your initial reaction when you were told you were fighting Castillo?
Reyes:  Oh, I was ecstatic.  I was the happiest man in Oxnard. Since then I have been training hard.
Question: Jose Luis, Reyes has two inches on you and three inches in reach. Are you going to wait for him to lead or are you going to attack to the body to slow him down?
Castillo:  The strategy is always going to be the same for us.  Any fight that I have, I pressure them, stay on top of them, and make them fight my fight.
Question: Rolando, without giving away your strategy, do you feel you will have your best success fighting from the outside or do you think can you afford to get in close?
Reyes:  No, my fight is to fight from the outside. I like counterpunching and moving away. 
Question: Jose Luis, do you think that Morales will be able to move up from 130 and compete successfully at lightweight?
Castillo:  I think he is too small for 135. He would be really giving a lot of advantage to bigger fighters.  I think he should think about it and really think about maybe staying at 130 if he really wants to continue fighting.
Question: Rolando, what is the importance of your jab and will it prevail against him?
Reyes:  My jab is my most important weapon.  That is what is going to do the most damage.
Question: Rolando, do you feel like this is a big step up and why do you think you are ready now?
Reyes:  Oh, I am ready.  When I went with Gary Shaw, I told him to give me the fights and I told him that I was ready.  I wanted to fight top guys for the top spot. 
Question: Rolando, you say you fight better the tougher the competition is?
Reyes:  Yes, much better.  I train even harder for that.
Question: How long have you been with Gary?
Reyes:  A year. 
Question: Who were you with before that?
Reyes:  Before that, I was with Top Rank. 
Question: How your stay with Top Rank?   Was it good? 
Reyes:  Oh, it was good.  They gave me good fights and I did my best. 
Question: (Promoter) Bob (Arum), how did you feel about Rolando when you all had him?
Arum: Frankly, Bruce (Trampler) and Todd (duBoef) handled that aspect of the business. But when the possibility of fights came up for Jose Luis with Corrales' injury, among the fighters Bruce suggested was Rolando because he thought it would make a very good fight.
Question: Rolando, do you know how many fights you had through Top Rank?
Reyes:  Probably like 12.
Question: Rolando, how is it going now that you are back with trainer Robert Garcia?
Reyes:  He is still training me and doing a good job.  He has been teaching me different things and that is what I needed for my career, especially from a former world champion.  He has been doing a great job.
End press questions.  Begin closing comments.
Castillo:  I just want to thank everyone for taking time for this call.
Reyes:  Thanks for this opportunity, and for you guys (media) being able to ask questions for me.