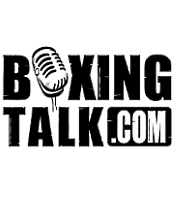 Interviews with Castillo, Cherry, Birmingham and Dawson!
Boxingtalk was on hand for today's Castillo-Reyes weigh-in. There was high controversy as Castillo had to take the scale four times before he 'officially' made 138 pounds. You also don't want to miss G. Leon's must see one on one interviews with Edner Cherry, Dan Birmingham, Chad Dawson and Jose Luis Castillo seconds after he stepped off the scales.
ONLY on Boxingtalk
.
It's GREAT to be a member!