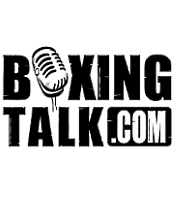 Press release:
Circle the wagons!! Bombs away!! Timber!! Jose Luis Castillo and Diego "Chico" Corrales are ready to do it again on SHOWTIME CHAMPIONSHIP BOXING Saturday, Feb. 4, 2006. The world's most talented and courageous lightweights will collide in an eagerly awaited rubber match to decide once and for all the No. 1 135-pound fighter on the planet. The 12-round bout, co-promoted by Top Rank, Inc., and Gary Shaw Productions, LLC will air LIVE on SHOWTIME at 9 p.m. ET/PT (delayed on the west coast).  A site will be announced in the near future.
Corrales-Castillo III gives America's No. 1 Boxing Network its strongest opening lineup in history. SHOWTIME, which celebrates its 20th year of televising world class fights in 2006, will open with a world cruiserweight title unification bout on Saturday, Jan. 7 (Jean-Marc Mormeck vs. O'Neil Bell). A month after Corrales-Castillo III, SHOWTIME will offer the long-awaited world super middleweight  title unification showdown between undefeated champions Jeff Lacy (International Boxing Federation and International Boxing Organization) and Joe Calzaghe (World Boxing Organization) on March 4.
Showtime Sports & Event Programming General Manager Ken Hershman said, "We are thrilled to be able to bring Corrales-Castillo III -- the most highly anticipated rubber match of recent memory -- to our subscribers live on Showtime on Feb. 4.  This epic trilogy, combined with Mormeck vs. Bell on Jan. 7 and Lacy vs. Calzaghe on March 4, is definitive proof that Showtime will continue its reign in 2006 as 'America's Number One Boxing Network.'" 
When it comes to highly anticipated trilogies, who needs "The Godfather," "Star Wars," "Back to the Future," "Indiana Jones" or "Lord of the Rings" when you have "The War to Settle the Score on Feb. 4!" The third fight in the legendary series will co-star Corrales, the exciting, hard-hitting World Boxing Council (WBC) champion, and Castillo, the powerful, explosive, former two-time WBC titleholder.
Corrales (40-3, 33 KOs) won the historic first bout against Castillo – and the 2005 Fight of the Year -- when he dramatically rallied from the brink of near-certain defeat to score two knockdowns and register a  memorable 10th-round TKO to unify the title and capture the WBC lightweight belt on May 7, 2005.
Castillo (53-7, 47 KOs) won the brief, but brutal sequel five months later with an impressive and sudden fourth-round knockout. Despite losing the Oct. 8 rematch, Corrales came away with both his world title belts when Castillo failed to make the 135-pound limit and one of his camp members was caught trying to tamper with the scale at the weigh-in.
"When he didn't make weight (Castillo tipped the scales at 138½ pounds), I had two options," Corrales said. "The first was to call off the fight entirely. The second was to allow Castillo to weigh in at 147 pounds on the day of the fight and proceed with the match.
"I chose the second option because people deserve to see a fighter do his job. If this fight did not happen, it would have been bad for boxing. I respect the game, and they knew I would not let it be battered or bruised by a big card being canceled. I could have said, 'I am not going to fight,' but I had an obligation to the fans.
"But the past is past. I opened up and Castillo caught me with a great shot. I have no excuses. I do not want to take credit away from his win.
"Now, we have each won once. I cannot wait until Feb. 4."
Said Castillo: "I said after the last fight that if they wanted to make this like the 'Rocky' movie series, I did not care.  I will fight Corrales five or six times.
"(After the knockdown) I knew Corrales was not getting up.  I told everyone I would knock him out before the seventh round. His style is perfect for me. He likes to fight inside, and that is what I do best.
"I was very happy to win, but also sad because I could not make weight. I let the people down, but I got my vindication by knocking out Corrales.
Corrales, of Sacramento, Calif., captured the WBO 135-pound crown with a 10th-round TKO over defending champion Acelino Freitas Aug. 7, 2004, on SHOWTIME. A two-time world champion at 130 pounds, Corrales won the vacant WBO belt with a 12-round split decision over Joel Casamayor March 6, 2004, on SHOWTIME. Corrales won his first world title with a seventh-round TKO over defending IBF Robert Garcia Oct. 23, 1999, on SHOWTIME.
Castillo, of Sonora, Mexico, won the WBC 135-pound belt the first time with a 12-round majority decision over Steve Johnston on June 17, 2000. Following three successful defenses, he lost the title and a subsequent rematch to unbeaten Floyd
Mayweather in April and December of 2002. Castillo regained the WBC belt with a 12-round unanimous decision over Juan Lazcano on June 5, 2004.
SHOWTIME CHAMPIONSHIP BOXING's Steve Albert and Al Bernstein will call the action from ringside with Jim Gray serving as roving reporter. The producer of the SHOWTIME telecast will be David Dinkins, with Bob Dunphy directing.
For information on SHOWTIME CHAMPIONSHIP BOXING and "ShoBox: The New Generation" telecasts, including complete fighter bios and records, related stories and more, please go the SHOWTIME website at
http://www.sho.com/boxing
.