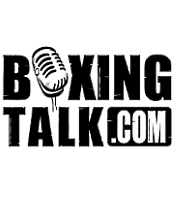 PRESS RELEASE:
SHOWTIME CHAMPIONSHIP BOXING will replay the lightweight slugfest between WBC/WBO lightweight champion Diego Corrales and former WBC champion Jose Luis Castillo on Saturday, Oct. 15 at 9 p.m. ET/PT.  The two fighters picked up Saturday where they left off on May 7 in Las Vegas. Corrales, who withstood two knockdowns and staged a historic rally to knock out Castillo in round 10, was ready to do battle "One More Time" before a packed house at the Thomas & Mack Arena. SHOWTIME Pay-Per-View aired four bouts in the Gary Shaw Productions and Top Rank Inc. co-promotion in conjunction with Caesars Palace and Wynn Las Vegas.  
Corrales (40-3, 33 KOs) of Sacramento, Calif., staged another epic battle with Castillo.  Corrales came into the fight at the contracted weight of  135 pounds, while Castillo (53-7-1, 47 KOs) of Empalme, Mexico came in three and a half pounds over the limit and thus the fight became a 12-round non-title fight.  
Belt or no belts, the two combatants staged another slugfest from the opening bell.  The two kept exchanging punches in the fast and furious first three rounds.  Castillo got the better of Corrales in the second round when he wobbled the champion with a straight right hand.  But it was the fourth round, where Castillo, who landed several left hooks, landed the last one, which sent Corrales to the canvas.  Referee Joe Cortez saw Corrales wobble as he tried to get to his feet at the count of 10 and stopped the fight 47 seconds into the fourth round.  
"The last time I didn't train well for the fight," said Castillo.  "I trained well for this fight and I showed you what I can do.  I think our styles match one another.  We both like to stay inside and I like it because it is easier for me.  I apologize for not making the weight.  It was a mistake and it will never happen again.  If Top Rank wants us to have a third fight, we'll do it.  We're ready."  
            SHOWTIME CHAMPIONSHIP BOXING's Steve Albert and Steve Farhood called Saturday's action from ringside with Jim Gray serving as roving reporter and Nick Charles was the host of the show.  The executive producer of the SHOWTIME Pay Per View telecast was Jay Larkin, with David Dinkins Jr. producing and Bob Dunphy directing.   
Corrales-Castillo II was produced and distributed by SHOWTIME Pay Per View.
CLICK HERE FOR THE FULL PRESS RELEASE
Send questions and comments to: gleon@Boxingtalk.net