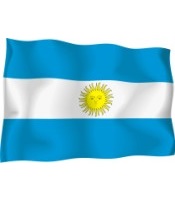 Brian Castano TKO5 Wale Omotoso Argentina's junior middleweight Brian Castano continues to make himself a viable contender to any one of the beltholders in his weight class, especially after dismantling the rugged Wale Omotoso Saturday night on FS1 at the MGM National Harbor in Maryland. "The Erislandy Lara fight [scored a draw] did frustrate me," Castano admitted. "I knew, and I know today, I could have done more and I could have thrown more punches. I know I won that fight. This day, I regret not doing what I could have done.
Castano wasn't going to waste any time against Omotoso. Midway through the first, Castano (16-0-1, 12 KOs) caught Omotoso with a quick one-two combination that had the Nigerian fighter backing up. If anything, Omotoso respected Castano's power—and his speed. Omotoso began the second more actively, flicking his jab. That couldn't hold off Castano. Seconds later, the fighter from Argentina was backing Omotoso (28-5, 22 KOs) into the ropes once again. Castano worked well up and down and dropped a right to Omotoso's body.
The third followed the same routine as the first two rounds. Omotoso tried using his jab to cleave Castano's high defense and couldn't. When Castano hit Omotoso, it meant trouble. Castano's punches to the body had Omotoso reeling. The "Lucky Boy" didn't go down, though Castano's dominance was so apparent, it was easy to see the judges possibly scoring the third a 10-8 round for Castano.
Down three rounds, Omotoso came out firing in the fourth. Just when it looked like Omotoso could possibly win the round, Castano came forward again, banging hard shots off of Omotoso's head. This may have been the first round Omotoso won.
In the fifth, both fighters went at it—Omotoso trying to fight his fire with Castano's. It was a courageous move, though it may not have been a wise one. Midway through the frame, Omotoso appeared to suffer an injury to his left shoulder.
After five, the ringside physicians took a close look at the shoulder. Omotoso could not answer the bell for the sixth. However, based on Castano's dominance to that point, it may not have mattered.
"I'm ready to be a champion... " Castano said. "I'm prepared for any of the champions in my division. There are lots of great fighters in this weight class, but I truly believe that I can beat any of them." source: pbc