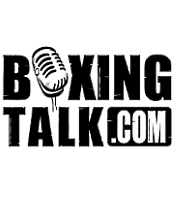 IBF #2 junior lightweight contender Nate "The Galaxxy Warrior" Campbell isn't pleased with how his promoter Lou DiBella has been handling his current negotiation with Robbie Peden for the vacant IBF title. Campbell told Boxingtalk.com, "I just want to let everyone know how sneaky and caniving my promoter Lou DiBella is! This is a man, who when I first went to him told me he won't try to play me like other promoters have. But now he's doing exactly what he said he wouldn't do. I keep hearing that he's been having financial difficulties, and now, after seeing what he's trying to do to me, I believe it. DiBella should just get out of the business because the shady reputation that exists in the promotion business, which he told people he didn't want to have when he left HBO, has become his MO.
"We're supposed to have been in negotiations for this Robbie Peden fight that still isn't scheduled. Then he contacts the IBF to tell them we've come to an agreement and that's a blatant lie. Greg, as we speak, I have yet to receive a formal offer from DiBella to fight Peden. I understand that his lawyer is saying that the letter he sent to the IBF stating that we had an agreement only meant that he had an agreement with Peden's promoter. He was supposed to clarify this in writing and he hasn't because he's trying to pull the wool over my eyes. The IBF, like any normal sanctioning body figured his letter meant that an agreement had been made by all the people involved so they cancelled the purse bid. Can you believe this guy Greg? My contract calls for a minimum if I challenge someone for the world title. DiBella is trying to say that since the title is vacant, my minimum doesn't count. I guess I'm fighting Casper, or maybe he's fighting Goosen for the title. How low can the guy go Greg? 
"In all actuality, on page 10 of my contract, Article E reads, 'Each bout in which fighter shall challenge for a world championship by the WBC, WBA, or IBF, fighter shall receive compensation of at least X. He's trying to say that fighting Peden is not a challenge so he's trying to pay me $10,000 less than the minimum. Is this guy desperate or what?
"My questions are, why would he tell the IBF we've come to an agreement when we haven't? And why won't he let it go to purse bid if he's not willing to pay me my minimum. What do you say about that Greg?
GL: What I have to say isn't important, this is your business Nate.
Nate Campbell: What I'm saying is, if you don't want to pay me what the contract says just send it to purse bid. It seems to me that he's trying to starve me or freeze me out by getting me to fight for $10,000 less than my minimum. You can bet that the $10,000 he's trying to short me is going into his pocket Greg.
GL: Have you spoken with Lou DiBella about any of this?
NC: "I haven't spoken with Lou DiBella at all. He's made no effort to contact me and I've made no effort to contact him. My manager has spoken to him and his lawyer and my manager has made it very clear to them that what they're trying to pull is not acceptable. He had called the IBF to inform them that the purse bid should have never been cancelled. He's hiding from the IBF because he looks like a dam fool sending that letter which was a lie. In the last month or so it's been brought to my attention that he's made some derogatory remarks about me. He doesn't know I know but I know. In the end that has nothing to do with the business we're supposed to be doing.
"When my manager told him I felt he was trying to pay me improperly he goes on to say, Nate Campbell shouldn't have dropped his hands against Peden the first time.' We all know that but I did fight after that loss in order to be in the position I'm in to fight for the world title so that shouldn't be an issue. On top of that the Peden fight has nothing to do with the contract
I have.
"After losing to Peden he had the choice to end my contract and he chose not to. I even asked him to release me and he said no. "We're supposed to be negotiating this fight on the merit of this fight. It is what it is and like it or not I'm challenging Peden for the title. Greg, you say DiBella went to Harvard Law School? My question is was he a student or did he work as a janitor because he can't even read his own contract let alone understand it even if has someone who reads it to him.
GL: Why wouldn't DiBella want to pay your contractual minimum?
NC: "I have no idea. From what he's said...he said I don't deserve the other ten grand because I dropped my hands. I don't feel that he should promote this fight because if it wasn't for me, my manager, and Boxingtalk.com Morales would still have the belt.
"He's done nothing to help make this fight happen. He tried to send me to Africa for $40,000 for an IBO title. I didn't fight in IBF eliminator to fight for any other belt. Contrary to what some people think I'm not hard to deal with but it seems that promoters want fighters that are dumb and ready to be used and abused.
GL: And the contract you're referring to, is this the original contract you signed with DiBella?
NC: "It's the original contract."
GL: And after you lost to Peden was the contract reconstructed?
NC: "An addendum was added regarding non title fights and we discussed this. I told him I wouldn't sign that paper because if $10,000 was all I was supposed to get paid, who's to say he won't try to offer me $10k for a title fight. Lou verbally told me that would never happen. I told him as long as we know I'm not fighting for anything less than my contract says when I fight for the title. Now that I'm in position he's trying to renege on the deal. He's not a man of his word. If he was, this would not be an issue.
"This man has done nothing but play games and he doesn't want it to go purse bid because everyone can bid on it. And whatever's bid on it is out in the open. If I accept his offer he won't feel inclined to show me what's made. I REALLY want this fight to go to purse bid, I really don't want to deal with Lou DiBella. I don't trust him and it's unethical what's he trying to pull. The letter he sent to the IBF amounts to a fraud. He should never have sent any letter to the IBF when I didn't agree on anything and I've only spoken two words to this man since July 30."
GL: So the bottom line is $10,000 is holding this whole process up?
NC: Yes. And he's misled the IBF by lying to them. That's right I said he lied, this man is a LIAR! I believe there's some shady stuff going on underneath the table and I truly wish for this fight to go to purse bid and I don't want DiBella to be involved in the promotion. I'd let Goosen promote the fight just so I don't have to deal with him.
"He's lied to the IBF and what he's done should be a breach because he's not acting in good faith. On top of lying, he's conniving! He can't be reached all of a sudden. He's always in meetings and busy, but I guarantee you he'll want to reach out after he reads this.
"I have no personal issue with this man this is a business problem. If he lied in business he's a liar. If it walks like duck and quacks like a duck.
"What he has done is illegal. I don't care how much ice cream you smear on shit when you bite into it it's still shit!
GL: Does making these remarks shoot yourself in the foot down the road based on the fact that DiBella has a good relationship with HBO?
NC: "How good can his relationship be when he can't even get this fight on Boxing After Dark as a co main event? I don't have HBO now so I can't miss what I never had. I got to feed my kids. I can't think about HBO and tomorrow, I got to think about Robbie Peden today. I got three daughters to feed and Lou DiBella doesn't owe me anything but to do what his contract with me states. He had the right to complain when I lost to Peden and we all know he's done plenty of that. I also have the right to complain when he's trying to rip me off and that's what this interview is all about. DiBella the cheater. 
Send questions and comments to: gleon@boxingtalk.net