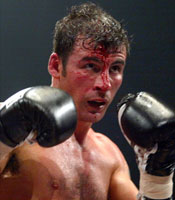 Seven years after winning the WBO Super Middleweight title, Joe Calzaghe finally gets the opportunity to add another major world title belt to his collection with the advent of IBF Champion Jeff Lacy's sojourn to the M.E.N. Arena in Manchester to face "The Pride Of Wales" next Saturday, March 4th. The Lacy fight will mark an amazing 18th occasion that Calzaghe has placed his WBO crown at risk and the Welshman's resume is littered with such names as Charles Brewer, Byron Mitchell, Chris Eubank and Robin Reid.  
It's this long experience that the busy, sharp punching southpaw will call upon to turn his American opponent's British excursion into a less than pleasurable trip away from home. "I've beaten the best of who was around at the time and would agreed to face me" remarked Calzaghe. "If you look at my record, I've beaten six or seven former world champions. I like to think that its better late than never to get my big fight, and I'm looking forward to this."
Lacy has clearly earned his opportunity to clash with Calzaghe, but the powerful Floridian's world title fights against Syd Vanderpool, Omar Sheika, Rubin Williams, Robin Reid and Scott Pemberton are unlikely to have prepared the undefeated IBF Champion for what he'll meet in the ring next Saturday in cold, damp and hard-nosed Manchester. Nonetheless, Calzaghe isn't taking the aggressive American's challenge lightly. "Lacy's last couple of performances have raised my opinion of him as a fighter," said the WBO Champion. "He's improving but as far as I'm concerned, I have total confidence in my own ability and that I'll win the fight."
Calzaghe, 40-0 (31), has competed in 146 world championship rounds which amounts to 45 more than Lacy, 21-0 (17), has fought, in total, as a professional. The native of Newbridge, Wales likes what he sees in his willful opponent and relishes the chance to finally prove his dominance in the super middleweight division against another reigning champion. "I like Lacy's style, he's an exciting fighter but I think that his style plays in to my hands to be honest," exclaimed Calzaghe.  
"I like fighters who come to me rather than fighters I have to chase. Lacy does like to throw the big shots and he's an aggressive fighter but I'm also an aggressive fighter and I'm not going to change my aggressiveness. I'll still keep that attitude but at the end of the day, I can also mix my style up and counterpunch. I have all the speed, boxing ability, power and stamina that I need to win this fight. I'm experienced, I've been at this a long time and I'll come out on top."
Log onto
www.joecalzaghe.com
to purchase tickets to the greatly anticipated Calzaghe - Lacy world title showdown or watch it live in the UK on ITV starting at 11:10pm GMT and live in the US on Showtime at 9pm ET/PT.