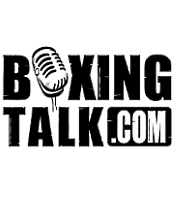 PRESS RELEASE:
 WBO Super Middleweight Champion Joe Calzaghe has a definite interest in this weekend's compelling matchup between IBF titlist Jeff Lacy and his seasoned veteran challenger Robin Reid, as the quick handed southpaw will likely face the winner later this year. The undefeated Welshman, 39-0 (31), is coming off a successful trip to Germany where he dominated the much improved Mario Veit enroute to a sixth round stoppage and has long been looking forward to the opportunity to add another world title belt to his trophy cabinet.   A Calzaghe - Lacy pairing has been talked about for some time now and "The Pride of Wales" is banking on the American slugger prevailing against his old British nemesis Reid. "Lacy probably wants to make a statement by beating Reid more comprehensively than I did," stated the longest current reigning world titlist in boxing today.  
"Lacy knows that I struggled against Reid, but I broke my hand in that fight and Reid did make things difficult for me. Lacy beating Reid isn't a forgone conclusion as Robin is still a good fighter. I don't believe Reid will win but I'll be shocked if Lacy can stop him. I think Reid will give a decent performance but he's a bit one paced. I think that Lacy will outwork him and I can see him winning the fight."   The Calzaghe - Reid matchup of 1999 was one of the best fights to take place in a British ring that year. It was a very close contest and arguably the toughest of the man from Wales' career to date. Calzaghe views a bout against Lacy to be much more profitable than a rematch with his English archrival. "Basically, I want to fight Lacy and I'm not excited at the prospect of fighting Reid again," lamented Joe. "Obviously, if he wins he'd have the belt so I'd want to fight him but I don't think I have anything to prove in regards to Reid. He's a bitter man. He fought his best, I fought my worst and he still couldn't beat me but has mouthed off ever since about how he should have won the fight; Get over it.  
"I've watched a couple of Lacy's fights and I'm excited because he's a good fighter and this is a challenge I need. Lacy and his handlers probably think that I'm long in the tooth and ready for the taking after watching my performance against Kabary Salem. But believe me, I've still got a lot to give and I showed that by going to Germany and fighting an underrated fighter, Mario Veit. He came in very confident off of a knock out win against Charles Brewer but I'm still at my best and stopped him. I'm looking forward to fighting Lacy, I just hope it can be made."   Calzaghe has been at super middleweight his whole career and has literally had to make the 168lb limit in his last seventeen fights, as they were all WBO title bouts.
It's no secret that the thirty three year old has struggled to make weight in the last few years and would like nothing more than to move up to light heavyweight should he take care of the Lacy - Reid winner. "To be honest, I didn't think much of Antonio Tarver or Glen Johnson when I watched their rematch not too long ago," recalled Calzaghe." Johnson looked like he got old overnight and seemed one paced while Tarver looked gun-shy. He looked to be gun-shy against Johnson and I don't think either of them are great fighters. I'd love to get into the ring with them but obviously as Tarver won that fight, he's the man I'd like to face."  
While he's always taken his boxing very seriously, Calzaghe is aware that the clock is ticking and each day brings him one step closer to the end of his career. Simply put, the heavy handed southpaw isn't in any mood to wait around any longer for the career defining fights that he's always wanted. "A frustrating thing was for me was that my fight against Mario Veit wasn't screened in Britain," he said.
"It was in Germany on Eurosport but Sky TV didn't screen the fight. I was really disappointed because it was a good performance and obviously after my previous showing against Salem, I wanted to show everybody that I could still fight.   "Now that Frank Warren has pulled off a great television deal, my fights are going to be screened on ITV and I think that will make a difference. I'll be fighting next on September 10th and I can't wait to get back in the ring. I'm 33 years old and I've been a champion a long time, but I'm not long in the tooth. I've still got the hunger and a belief that there's big fights out there for me. I met Jeff Lacy in Manchester two months ago and he's a great guy, I like his confidence but I also feel 100% that I'll knock him out. Out of all the champions, he's the one I want to fight and I think his style is best for me.
I think it would it make a great fight. I know that he's going to come in and I know what he has and what he's going to throw. The difference is, he doesn't know what I have, as I can be unpredictable and do different things. I just want to fight the best out there."  
www.joecalzaghe.com