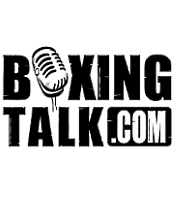 Joe Calzaghe will make a record sixteenth defence of his WBO super middleweight title against Brian Magee at the Kings Hall in Belfast, Ireland on march 18, 2005. Calzaghe, from Wales, will be venturing into the territory of Magee, who will be fighting in front of his home fans. There should be a tremendous atmosphere in Kings Hall, but based on recent showings, Magee may not be in Calzaghe's class. "The Pride of Wales," Calzaghe was rumoured to be headed to Denmark for a unification match with WBA champion Mikkel Kessler. That would have been a tremendous fight for the Welshman and one that could have re-ignited a career filled with victories over lesser contenders. [editor's note: Boxingtalk is pleased to introduce Robin York as its British correspondent]
Instead we are left with another soft defence for Calzaghe as Magee has done little to warrant a challenge for the WBO title. In the Irishman's first step up to world class, he was beaten on points by former WBC champion Robin Reid. Magee was down four times against Reid, who coming in looked to be a
faded fighter. Reid did just enough to win in a very dull fight against Magee. Reid claimed Magee's IBO belt that night and since then, Magee has had just one fight, against the limited Neil Linford who he stopped on cuts in seven rounds. Incidentally it was the second time Magee and beaten Linford, so it proved nothing.
Also the fact that Magee turned down a challenge from potential future champion Carl Froch for the British title hardly puts Magee in position to merit a challenge to Calzaghe. Most Brits would rather see the Welshman have a rematch with Reid, who arguably gave Calzaghe his toughest fight, or take on Froch who has been calling him out too (although Froch is yet to be proven at world level). Magee isn't even rated in the top 15 by the WBO and
for the sanctioning body to leapfrog him over the likes of European champion Rudy Markussen, Scott Pemberton and Mario Veit (who was destroyed in one round against Calzaghe but has proved himself since then and shouldn't be ignored) is just a joke.
If the WBO does sanction the fight then what is the point in having ratings? The only reason the fight is to be made is because the champion's promoters know the fight is likely to be a sell out and that there is an extremely safe bet that the title will not change hands.
As for the Calzaghe-Magee match-up itself, Calzaghe hits very hard and there are serious question marks over the Irishman's chin, seeing how Reid floored him four times and rugged Jerry Elliott dropped him heavily in the opening round of there clash last year. But to be fair, Calzaghe has also found himself on the deck lately when the Egyptian Kabary Salem rattled him in the fourth round of the Welshman's last defence.