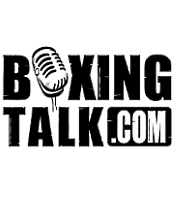 Joe Calzaghe returns to the ring for the first time in eight months as he makes the fifteenth defense of his WBO Super Middleweight title and headlines Sports Network's Friday night card from Edinburgh, Scotland. Calzaghe faces American based veteran Kabary Salem at the Royal Highland Showground, with Alex Arthur, Kevin Mitchell, Gary Young, Craig Lynch and Nigel Wright rounding out the bill. Sky Sports broadcasts the action live in the UK on SS1, commencing at 10PM GMT. Boxingtalk.com spoke to Joe as the longtime champion was putting the finishing touches on his preparation and you won't want to miss this exclusive closer look at the man considered by many to be the best super middleweight in the world.
Joe Calzaghe, 37-0 (30), hasn't lost a fight since early in his amateur days and will be looking to keep his eighty odd fight win streak going when he meets opponent Kabary Salem tomorrow night. Salem, Egyptian by birth but now residing in Brooklyn, New York, is a former regional American titlist with a 23-3 (12) record. The thirty six year old Salem has only lost to world title challengers Eric Harding, Antwun Echols and Mario Veit. The Veit loss, Salem's most recent contest, was controversial and Salem had faced the difficult Harding in only his sixth professional fight. The "Egyptian Magician" holds wins over Manu Ntoh, Kenny Bowman, and Richard Grant and drew with current European champ Rudy Markussen earlier this year.
In the other corner, Calzaghe will be making his fifteenth defense of the WBO crown he ripped away from Chris Eubank in 1997. He sees this bout as a good way to shake off the ring rust as the Welshman has been out of the ring for the better part of the year. "I've only seen Salem box once, against Mario Veit, who I knocked out in one round," said Calzaghe. "He won that fight against Veit, it was a hometown decision, as basically Veit held on for twelve rounds. Salem seems quite strong, determined, comes in and looks to land big right hands and looping punches. But on the downside, I think he lacks handspeed and to me, the big thing in this fight is going to be my handspeed. I can definitely see myself stopping him within six rounds because he seems quite slow and I think that's going to be a big problem for him."
The native of Newbridge, Wales saw a step up in weight earlier this year, to fight IBF Light Heavyweight king Glen Johnson, fall through at the last minute due his aggravating a prior back injury. That kind of frustration and the fact that Calzaghe is looking to send a message to potential future opponents such as Johnson, WBC/WBA Light Heavy titlist AntonioTarver and IBF Super Middle beltholder Jeff Lacy, will likely spell trouble for Salem. "I set myself standards and it's not a point now of winning, it's a point of winning in style and making statements," said Joe. "Being inactive for quite along time, alot of people will be sitting up to see if I'm still here. I'm thirty two now and they want too see if I have the same ability. I've been feeling great in the gym and maybe a bit of ring rust but I've had good sparring and feel sharp. Antwun Echols was taken the distance with Salem, as was Eric Harding and I think I want to knock him out. I've trained for twelve hard rounds but honestly, I can't see this guy going those twelve rounds. I'm in tremendous shape but I have to be careful because he's quite dangerous with his head so I have to make sure I use my boxing skills." 
There has been talk of Calzaghe facing newly crowned IBF Champion Jeff Lacy, in what many see as the most anticipated scrap at 168lbs, and the "Pride of Wales" welcomes such a challenge should it become a reality. "I think a fight between myself and Jeff Lacy would be good for the super middleweight division," said Joe, trained by his father Enzo. "For seven years I've been a champion and all the other champions have always ducked me but I think Lacy's the sort of fighter who believes he's the best, and if that's the case, I know I'm the best, so let's get it together and have a fight. My promoter Frank Warren has gotten into touch with Lacy's manager and faxed him, but hasn't received a reply yet. But, give him time to enjoy his win. It's a great feeling, he just won the IBF version of the world title and so I suppose he'd want one or two defenses before he'd put his title on the line against me. He's a good fighter, but that's a fight I'm sure I could win."
After making the super middle weight limit since turning pro in 1993, Calzaghe relishes a chance to move up to the light heavy class and the promise that fights against Tarver and Johnson hold at 175lbs. "Ideally, I'd like to fight Glen Johnson next and I think it's a better fight now that he's beaten Roy Jones," stated the WBO Champ. "I don't know what's happened to Roy Jones as I saw a shell of the fighter he once was, but nothing against Glen Johnson, he fought his fight of controlled pressure. I'd like to face Johnson next and I may have to go through him to get to Tarver. If that's the case, just give me the opportunity and I will. I don't know if Johnson want's to unify the titles just yet and realistically, I can't see that fight happening for at least a couple of more bouts. If a title fight does come along, I will move up to light heavy. Until that happens, there's no point, because I'm making championship money at super middle and it doesn't make financial sense to go up to light heavy until I get a title fight there."
Joe Calzaghe wants to show that he's ready for all comers in either weight class and has no qualms about crossing the Atlantic to do so. "I think that if a fight with Antonio Tarver came up, it would almost have to be in America," he said. "I have no problem with that and I'll gladly go there. One of my ambitions is to fight in the States but obviously the money would have to be right. I believe that if the Tarver fight does happen, it'll be a good financial fight and just a good fight all around. If that's the only way I can get that fight then I'll go to America to chase my dream of being a two weight world champion."
Boxingtalk.com would like to thank Joe Calzaghe, Enzo Calzaghe, Frank Warren and Richard Maynard for making this article possible.