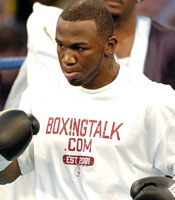 PRESS RELEASE:
SHOWTIME CHAMPIONSHIP BOXING was born when "Marvelous" Marvin Hagler defeated John "The Beast" Mugabi in a spectacular and unforgettable 11th-round knockout in Las Vegas.  On March 4, 2006, SHOWTIME will deliver a special 20th anniversary gift to fans and continue its legacy as "America's No. 1 Boxing Network" with the most meaningful world title unification fight of the decade. Undefeated, hard-hitting super middleweight world champions Jeff "Left Hook'' Lacy (International Boxing Federation) and Joe Calzaghe (World Boxing Organization) will finally meet in a 12-round showdown to determine once and for all the best in the division.  
The much anticipated match up, being promoted by Gary Shaw Productions, LLC, in association with Frank Warren's Sport Network, will air LIVE on SHOWTIME at 9 p.m. ET/PT (delayed on the west coast) from the MEN Arena in Manchester, England.  
One of today's best and most feared pound-for-pound fighters, the exciting Lacy (21-0, 17 KOs), of St. Petersburg, Fla., will make the fifth defense of the belt he won with an impressive eighth-round TKO over Syd Vanderpool Oct. 2, 2004, on SHOWTIME. The first 2000 U.S. Olympian to capture a world title, Lacy, 28, is coming off of a devastating second-round TKO over top-5 contender Scott Pemberton (Nov. 5 on SHOWTIME). 
"I only want the fights the fans want, and it looks like Calzaghe feels the same way," said Lacy, who has notched 16 of his 21 wins on SHOWTIME. "Two undefeated world champions unifying the title will be like when Sugar Ray Leonard and Tommy Hearns unified the welterweight title.  
"I am coming to get you, Joe!  I am coming to get you!"   
Calzaghe (40-0, 31 KOs), of Newbridge, Wales, by way of Hammersmith, England, is the longest reigning world champion in boxing. Since winning the title on Oct. 11, 1997, he has successfully defended it 17 times. Southpaw Calzaghe, 32, has not lost a bout since starting his amateur career at 13. 
"It has been my dream to unify the titles ever since I won the WBO crown against Chris Eubank eight years ago," Calzaghe said.  "This fight against Lacy is one that can secure my legacy. I saw Lacy's last fight against Pemberton, and it was impressive, but, against me, he is going to be in with the hardest hitting super middleweight out there." 
"Calzaghe's dream of unifying the titles is just that – a dream," Lacy said. "Unfortunately for him, he will be facing his worst nightmare.'' 
Lacy and Calzaghe were expected to fight Nov. 5 on SHOWTIME, but the match fell through after Calzaghe fractured his left hand in a Sept. 10 defense against Evans Ashira. 
America's No. 1 Boxing Network, SHOWTIME will celebrate its 20th anniversary all year long by showcasing the best match ups in the sport on the first Saturday of every month. 
SHOWTIME CHAMPIONSHIP BOXING's Steve Albert and Al Bernstein will call the action from ringside on March 4, with Jim Gray serving as roving reporter. The producer of the SHOWTIME telecast will be David Dinkins, Jr., with Bob Dunphy directing. 
           For information on SHOWTIME CHAMPIONSHIP BOXING and "ShoBox: The New Generation" telecasts, including complete fighter bios and records, related stories and more, please go the SHOWTIME website at
http://www.sho.com/boxing
.