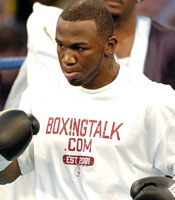 PRESS RELEASE:
March sees one of the most exciting months in British Boxing. People talk about America being the heartland of boxing, but when you look at what has taken place in the UK over the last few years and what is going to take place this March, I think that Britain is on par with any country for producing big fights. We kick off "March Madness" on the fourth of the month when Joe Calzaghe meets Jeff Lacy in a super middleweight unification contest promoted by Sports Network. This is a fight that has eagerly been awaited on a worldwide basis and takes place at the M.E.N Arena in Manchester, a venue that has seen such great nights already with the Ricky Hatton - Kostya Tszyu fight last year and Mike Tyson's first appearance in Britain.
There are a lot of questions to be asked of young Mr. Lacy and also questions as to whether Joe still has the desire and commitment after having campaigned as a world champion for over seven years, currently the longest active reign in boxing. But knowing Joe the way I do, this is the sort of fight that he needs. It's the opportunity that he has been looking for that allows him to prove his contention to the world that he is the number one fighter in his division and that there is no one out there that can live in the ring with him. I think fighting in front of a British crowd will be the lift that Joe needs to make sure of victory on the fourth of March.
A few weeks later on the 24th of March, the greatly celebrated David Haye makes the first defense of his European Cruiserweight title on one of our Maloney Promotion shows at the York Hall. Haye is the new kid on the block and everyone has been talking about him since his spectacular knockout of former world title contender and European Champion Alexander Gurov. This is Haye's 16th professional fight but it's his first appearance in the capital of London since January of last year. It's amazing that a man with his pedigree and charisma hasn't been selling out substantial venues in his hometown. We at Maloney Promotions mean to change that and I believe that by this time next year, Haye will be one of the hottest properties in boxing and will be selling out the Excel Center, the M.E.N. or even the new Wembley Arena, but time will tell and you can log onto
www.frankmaloney.com
to follow his progress during the year.
The very next day we have Scott Harrison, in what many people are claiming will be his hardest fight to date as champion, meeting former WBO Super Bantam titlist Joan Guzman on a Sports Network show in Glasgow. Harrison has been the WBO Featherweight Champion for over three years now and has only had two glitches over his entire career. The first was early on when he was stopped on cuts and the second was when he lost his title on a bad night at the office against Manuel Medina. But like a true champion, Scott soon recovered the belt by stopping Medina and showed that a loss doesn't mean the end of a career.
Scott Harrison's reign has been built upon determination, dedication and fighting instinct. As I've always said, he is a real throwback to the old days. I believe that Harrison would have enjoyed himself if he had been a fighter in the era of one of his heroes, Roberto Duran. Scott would have lined up to fight "Hands of Stone" at Duran's peak, never worrying about weight, purse or location. Harrison just wants to get in the ring and fight, as Guzman will soon find out, but Scott is probably a dying breed.
So, there are three fights here in Britain this March and they have really whet the appetite of the domestic fight fans. If Calzaghe, Haye and Harrison are successful in their respective defenses, British Boxing will simply continue to ride the current crest. All in all, 2006 could be a very big year for boxing here and we may even see Danny Williams, hot off a split decision victory over Matt Skelton last weekend, make another run at a major world title. There were 8,000 fans in attendance at the ExCel Centre to see Danny beat Matt and 12,000 at the same venue in December to see Williams turn back Audley Harrison. And both of those contests were for the Commonwealth title; imagine how many would turn up for a heavyweight world title fight in London?
People who say that boxing is going through a bad patch in Britain should take a closer look at the great mouthwatering action that I've just described. These contests are all 50-50 propositions and something that true fans can really sink their teeth into. And they all are taking place in Britain.
Speaking of which, one of the things that really annoys me is when I read about fans saying that British fighters should go across to America to fight. Why should they if the promoters of this country can deliver the big fights on our home shores and the fighters can get the same sort of money here? I ask the question, why is Lacy coming over here? Why is Guzman coming over here? It's because American fighters generally don't draw big live gates like British fighters do.
Football teams know the power to be realized by playing on their home turf, so why shouldn't a fighter have home advantage? It's very important to keep a fighter fighting in front of his fans. Even when Lennox Lewis fought abroad, we worked very hard to get as many British fans to travel as we could. When Lewis fought Holyfield in Madison Square Garden, there were as many British fans in the Garden and at the rematch in Las Vegas as there were Americans.
I believe it all speaks to just how important it is to maintain the home advantage in boxing and during the month of March, if Calzaghe, Haye and Harrison are successful, it will send a message across to the United States that Britain is the capital of world boxing.