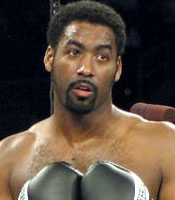 "I want Mike Tyson NEXT!"
Undefeated heavyweight Calvin Brock (24-0-20KO) spoke to Boxingtalk about his recent TKO victory over Clifford Etienne and his desire to bring a heavyweight world championship back to America. Brock also wanted to let everyone know who he's looking to face next…former heavyweight champion Mike Tyson! You don't want to miss it.
 
BT: Calvin, congrats on your impressive TKO win over Clifford Etienne. What is next for Calvin Brock?
Calvin Brock: Mike Tyson... I want Mike Tyson, I have always had a dream to fight Mike Tyson. I am motivated to fight him above and beyond anyone else in the heavyweight division, I want Mike Tyson... I can take him... I can beat him.
BT: Calvin, so you want Mike Tyson next... in your opinion what makes the most sense about a Calvin Brock/Mike Tyson matchup?
Calvin Brock: Well, a lot of things make sense about it. On my part it will be an explosive fight, I am the one of the hottest up and coming heavyweights the press. He is looking for a fight to regain some respect, I am a guy he can fight to do that. I am willing to take on this challenge, and be a man about it, and I would like to see him be a man and step up to the plate and take my challenge. It's nothing personal, it's just we are both in the same weightclass, and I want to take on the toughest challenge out there, and I think Mike Tyson is the toughest challenge.
BT: Calvin, there is no doubt that you are one of the fastest rising heavyweights in the division, are you looking to fight Mike Tyson this year?
Calvin Brock: Yes, I am looking to fight Mike Tyson my very next fight! April? May? very next fight... I can do it in March ... If I need to I can go right back training.                    
BT: Calvin, so there it is... you are announcing right here on Boxingtalk.com first that you want Mike Tyson, and you want him next?
Calvin Brock: No doubt about it Brad.. I want Mike Tyson, and I want him now.
BT: Calvin, let's move on a little bit for now, and we will get back to Tyson in a few. Calvin, with your first nationally televised fight you fought Terry Smith and you also fought a bout of the stomach flu at the same time. With your recent impressive knockout win over Clifford Ettiene on ESPN 2, do you feel you got some redemption now?
Calvin Brock: Yes definitely, and it feels good... now all of those that were trying to be critics are now turning and becoming advocates. Now they are saying to look out for Calvin Brock, and that he has the potential of becoming the heavyweight champion of the world. That makes me feel good, and that goes in line with what I am saying about my working so hard for the past 17 years, when I first walked into the boxing gym. They saw a big improvement from my debut appearance on national television on NBC, to my appearance on Jan 21st on ESPN2 against Clifford Ettiene. They saw a much more impressive Calvin Brock, and they will see an even more impressive Calvin Brock next time they see me on national television, because I get better with every boxing match. I am hungry as I can possibly be now....
BT: Calvin, a few years ago the television gods didn't bat an eye at you. You were a 2000 Olympian, and yet you still did not get any television time. Things are now taking a turn for the better for you, talk a little more about that.
Calvin Brock: It's Brock time, it's The Boxing Banker time... it's now time for the world to see that Calvin Brock will be the heavyweight champion of the world. God's been blessing me.... that's what is all about, 2005 is the year for Calvin Brock to shine, and I am going to shine.
BT:  Calvin, talk a little bit about your team. A lot of the time the guys behind the scene do not get the recognition that they deserve. Talk about Team Brock for a minute.
Calvin Brock: Well first and foremost Team Brock is run by Jesus Christ, my Lord and saviour. God is the most influential and most important person on my team. Then, I have a great mother and a great father that support me. In my corner I have Pops Anderson, and my great trainer Tom Yankello, I have been with him for the past 2 1/2 Years....he has increased my game tremendously.. I have a great cut man, and I have Main Events... I have the best in the world.. If you don't have the best in the world, you can't be heavyweight champion (laughing)
Brad Coone: Calvin, let's get back to Mike Tyson for a minute....Let's say that this fight happens, and you beat Mike Tyson.. would you say that this will put you in a position for a world title shot?
Calvin Brock: Most definitely, and after I beat Mike Tyson I want Klitschko.. and then I am going to beat Klitschko.. and then I am going to unify the title. Chris Byrd, Ruiz.. whoever is the title holder at that time.
Brad Cooney:  Calvin, it's been a long time since an American has had the Heavyweight Championship, how important would that be for you to bring the belt back home to America, back to the American people?
Calvin Brock: It would be very important to me, because nobody has done it since Tyson and Holyfield... I am bringing it back man.. just give me a little time and I will be the people's champ.
BT: Calvin, your fan base is growing.. You have announced tonight that you want Mike Tyson. Talk a little bit more to your fans about what they can expect from Calvin Brock for the rest of this year.
Calvin Brock: My fans can expect to see Calvin Brock back on national television doing his best to win, and to win impressively. They will see a dignified Calvin Brock, a person that will carry the title around with pride and class.
BT: Calvin, you mention pride and class, and I want you to elaborate on that. Boxing has had its share of black eyes in the past, but there are some pretty classy guys in boxing just the same, guys like Robert " Ghost " Guerrero, Jessie James Leija, Manfredo Jr etc...
Calvin Brock:  Yeah definitely, when I looked at the tape of my fight against Etienne on ESPN the other day, they were mentioning guys in boxing who are college graduates like myself, and Juan Diaz being in school, and Billy Irwin, and Etienne was on the deans list in his college. It makes me feel good that I can contribute and bring boxing into a different light as opposed to the past.
BT: Calvin, I appreciate the time.
Calvin Brock: Thanks Brad.