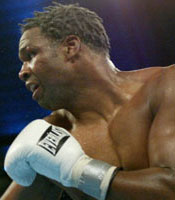 Most people live their professional lives close to that of a prizefighter.  When you think about there is not much difference.  Early in your career you will work hard for much lower compensation putting long days to earn the respect of your peers.  As one hones their craft they are classified according to where they are best suited.  For some they will hit their plateau quickly and find a different profession, others will stick around to teach the new guys the tricks of the trade, there are people who will enjoy some success, however, never reach the top level.  Then you see the people who excel in their career.  These are the elite, the people who persevered their way to the top in order to triumph.  Much like the guy you saw walking down the hall when you first started your career and said, "One day I will be on his level."  Imagine you have reached the elite level.  After enduring years of hard work for less compensation you finally achieved your life long goal.  Now the benefits of success will be open to you; respect, money and a way to pay for your future.  This life sounds satisfying right?
Now imagine your name is Chris Byrd.  You have won a silver medal in the Olympics, moved up thirty-two pounds to fight at weight division beyond your natural size and you continually beat fighters bigger and stronger than you are.  Knocking on the door of a second heavyweight championship, you make a deal to ensure your future and take care of business to seal it.  You did your part, so you should see the benefits of your success, right?
As it would come to pass, ever since Chris Byrd has won the IBF Heavyweight Title, his career has stood still more than before he was a champion.  Over the past four years Byrd has gone through periods of inactivity and has only fought six times.  Having always been known as a fighter no one wanted to fight, as well as, not having the style of fighting that is exactly crowd pleasing, Byrd has been forced to accept smaller purses than his contractually guaranteed minimum.  Something Byrd has done for the sake of having the opportunity to just get into the ring.     
While coming up, Byrd was a regular on Tuesday Night Fights.  Many people watched him fight and were impressed by his speed and defense.  As Byrd proved his ability to get ratings on the show, HBO became impressed with him as well.  When it came time for Byrd to test himself against a known heavyweight, Jimmy Thunder, Byrd made his way onto Boxing After Dark.  He easily stole the show with his speed and dominance while stopping Thunder in the ninth round.
Byrd would continue winning until he was matched tough against Ike Ibeabuchi, where his speed could not allow him to escape the relentless Nigerian.  Unfortunately for Byrd, the HBO crew heavily criticized him because they were bitter over the Lewis-Holyfield fight the week before.  Nonetheless, Byrd got back on track winning four straight and then going back on HBO to fight Vitali Klitschko.  At this point the media had picked up on what the Klitschko's were doing in Germany and wanted to showcase him against a talented American fighter.  In the end Byrd made Klitschko quit on his stool.  Sure Klitschko had torn his rotator cuff; however, Byrd was coming on and landing combinations that came quickly and plentiful.
With the win Byrd fought the little brother of Vitali, Wladimir and lost the WBO Title.  Many people wrote off Byrd with the loss, however, Byrd was relentless at his craft and fought back.  To ease Lennox Lewis' schedule and allow for a worthy contender to challenge for the title, the IBF ordered Byrd to fight Maurice Harris and David Tua to fight Donnell Nicholson.  Byrd put on boxing clinics against Harris and Tua.  The way Byrd dominated against Tua with his brilliant boxing skills had the whole boxing establishment talking.
Unfortunately for Byrd he would go ten months without fighting and the performance that should have put him back in the spotlight (against Tua) was forgotten.  Lewis refused to fight Byrd after defending against Mike Tyson and accepted one million dollars from Don King to vacate the IBF Title.  The reason Lewis gave to cower away from Byrd was the fight wasn't marketable.
 Don King used the IBF Title to try to set up a unification tournament with established names in the division.  King's creation was called "Hard Road to Glory", featuring Byrd against Evander Holyfield and Roy Jones Jr. fighting Jawny Ruiz.  Byrd fought a crowd entertaining fight by abandoning his normal style and fighting it out, showing another dimension in his arsenal.  Hoping the more crowd pleasing fight style would make people demand a fight with either the Ruiz-Jones winner or Lennox Lewis.
This would not be the case as Jones would try to make fights with Lennox Lewis and Evander Holyfield.  The reason stated, "No one would want to see the fight."  Lewis' view didn't change as he fought Vitali Klitschko, the same man who quit against Byrd.  Consequently Byrd took less money than his contract minimum to fight his mandatory, Fres Oquendo.
The Oquendo fight was very close with Byrd winning a decision.  Many people who saw the fight believed Oquendo won, HBO covered the fight one week after Mosley won a thin decision over De La Hoya.  The bitter HBO crew once again heavily criticized Byrd over his effort. 
Last year would be the busiest year for Byrd since winning the title.  First he fought a very entertaining draw with Andrew Golota.  Following the Golota fight, Byrd took on his leading available contender in Jameel McCline.  Byrd would taste the canvas in the second round and look to have been knocked out, nonetheless, Byrd would beat the count and go on to put on a crowd pleasing performance to retain his championship and get the boxing world talking once again.
The stage was set to finally allow Byrd to fight against the big names in the division and unify titles.  Byrd would turn down a rematch with Wladimir Klitschko because he felt like he did not receive a fair shake when he fought the younger Klitschko, not to mention Klitschko was damaged goods.  Talks of fights with James Toney and Jawny Ruiz proved to be just that, talk.  Instead of capitalizing on another brilliant performance from Byrd, the ball was dropped again and Byrd has been inactive for nearly a year.
Recently Byrd's mandatory situation came up.  After a judge declared DaVarryl Williamson the rightful mandatory challenger, the negotiations began.  Once again Byrd's marketability was questioned.  According to Byrd, he and King were able to work out a deal for the fight to take place.  Following the deal being negotiated, the IBF held a purse bid that Byrd feels no one knew about where King bid $500,000.  King came on Boxingtalk following the purse bid stating Chris Byrd needs to understand his marketability and that there would have been no value to this fight had he not won the purse-bid. 
Dealing with Don King seems to have turned Chris Byrd into a bitter man.  When Boxingtalk first tried to reach Chris, Tracey Byrd informed us that Chris would not be doing interviews or anything to help promote the fight.  Tracey also informed Boxingtalk that the situation with their promoter has "Caused Chris to fall out of love with the sport." 
Eventually Chris did open up to Boxingtalk and told us that he is "Tired of the sport and may just walk away."  When asked about his contract minimum Chris stated, "I have fought for less than my minimum in the past, but I have planned my life around the contract I signed after the Holyfield fight."  He followed up by saying he doesn't know if King will ever pay him his minimum. 
Going back to the analogy earlier, Byrd has made himself part of the elite group of individuals, however, has not received the rightful benefits of being one of the best in the business.  Once again imagine if you had worked hard all your life to reach the top and when you got there your talent was wasted when it was revered.  Every time you made a statement, rather than giving you a chance to make a name for yourself you were ignored until you were needed.  The compensation you were promised was suddenly cut in half, a third or four twenty-fifths.  This is a situation no one would want to be in, yet Chris Byrd has lived this reality for the last few years. 
Is it just Chris Byrd that makes him so unmarketable?  Byrd has stood and banged it out with bigger guys when his defensive boxing would make for easier fights.  What about Cory Spinks, Pernell Whitaker, Willie Pep and several other all defensive fighters who were marketable despite the fact they weren't punchers or brawlers?  Barring a major upset, his situation will improve for his next fight because either Klitschko or Peter will be his next mandatory.  Finally, it could be possible for Chris Byrd to gain the respect he deserves.
Send questions and comments to: presnellcharles@yahoo.com