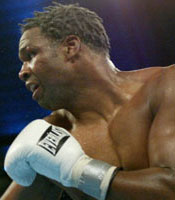 With the official announcement that HBO will televise an IBF heavyweight title fight between champion Chris Byrd and his former conqueror Wladimir Klitschko on April 22, 2006, heavyweight boxing is taking a small step towards clarity.  The sport's most important division, splintered by four separate belt holders all proclaiming to be champions has taken on an unfamiliar role thus far in 2006, by making two fights, that will go a long ways towards eliminating pretenders and identifying contenders who are vying for the right to be regarded as the true world champion in the division.  The first step comes in the month of March when WBC belt holder Hasim Rahman faces the division's junkyard bulldog James Toney.
The bout between Byrd and Klitschko has been rumored to be on and then off again for over a year.  But, with Byrd's court-approved split from former promoter Don King finalized, and the subsequent removal of King's notoriously unrealistic fight demands, the rematch between Byrd and Klitschko was finally able to be negotiated.  King, who upon the retirement of former WBC title holder Vitali Klitschko, was so boisterous about his 'long desired heavyweight unification tournament', has been relegated to the backseat driver's seat of the heavyweight division, forced to watch without his own infamous attempts at total control.  Not surprisingly, it was just a matter of months after King lost control of both Rahman and Byrd, that each fighter signed to fight for a huge payday (in Byrd's case his rematch against Klitschko will likely be a career high purse), against a dangerous opponent, in a bout that carries more consequences for the division than any heavyweight fight King has put together for over half a decade.
Although very meaningful for the division, the Byrd-Wlad rematch may not exactly put on the fireworks that fans count on when tuning into a Castillo-Corrales type bout.  Stylistically, this match-up appears so daunting a task for Byrd that one has to wonder if the IBF belt holder is, at 35, essentially 'cashing in' on his days as a world title holder, and preparing to walk off into the sunset with his last and largest career payday (especially given Byrd's comments of late about retirement).  A less cynical way of looking at it is that Byrd truly is willing to go anywhere and fight anyone to prove he is the best heavyweight in the world. Byrd, who has already fought both Klitschko brothers  (both in Germany), was never so thoroughly dominated throughout a fight as he was in his bout against Wladimir, where in addition to losing almost every round, he was cleanly dropped on two separate occasions.
In his peak form, Byrd is a crafty defensive wizard, who uses his agility and reflexes to hit (ever so gently) and not be hit better than any other heavyweight currently fighting save for perhaps Toney.  Those qualities, his bread and butter as a fighter, are what have allowed him to compete in a division of giants for years and perservere through such huge size and strength disadvantages.  Lately however, Byrd's peak form has been nowhere near the boxing rings that he has been fighting in lately, evidenced by his life and death struggles with the last three opponents who actually bothered to fight back, Fres Oquendo, Andrew Golota, Jameel McCline, resulting in one unanimous but controversial decision, one draw and one split decision, respectively.  There was of course the Byrd-Williamson fiasco, but that bout was hardly any type of a contest, as Williamson seemed content to do nothing for twelve rounds (nobody should ever be able to knock the willpower of Williamson, who showed his determination to follow through with his game plan of nothingness despite the chorus of boos from thousands of fans who were expected some sort of title fight to emerge during those twelve painfully long rounds). 
In the rematch against Wladimir Klitschko, Byrd will have the task of turning back the clock in a way he hasn't done for some time, in order to avoid becoming cannon fodder.
For Klitschko, April 22 could represent a type of redemption day, if he is able to capture Byrd's IBF title (and he will be a heavy betting favorite to do just that).  The towering 6'6" Ukrainian has long been regarded as the best pure athlete in the heavyweight division, and with his extensive amateur pedigree, his Olympic gold medal (in the 1996 Atlanta games), devastating power, and impressive offensive arsenal, it was no surprise that Klitschko was once dubbed the heir apparent to the heavyweight division's undisputed world title. 
Though most fans have defined Klitschko based on his losses to Corrie Sanders and Lamon Brewster in almost back to back fights, there is no mistaking that Klitschko is still an ultra-talented physical specimen, whose immense size, skill, and power pose a serious threat to anybody in a ring with him.  Klitschko's most ardent critics were at least partially silenced last September, when, leading up to his bout with fellow contender Samuel Peter when Klitschko showed his heart in an inspiring win over the raw Nigerian.
Klitschko's biggest perceived flaw as a fighter, perhaps best described as a type of psychological anxiety disorder about being clocked by big hitters, is something he appears to have certainly faced and perhaps conquered since his loss to Brewster.  There can be no doubt that after edging Peter, a fighter widely considered the hardest puncher in the division, that Klitschko's confidence is back.  If the Ukrainian unseats Byrd for the IBF belt, Klitschko would be the hottest fighter in the division, having beaten Peter and then Byrd in back-to-back fights.
Klitschko's title shot with Byrd is the fight that can finally restore much of the luster that once accompanied Klitschko and the hype that surrounded him.  His main weaknesses, anxiety and as some still maintain, a bad chin, are virtual non issues in a fight against Byrd, a fighter who he has not only beaten once, but who knows doesn't have the power to hurt him the way Peter did when sedning Klitschko to the brink of being knocked out.  Byrd is not a pressure fighter, the way that Brewster, Sanders, and Peter all were.  This scribe feels that the knocks on Klitschko's endurance and chin are both false alarms, and that Klitschko's biggest impairment is his own mental anxiety.  If Byrd is unable to make Klitschko respect his power, or feel threatened by it, a very tall order for the Flint Michigan native, he could be in a world of trouble.
The feeling here is that Klitschko has a golden chance of capturing his most prestigious heavyweight belt to date (he once held the WBO belt), and that he will be back on the world title stage in a big way, with a win, and perhaps a knockout of Byrd.  Whether or not Klitschko goes onto become 'the next great thing' if he can pull of the win, could become an intriguing question if he does indeed repeat his 2000 victory over Byrd.  HBO will certainly be there, with pom-poms ready.  Either way, the sport's most important division is going to have a lot of interest surrounding this fight, something it has been starving for (dedicated to Levan Khue).
Send questions and comments to: michaeltyoussef@msn.com