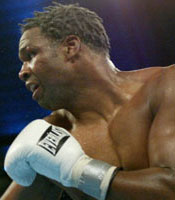 IBF champ in NYC looking for unification with Ruiz-Toney winner!
IBF heavyweight champion Chris Byrd contacted Boxingtalk to get some things off his chest regarding the ridiculous remarks made by trainer, manager, commentator and "hypocrite",  Emanuel Steward. "I didn't even waste my time watching that crap (Klitschko-Castillo) but people called me up to tell me about some junk Emanuel Steward was talking about me after the fight. Funny thing is, and I want everyone to know that Emanuel is the one who told me not to take the fight. He told my attorney, 'don't take the fight Chris, you don't need to be fighting Wladimir in Germany. You shouldn't go there for that fight. Then when he sees me he tells me, 'you're the smartest heavyweight in the world and the only one that knows how to break these guys down over twelve rounds.' Thanks, but tell me something I don't know. Now this hypocrite is going to get on TV and say nasty things. But that's an HBO set-up to make me look like a coward or a punk to elevate their boy, that's what that is."
"And the crazy thing is, he called my lawyer on his own and told him we shouldn't go to Germany to fight a guy that he trains. Emanuel just needs to figure out who he is and stop being a hypocrite."
GL: I know you'll be in New York City in a few days, are you optimisitc that you and Don King will be able to meet and finalize your next fight?
Chris Byrd: "Yeah. And I hope I get the winner of Ruiz and Toney. If not, it could be whoever. If Wladimir becomes the number one contender and they fight me here, we could do that too. I don't care who it is. But Manny shouldn't be talking trash when he's never trained anyone that beat me."
"I don't care who it is right now Greg, I just want to fight. And I know everyone on heard James Toney on the best damn sports show saying that if our promters could work it out we'd be fighting. He blamed it all on the promoters but look who he's fighting, John Ruiz. Who's his promoter? Don King. So tell me who's scared James?"
Send questions and comments to: gleon@boxingtalk.net