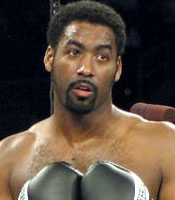 Press Release:
Undefeated Heavyweight and UNC graduate Calvin Brock recently had this to say from his training camp, "North Carolina's Sean May proved that he is the most dominant player in college ball when he led UNC to the National Championship last week.  On April 23rd, North Carolina and fight fans everywhere will see me dominate in the ring the same way Sean May dominated on the court." 
Brock (24-0, 20 KOs) puts his perfect record on the line when he faces Jameel "Big Time" McCline (31-4-3, 19 KOs) on ESPN Pay-Per-View from Caesars Palace in Las Vegas.  Brock, a 2000 Olympian is stepping up in competition by stepping into the ring with the 6'6' McCline who last November dropped a split decision to IBF Heavyweight Champion Chris Byrd. A Charlotte native, Brock graduated in 1999 from The University of North Carolina, with a degree in Business Administration/Finance.  Bank of America employed him until he began boxing professionally in early 2001- hence, the nickname "The Boxing Banker."
"Everyone hears stories about boxers and athletes who are taken advantage of by unscrupulous advisors.  Because of my education, I can read my own contracts and manage my own money.  An education means that no one can take advantage of me,? said Brock.
In 2000, Brock earned the Super Heavyweight spot on the US Olympic Boxing Team.  He is the only "big man" (Heavy/Super Heavy) in US Olympic Boxing history to go to The Games with a college degree in hand. Since turning pro in 2001, Brock has compiled a perfect record of 24-0 with 20 KOs.  His last bout was televised on ESPN2's popular "Friday Night Fights" when he scored a highlight reel knockout of Cliff Etienne (29-2-2 with 20 KOs).  Last May, Brock defeated the previously unbeaten Terry Smith (20-0 with 15 KOs) in a bout televised on NBC.
In what is certainly an unusual training method for the most macho of sports, Brock's other passion is tap dancing.  Savion Glover and Gregory Hines are heroes to Brock as well as Muhammad Ali.  Brock says, "Tap helps me with my footwork. Brock is training near Pittsburgh with Coach Tom Yankello to prepare for his April 23rd showcase.