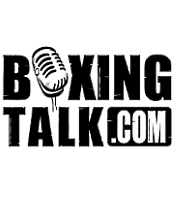 Main Events Confirms Boxingtalk's Scoop From Weeks Ago
Press Release: At only 21 years old, Houston's own Juan Diaz is professional boxing's youngest world champion.  The undefeated Diaz will defend his WBA lightweight crown on Jan 21, 2005, in a highly anticipated, action-packed twelve-round bout against Billy Irwin at Reliant Center in Houston.  It was also announced today by Main Events CEO Kathy Duva that in the co-feature, undefeated 2000 U.S. Olympian Calvin Brock faces Clifford "The Black Rhino" Etienne in a ten-round heavyweight bout.

The Diaz vs Irwin Main Event will be one of at least eight scheduled bouts on the Miller Lite Texas Title Belt, Professional Boxing Series card

Diaz (26-0, 12 KO's) captured the WBA crown in Houston, TX on July 17, 2004, when he out-boxed, out-punched, and out-worked defending champion Lakva Sim to win a unanimous decision victory (W 12).  The victory not only made Diaz the youngest world champion in the sport (20 years old), but also made him the youngest world lightweight champion in over 30 years.  The 21-year-old Houston, TX native is a junior at the University of Houston Downtown, and is recognized by many boxing insiders as the hottest young fighter in the world.  In his last bout on Nov 4, 2004, Diaz successfully defended his title for the first time, pounding former world champion Julien Lorcy to earn a unanimous decision victory (W 12).

Irwin (42-5, 30 KO's) has won his last eight bouts.  The 36-year-old Ontario, Canada native challenged for a world lightweight title on December 16, 2000, losing a unanimous decision to defending IBF champion Paul Spadafora (L 12).   Irwin is ranked #10 by the WBA, #14 by the WBC and not in the top 30 by Boxingtalk.  In his last bout on July 28, 2004, Irwin stopped Lou Bizarro in nine rounds (TKO 9).

Brock (23-0, 19 KO's) represented the 2000 U.S. Olympic Boxing Team in the super heavyweight division.  Since turning pro in Feb 2001, the 29-year-old Charlotte, NC native has knocked out over 80% of his opponents.  Brock captured his biggest win as a pro on May 15, 2004, dominating fellow-undefeated heavyweight prospect Terry Smith to earn a unanimous decision victory (W 10).

Etienne (29-2-2, 20 KO's) has won five of his last six bouts.  The 32-year-old Lafayette, LA native has battled many recognizable heavyweights throughout his six year career, such as Mike Tyson, Francois Botha, Fres Oquendo, Lawrence Clay-Bey, and Terrence Lewis.  In his last bout on November 27, 2004, Etienne stopped Kenny Craven in two rounds (TKO 2).

Several local Houston boxers will also appear on the card, including the following:

Jose Diaz (5-0, 2 KO's) - featherweight younger brother of Juan Diaz
Benjamin Flores (7-0, 2 KO's) – junior lightweight
Akondayne Fountain (3-0, 1 KO) – middleweight
Chris Tamayo (Pro Debut) – featherweight
Lucy Contreras (1-0) – junior featherweight
Jesus Rodarte (Pro Debut) – lightweight
 
Undefeated highly-touted San Antonio, TX bantamweight Raul Martinez (5-0, 4 KO's) will compete in his first scheduled six round bout, while former Mexican champion Julio Cesar Garcia (9-0, 6 KO's) competes in an eight round jr. lightweight bout.