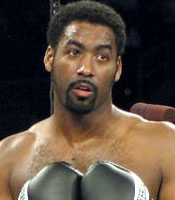 Calvin Brock:  I am Training in California, Pennsylvania and this is the best training camp I have ever had and I have never looked this good before.  I am in great shape and looking forward to the fight on February 25 and putting on a very impressive show and making my record 28-0 in Las Vegas at the Mandalay Bay. 
Which of the fights, between McCline and Bostice, would you say was the tougher fight? 
Calvin Brock: Jameel McCline.  It was the biggest show, he was stronger and I had to be on my toes, he was a bigger puncher.  I had to work harder and throw more punches.  I had to move a lot more and it was just a tougher boxing match. 
How do you look at the Lawrence fight? 
Calvin Brock: He did beat Jameel McCline and he did beat my first and he beat the guy that I lost to in the Olympics – he gave him his first loss.  He is not an opponent that I can take for granted.  It is a boxing match that I had to look good at.  It is a big show on PPV.  If I want to become heavyweight champion this year I have to beat Zuri Lawrence.  Zuri Lawrence will come in and try to make an upset and he won't.  I will go into the ring and look good against him and win impressively.  I will show the world that I am deserving of a title shot and I am the one that is going to be King of the heavyweight division. 
What do you see right now in the heavyweight division? 
Calvin Brock: Right now I see a coup of impressive boxing matches coming up in the heavyweight division, with James Toney and Hasim Rahman and Chris Byrd and Klitschko.  I am just looking to take the titles away one at a time from whoever is holding a title.  Someone is going to lose that title this year.  I don't know which one, but somebody is.  I am just looking forward to my chance.    
These couple of impressive boxing matches coming up will draw attention to the division with fans around the world and I will take one of those belts away from the of the titleholders.  They are there to be taken but at the same time I have to get on television.  I have to win next Saturday and maybe again to expose myself to the boxing fans.  Then there will be a bigger fight for when I go in and take the title. 
I think I am going to get a title shot regardless.  As long as I stay focused, the title shot is going to happen, I can't see anyone else more deserving of a title shot than me.  Who else are they going to go to? 
Do you have a short list? 
Carl Moretti:  You know who the champions are and you know who is fighting.  There's a short list, there's a big list.  You can call it anything you want, but I think the plan right now…he's got the right attitude.  This title shot will not come about immediately.  It is not like there is a clock ticking on Cal here and he's got the right attitude.  He's fresh, he's young, he's a new face and people are starting to get to know him with each fight.  So when that shot does come he will be better exposed and out there and it will be worth that much more. 
Everybody talks about Peter and Klitschko last September – if there was ever a fight that had so much hype leading up to it that proved nothing at the end of it – it was that fight.  Our goal is that when he gets that shot he is going to shine and there will be no question.  After that fight ,you are not going to be looking for the next guy, because he's going to be the guy. 
Calvin Brock: Exactly. 
Lat September, how close was the Klitschko fight to actually happening? 
Carl Moretti:  We agreed on a number and we knew the time frame.  The only thing the Klitschko people forgot to do was get the sanctioning from the WBC.  Other than that, we wanted to take the shot then after seeing what Klitschko did in retiring, it probably would have been the right fight for Cal at that time.  It didn't happen and you live and learn and you go from there.  I don't know if it is blessing in disguise or not.  We would have been ready to fight that night for sure, but some things you can't control and that was one of the things.  We move on and we find ourselves in '06 and have a plan and we'll take advantage of it. 
Has it been disappointing after the McCline fight that there has been no follow-up? 
Calvin Brock:  It is a little bit frustrating.  I haven't been back on TV since the McCline fight.  I thought for sure that after I beat McCline that bigger things would have been in the making, other than my wedding.  But this is a new year and I am back on television.  So I am glad that the new year is here and we have a new plan and good things are going to come this year. 
Does looking at a Boxing After Dark date in the summertime something that motivates you? 
Calvin Brock: It is motivating because it would be my first time on HBO.  This is on HBO PPV, which I really don't consider HBO because when they show the replay they will not be showing me.  So it will be my first time on HBO and everybody has to make their first appearance on HBO and they are going t make that appearance as a main event I am going to win and look impressive and hopefully after that, there will be something bigger. 
What have you been working on to prepare for this fight? 
Calvin Brock: I am working on everything - the jab, the fundamentals.  I am working on making myself harder to hit and working on explosiveness and getting more power on my shots. 
How do you rate your condition? 
Calvin Brock: I've got a chin.  In the late rounds…I get stronger as the rounds progress.  I just went 12 hard rounds in my last boxing match with David Bostice.  Right now I am in better shape than I was for that fight with David Bostice.  I am coming in lighter for this fight am training hard and coming in lighter.  I would go the distance – 15 rounds if I need to.  No problem.  I won't be 218 – I think that is a little too light.  We don't want to get that light.  I will come in at the mid 20's, somewhere between 222 and 225.  I am my best at 225. 
Is there anyone of the belt holders in particular that matches up well with you?
Calvin Brock: I will take them all.  All of them will match up well with me because I can adjust.  If anyone has seen me box, there is no style that gives me problems because I am versatile in my style.  I can adjust and win a boxing match against anybody – no matter what their style is and no matter what their dimensions are.  There will be no problem against anybody in the world.  All of the title holders.  When they step in the ring, there title is leaving them. 
Who do you see in the upcoming heavyweight fights? 
Calvin Brock: I would really like to be there to see them box.  I really can't comment on that, I really can't call it. 
Will you be willing to fight Sam Peter even though he is a friend?
Calvin Brock: I don't know.  If it came down to the right economics and we could come to an agreement we could.  But right now I am looking at Zuri Lawrence and then getting a title shot and becoming the heavyweight champion of the world.   
WBO Bantamweight Champion Jhonny Gozalez
Three-Time World Champion Mark "Too Sharp" Johnson
Conference Call Transcript, Wednesday, Feb. 15, 2006 
Jhonny Gonzalez:  I am Mexico City right now and I am doing all of my preparations in my gym.  My gym is open air in the middle of the street and that is where I have trained since I was a little kid.  Reporters, friends and sponsors stop by to watch me train in the middle of the street. 
Mark Johnson:  Everything is going great and I am just ready to go.  First I would like to say congratulations to the Gonzalez camp on winning the title.  And thanks to them for giving me the opportunity to become the four-time world champ because if it wasn't fort those guys I wouldn't be in this position.   
Mark, do you look at this as your last chance at a world title? 
Mark Johnson:  Of course it will be my last chance at a world title shot.  You know what they say:  out with the old and in with the new.  We have to think like that, in boxing a lot of people always think that that next fight is always going to be there.  I have been sparring with Peterson and Barry Linby.  And Lamont who is fighting Friday on ESPN.   
Jhonny Gonzalez:  I have had southpaw sparring.  They are very fast and very skilled boxers that move around and have the style like Mark Johnson - three southpaw fighters that have a very similar style to Mark Johnson.   
My first step is next week against Mark Johnson and I want to have a good performance on HBO in front of a good audience.  Then I want to move up to 122 and get bigger fights like Vazquez or Rafael Marquez.  Marquez has said he doesn't want to fight anymore at 118, so Jhonny is willing to chase him up to 122 to be a bigger bout.   
Mark Johnson:  I want to thank the Jhonny Gonzalez camp because we wouldn't be in this situation and that says a lot about a great champion that he is willing to take on anybody and everybody to show that he is the best at 118 and I would like to thank his team and de la Hoya. 
Is weight as issue for this fight, or as you get older? 
Mark Johnson:  Right now, I don't have to come down as much as when I was fighting at 115.  Since I am older now, I know by body a lot better.  I think going into the Marquez fight we had a lot of ups and downs in camp and of course you know we had a controversial decision in the first fight and in the second fight I was going through family problems and a divorce.  But I make no excuses about it.  This time at 118, you don't get an opportunity to be a four-time world champion in three different weight classes.  So many fighters have tried and failed.  I am one of those fighters that looks for the opportunity and that opportunity is right at my finger tips.   
I watched Gonzalez and he is good, he was great in that fight (his last) and very strong.  Now I am 100% and I'm ready to go.  Then I had a torn triceps muscle in my left arm. 
How do you feel about self-promotion? 
Mark Johnson:  It is hard for fighters to promote themselves.  Fighters like me in the lower weight classes, we need promoters because we are not getting the 9 or 10 or 2 million dollars so we need guys like the Loud DiBella's and de la Hoya's that are legitimate.  Of course this is a big leap for him in the 188-pound division and not only is it a great leap, you have Mark Johnson, who is older and he lost his last fight, so lets give him a big leap and that's what they are doing.  Any sport you are in it is always, out with the old and in with the new. 
Do the naysayers motivate you? 
Mark Johnson:  I am a professional at everything I do.  Some people say that I am over the hill.  That doesn't motivate me.  What motivates me is trying to become a 4-time world champ in three different weight classes.  Trying to do something that hasn't been done since Sugar Ray Leonard.   
If you lose the fight, is that it? 
Mark Johnson:  You know, every fight, I say, "I don't know."  We always say we are one punch away from losing., that's how boxing is.  I would like to try to do some things with DiBella, try managing.  Try to make it on their team if I am not successful.  People always say that a great fighter has one great fight left.  Hopefully this will be my one great fight and me and Jhonny Gonzalez will put on a great show. 
Jhonny, will you anything different against Johnson? 
Jhonny Gonzalez:  It has been a special tribute to fight Mark Johnson.  He's going to come out and do a lot of things.  He's going to move a lot and use a lot of the ring.  He is very experienced.  We did our preparation different this time for Mark Johnson.  
Is there a story behind the way he spells his first name?
Jhonny Gonzalez:  There was an error when my dad put me on the register in Mexico.  There was an error where the put the letter H.  That's why it is spelled that way.  But that has helped people recognize me a little more because my name is misspelled.   
Mark, do you have a preference of fighter that you'd like to fight? 
Mark Johnson:  The only problem I would have is that he's a southpaw.  If you've watched my career, I've been fighting those types of guys.  A lot of those guys are strong, hard punchers and they would have taken the ring away.  Make no mistake about it, it is going to be a great fight.  I've watched him coming up and he's a great fighter and styles make fights and he has one of those styles that will make a great fight. 
Compare this to the Mintiel fight?
Mark Johnson:  It is almost the same thing.  They were building Fernando Montiel and I got in great shape and I beat him.  There is always a situation where they want to build young fighters against older names and this is almost the same thing.   
Do you want to get him into the late rounds? 
Mark Johnson:  That is one of the things that is never discussed.  Do we want to take him late and them drown him.  I will go in there and see how it goes and we will deal with it.  I am just going to go in there and be a true professional and a true fighter and a boxer and win the fight - whatever it takes to do that.  That's what I am trying to do.   
How do you feel about this fight? 
Mark Johnson:  I don't think I would have signed this fight if I was just looking for a good fight.  I want to become four-time world champion.  Make no question about it.  Rafael Marquez moving up to 122.  Who wins this fight is the No. 1 guy for 118.  This is a great opportunity for me to become a four-time world champion.  Every fight I go out I give it my all.  I'm not the type of fighter that looks to give a great fight – I fight to win.  And I look forward to giving a great show.  This shows a lot about Jhonny Gonzalez, eve though I am at the age I am.  Look at the fighters that wouldn't fight me, like Michael Carbajal, Roberto Gonzalez, Tony Ayala, Boneless Adams, Danny Romero.  So it says a lot about the de la Hoya people and Jhonny Gonzalez and the heart he has to step in the ring with me.  I am overwhelmed by this opportunity to become four-time world champ.   
Jhonny Gonzalez:  Mark, we are very thankful for you thanking us for giving you the opportunity.  Jhonny respects you also, that's why he took the fight because he respects your career and all that you have done in boxing.