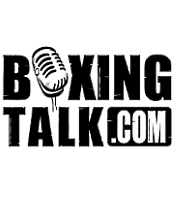 Do you feel a responsibility to the American public to show them there is a quality heavyweight out there? "I feel like I have a lot to prove to be the heavyweight champion of the world.  If I have to gain the attention, the respect of all the boxing fans to gain the heavyweight throne, then that's what I plan on doing.  I will have to prove that by going in there and making a statement each time out." 
Why do you feel most of the heavyweight champions are from the former Soviet Bloc? 
Calvin Brock:  Most of the athletes today are playing football, basketball and baseball.  I played baseball and football but I never had a desire to be a professional in those other sports outside of boxing.  Boxing was always in my heart and I had that desire since I was eight years old.   
What was the appeal of boxing? 
Calvin Brock:  I think the appeal was the one-on-one competition.  Everything is up to me.  I like the preparation for it.  I like the excitement of it.  I liked the tournaments and the traveling and the television.  I like everything about it.   
Are you satisfied at where you are at right now? 
Calvin Brock:  I am a young 31 years old, and I achieved my dream of going to the Olympics and graduating from college.  If I had turned pro in '96 and not gone to the Olympic trials, I may have been in the shadow of Evander Holyfield and Lennox Lewis and some of the others, and my body was not developed the way it is now.  There would have been a longer way to get where I am right now if I started earlier.  Right now I just put everything in God's hands and everything has worked out just fine.  I have a good nine years or so left in this sport.  Look at Bernard Hopkins and what he did to Antonio Tarver – he looked like he was 21 years old.   
With the college degree, do feel like you are one of a kind in boxing? 
Calvin Brock:  I do.  If you go off to college, you get pulled away from boxing.  First of all, it is very hard to make it in – it is a longshot.  People that go to college, all you think about is going out into the work force and having a secure career.  My security was not going to go out into the work force.  My security is obtaining my dream to become the heavyweight champion of the world.  With my confidence and my ability and God's blessing, I will become the heavyweight champion of the world.  It comes from home too, both my mother (Alean) and my father (Calvance) have college degrees. 
How did you manage to do both? 
Calvin Brock:  Being a workhorse.  From sun-up to sun-down.   
What do you know about your opponent? 
Calvin Brock:  What I do know about him is that he is undefeated, 21-0 with 1 draw.  He is an outside boxer.  I plan on getting him out of there by landing my shots.  I am good at finding my opponent and landing my shots.  Once I land my shots, he'll be out of there.   
What fighter do you want once you get past Ibragimov? 
Calvin Brock:  There is no one in particular that I want.  Whatever is economically the best.  I am thinking this year (to fight for heavyweight championship) but you may want to ask Carl Moretti what he thinks. 
What areas do you think you have improved in the most? 
Calvin Brock:  All around.  Jab, offense and defense.  All around – we work on everything.  You will see a better jab.  A faster, better defense.  Better balance.  I will be at a lighter weight – 225 or under, and you are going to be impressed.   
Do you think people are taking Calvin Brock seriously at this point? 
Calvin Brock:  Yes, I think so.  For one, I am the hottest heavyweight contender in the world.  Secondly, I think that everyone knows they are going to have to fight me. 
Carl, how do you see Calvin bringing heavyweight boxing back to the USA? 
Carl Moretti:  What is there now is not generating a whole lot of interest.  People are a little tired of James Toney and Rahman has been there awhile.  The more Brock is on HBO and the more you see him on TV and you see the knockouts, the more he is gaining public interest and that he is as good as any heavyweight out there, including the champions.  The question is when can you get one of them in the ring?  And whenever that may happen, he will beat them.  In the meantime, you keep fighting on TV and doing what you are doing.  Sam Peter was the hot name last year against Klitschko and nothing came of it.  Klitschko went on to beat Byrd and got some knockouts against guys that really don't matter that much.  Valuev is more a mystery just because of his size, but when you look at it he doesn't really look like much of a fighter.  Everyone knows Rahman because he has been a round for along time and he is what's left from what has been around for a long time. 
People will continue to see Calvin on TV and get to know him a little bit more and get to know his personality and get to know him in the ring.  He is a pleasing heavyweight to watch, whether he is knocking the guy out or trading punches like in the McCline fight.  It is rare that you get a great heavyweight fight like the McCline one.  He went down in the seventh and came back and won the round.  That's all to his credit and when you add all of those things up – the answer is Calvin Brock.  You just continue to snowball the momentum on June 24th .  Calvin Brock has done the right thing and Tom Yankello is doing the right thing and the only fight that matters right now is June 24th.  Everything else will take care of itself.  On June 25th, we can start talking.   
How hard is it to get one of the champions in the ring?
Moretti:  It is difficult, but at the end of the day, you've got networks that are selective in the fights that they want to buy.  When you look at it, the list of heavyweights, when you have Calvin Brock in the picture – HBO, Showtime or somebody is going to want to see him fight in a big heavyweight fight and that works to his advantage. 
Do you see the US heavyweight picture turning around a little bit? 
Moretti:  As soon as Brock gets in the ring with Valuev, Klitschko or Lyakhovich – it will turn around.   
Calvin, you are really the only up and coming American heavyweight, what do you see on the horizon [for America's heavyweights]? 
Calvin Brock:  There is none that I know of right now.  I do not know who is coming up that has the potential to challenge.   
How do you use your intelligence in the ring? 
Calvin Brock:  I try to be as intelligent as possible.  In the ring I try to be intelligent as to how I break the style of my opponent down.  To win the boxing match and win it looking good without getting beat up in the process and taking a bunch of punches.  Over the years I have learned how to compete against different styles.  It is not always the boxer that beats you, but the style that he has that beats you.  No matter what style you have, I am intelligent enough to adapt to that style and make that style weak and my style strong so I win. 
What college did you go to? 
Calvin Brock:  University North Carolina-Charlotte.  Degree in finance.  I resigned from the bank [Bank of America] in 2000 so I could resume my boxing career.   
Moretti:  Calvin's is a story that you don't hear about in boxing.  The fact that one of the best heavyweights in the world comes along and he has a degree in finance and the way he conducts himself is refreshing all the way around.  He is extremely marketable and extremely promotable and at the end of the day it is not just in the ring, he's got it outside of the ring, too.  It is just a matter of fighting on television and fighting in meaningful fights.  So when he does get the shot at the title, people will know him going in and as champion after he gets the title. 
What champion do you want Calvin to fight next? 
Moretti:  It is all about June 24th, and then they won't be able to avoid it.  He'll be in a position to look at different fights and see what they are worth.  It's not like we don't want to fight this guy or that guy…we'll beat all of them.   
Which punch do you consider your bread and butter? 
Calvin Brock:  My right hand and my left hook.   
What do you know about your opponent?
Calvin Brock:  I haven't seen anything live.  I have seen a few of them on tape.  All three of those boxing matches, he boxed the same.  With that said, I think he will come in and box the same way against me and I will be very effective and win the boxing match.  He moves well and he has a good jab.  He has a good one-two, a nice jab-right hand.   
I am definitely going to make a statement on June 24th and the world will be just drooling for me to take on one of the world title holders. 
TIMUR IBRAGIMOV 
Why do you think so many of the Eastern Bloc fighters are making an impact on heavyweight boxing? 
Ibragimov:  It is very good for us.  Before, I was sure that the best heavyweights came from America.  Mike Tyson, Muhammad Ali, Larry Holmes, George Foreman, and now the latter champions are coming from the former Soviet Union.  I don't know what has happened, but we show everybody that we can fight too.   
I think it has changed because when you ask anybody who the best one is, they say Klitschko or somebody else, but they never say an American.  Before yes, but no now.   
Does the freedom that you now have make a difference? 
Ibragimov:  Maybe, but you know what?  I think the former Soviet fighters have experience from amateur school.  Maybe this is a point for us because a lot of American heavyweights do not have amateur experience.   
When I was amateur, I was not heavyweight – I was cruiserweight.  I fought in the Olympics in Atlanta and I fought in the world games in Berlin.  I fought in the Asian games.  I fought in over 200 amateur bouts.  I won close to 180, maybe 170.   
Does that make a difference? 
Ibragimov:  Yes, if you see Klitschko, he had a lot of amateurs also.  Only Valuev, he doesn't have too much amateur experience.  The young guys from Germany too.  Everybody has a lot of amateur experience.  These are the points, but that is just my opinion. 
Germany is vying for the big fights and they are going there too.   
What do you think of Calvin Brock? 
Ibragimov:  He is a really good fighter.  He's got heart and everything but he is really nothing special.  He is like anybody. 
Do you think Maskaev will beat Rahman to make a clean sweep? 
Ibragimov:  This is a difficult question for me.  You don't know what happens tomorrow, right? Me either.  What I do know is that Rahman has trained very hard for this fight.  This will not be a fight – it will be war.  I do not know what will happen, but I do know they both prepared very hard for this fight.   
What about your fight, what are your chances? 
Ibragimov:  If I did not think they were good, I would not get in the ring.   
What happened to the American heavyweights?
Ibragimov:  I do not know.  Some people say they are not hungry right now.  You see Rahman and James Toney, they are good fighters, but the Soviet fighters, they train like they are in the army.  You get up in the morning and run.  Even if you don't have a fight – you get up and run.  American fighters, they don't do that – only when it gets close to the fight.  I have a lot of friends in Germany and it is like they are living in the army.   
The Cuban national team?  They live like they are in the army and they win four medals every time out.   
What was the difference when you turned pro? 
Ibragimov:  When I see the gloves?  They looked small.  When I fought the four round fights, there was not much difference but I could really tell when I fought eight-round fights.  The most difficult is that it is not 4 rounds, it is 8 or 10 rounds.  In Asia, if the fight is hard, they quit – in America, they keep coming and coming.   
We prepare for twelve rounds.  If it ends early – it is good.  If not, I prepare for twelve rounds.   
JOEL JULIO 
Julio:  I am training in Vero Beach, Florida in Buddy McGirt's gym.  With Buddy McGirt and Roberto Quesada and everything has been going very well.   
Do you feel pressure in this fight? 
Julio:  I fell very happy about this – about the opportunity.  I feel no pressure whatsoever.  I have been looking forward to this moment my whole life.  I've got great condition and I feel great physically and mentally and I'm ready for the fight. 
What do you expect to see from your opponent? 
Julio:  I have seen a couple of his fights on tape and I feel that he is going to go out and try to outbox me.  I think when he attacks me his camp thinks I am not going to know what to do, but I am a very good counter-puncher and I will be ready for whatever he brings.   
Do you think this fight will come down to who has the most power? 
Julio:  No, I think it will come down to whoever knows how to manage the fight best.  I will be ready for twelve rounds, but I don't think it will go twelve rounds.  I am ready for the fight, I don't think it will go the distance but I am ready for twelve rounds. 
What do you think of Paul Williams?
Julio:  I think Paul Williams is a good fighter but wait until June 24 and you will see what the future of the division is.  Not only the future of the division, but the world champion of the division.  I will demonstrate to Carlos Quintana.   
I think fans will have a chance to see me.  I do finish early but I have a lot of talent.  I am quick and I will show them round-by-round and hopefully they will be able to see it.