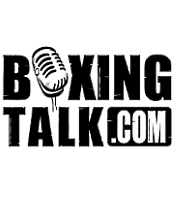 DiBella Entertainment held a press conference Tuesday at Gallagher's Steakhouse to promote the next installment of Broadway Boxing, which will be held this Thursday night at the Manhattan Center.  The card will be feature 154-pound Brooklynite Sechew Powell (13-0, 9 KOs) and lightweight Koba "Cobra" Gogoladze (15-0, 7 KOs).  Powell is coming off a rocky (and questionable) decision over Grady Brewer, and needs to impress against a game George Armenta (12-3, 10 KOs).  The southpaw Gogoladze (Boxingtalk # 19 at junior lightweight) lives in Philadelphia but is originally from the Republic of Georgia where he compiled an amateur record of 282-18.  Fight fans may recall the punch-of-the-year candidate he landed on Juan Garza last January: a perfectly-timed right hook that gave me whiplash just watching.  
Boxing cognoscenti such as journalist Jack Newfield ("The Life and Crimes of Don King") and ShoBox analyst Steve Farhood rubbed elbows and wolfed down steak sandwiches, as talked turned to Glen Johnson's starching of Roy Jones, and this Saturday's Mayorga-Trinidad showdown at Madison Square Garden.  But weighty issues were also discussed when Lou DiBella took the floor and spoke passionately about the need for reform in boxing, citing the Michigan boxing commission as one of the worst culprits getting ink lately.  In an effort to effect positive change in the sport, and to protect the physical and financial welfare of boxers, this Broadway Boxing card will have officially unionized matches presented under the auspices of the Joint Association of Boxers (J.A.B.).  The promising J.A.B. is headed by former light heavyweight champion Eddie Mustafa Muhammad and is backed by the International Brotherhood of Teamsters.
* * *
As I made the rounds, I spotted one of the rising stars fighting on Thursday's card.  Jaidon Codrington (2-0, 2 KOs) grew up in Bridgeport, CT.  Codrington picked up a couple New England Golden Gloves, but he has roots in Brooklyn and now lives in Queens.  He is a former National Golden Gloves champion at 165 (2002) and won this year's New York Golden Gloves at 178.
ZL: How are you feeling?  Talk to me about the transition from the amateurs to the pros.
JC: I feel good.  The transition is a little bit different, mostly to my advantage.  I like it. 
ZL: What are some of the differences, specifically?
JC: No headgear.  You can feel punches a lot more.  You can be a lot more aggressive and physical.  You can hold a lot more, push a guy, bully him around a lot more.  It's a lot more mental.  You only have to make weight once.  You know exactly who you're fighting, when you're fighting, you know what I'm saying?  It's a lot easier.   
ZL:  I noticed that you're moving down from light heavyweight to super middleweight.  How has that been going?
JC: I'm only 20 years old, you know what I'm saying?  This is my weight class.  I'm gonna be dominant at this weight class.  I'm dealing with grown men who do this for a living, therefore I have to get an edge back.
ZL: Do you struggle to make your new weight?
JC: Not a struggle but it is hard.  You gotta be disciplined.
ZL: Do you still work out of the Starrett City Boxing Club?
JC: Most definitely.
ZL: Talk to me about that place, because they develop some hard dudes.
JC: We're in the bottom of a building.  It's a good gym.  We got the best trainers.  Victor Roundtree, Gary Stark Sr., Jimmy O' (Pharrow).  And at the same time, we got a lot of good fighters.  Daniel Jacobs, myself, Curtis Stevens, Dmitriy Salita.  Monte Barrett comes from there, Shannon Briggs comes from there.
ZL: Is there such a thing as a Starrett City style?
JC: We have so many different trainers, we use 'em all to our advantage.  We all have different styles. 
ZL: I noticed that even in the amateurs you had a great body attack.
JC: Oh, yes, you can't forget the body!  That's money in the bank, like Tarvis Simms taught me.  Money in the bank, can't forget the body.  That's one thing they teach us a lot at Starrett City.
ZL: Did you see Roy Jones-Glen Johnson last weekend?
JC: Yeah.  He (Jones) hurt me bad. 
ZL: Rough way to go out, huh?
JC: I'm thinking maybe something's distracting him, maybe something's going on outside of the ring.
ZL: You think that this is it for him?
JC: Hopefully not. 
ZL: So what do you know about the guy you're going to be fighting, Joe Harris?
JC: I know he's 6-4.  I know at this stage in my career I don't need to be strugglin' with anybody, I should be blasting everybody.  So I get in good shape, prepare hard, train hard.  And I plan to do the same thing to him as I did to the first two, only a lot quicker, a lot more dominant. 
ZL: Anything in particular you've been working on at the gym lately?
JC: A lot more jabs.  My jab's there.  And executing, you know what I mean?  A lot of times I wait until the second and third time I got a guy hurt before I take him out.   This time, the first chance I get to get him out of there, I want him out of there. 
ZL:  Do you listen to music when you do your roadwork?
JC:  Jay-Z, Bennie Siegel, Ja Rule.  Every time a good song comes on that I like, I sprint. 
ZL: What kind of mileage do you put in?
JC: I run about 5 miles once, then I run 7 miles, then I do a fast 3 miles.  And I keep rotating the three.  When it comes time to make weight, I may have to run twice a day—just maybe once or twice. 
ZL: What are you walking around at now?
JC: Right now I'm 170.
ZL:  How heavy do you get when you have time off between fights?
JC: Because I'm disciplined, I don't get any higher than 180. 
ZL: You look like an imposing super middle, even if you're walking around weight isn't much over the mark.
JC: Not only that, I can box well.  It's very frustrating to fight me.
ZL:  I noticed looking at your resume as an amateur that you've bounced around a lot—Connecticut, Brooklyn, Michigan.  What's the story on that?
JC: Here's the story on that.  I started in Connecticut, but I was always working in Brooklyn—that's where I got my skills.  I just practiced in Connecticut what I learned in Brooklyn, you know.  I'd go back and forth. 
ZL: How competitive were the New England Golden Gloves compared to the New York Daily news Golden Gloves?
JC: Well, actually, it was a lot more competitive than people would've thought.  I never got a bye, I had to fight 5 times both times I fought in the Gloves out there.  So it was very competitive.  There aren't as many technically-skilled guys but they are rough and tough. 
ZL: What parts were the rough dudes coming from?
JC: I'm from Bridgeport.  You got rough guys coming out of Hartford.  You also had to fight guys from Massachusetts.  You had to fight guys all over the Northeast states.  You might get a rough dude out of Vermont!  You never know who you're going to run into. 
ZL:  Tell me about your time in Michigan?
JC:  I came back to Brooklyn after I graduated high school.  My trainer sent me out to Northern Michigan University to be with Al Michell at the elite Olympic training center.  I stayed out there for three semesters before I came back to go to college. 
ZL: How was the experience overall?
JC: I learned how to discipline myself, how to eat, how to lift weights.  But technically, you can't really get nothing there they're not showing you at home.
* * *
Next, Boxingtalk had a chance to talk to Broadway Boxing's headliner junior middleweight Sechew Powell.  Powell is one of the more personable boxers you're likely to meet, and Lou DiBella has high hopes for him.
ZL: You're looking very relaxed and calm, Sechew.
SP: Well, you know, the hard work is done.  So it's just time to wait for the big night.
ZL: I haven't seen you at Gleason's in a long time, where have you been training?
SP: I was just in the Poconos training, getting focused and conditioned with the high altitude.
ZL: Were there other camps out there?
SP: Travis Simms, Luis Collazo and Wayne Braithwaite were all conducting camps. 
ZL: Did you spar with Travis Simms?
SP: Yeah, me and Travis did a little work.  That was a great experience.  I was very grateful for him to give me that opportunity.  I learned a lot. 
ZL: You are no longer with your long-term trainer Angel Rivera.  You guys have been together since your days as an amateur.  How is it going to be not seeing him in your corner this time? Will it be emotional?
SP:   No.  Strictly business.  This is a business and I know what I have to do.  I know what's in front of me.  I'm just going to do what I know how to do.  I'm not going to let little things sidetrack me.
ZL: Gotcha.  Talk to me about your opponent, George Armenta.  Have you seen him fight before or watched any tape of him?
SP:  I've seen him box before.  He's a very tough guy, well-conditioned, he has a winning attitude.  His confidence should be way up.  You know, he's coming off a couple big wins, so I'm expecting him to bring his A-game.
ZL: Tell me about your new trainer Francisco Guzman.
SP:  He's a great trainer.  Very experienced.  He's currently the trainer of Joan Guzman (no relation) and Mauricio Martinez.  I actually trained with him when I was a young, young kid, before I ever worked with Angel.  It was only elementary to me to go back with a person I was successful with in the past.  So we have a great relationship.
ZL: How old were you when you guys initially worked together?
SP: Maybe about 10.  Approximately, 10 to 13.
ZL: Had you two stayed in touch over the years?
SP: Yeah, well, we always had a good relationship.  I would see him working at Gleason's, where he used to train most of his fighters.  So he has the world class experience.  He's helped Arturo Gatti's career tremendously, in the early part of his career.  He's a very experienced trainer, he knows what he's doing.
ZL: What are some of the things he's been working on with you?
SP:  Overall, polishing my game up.  Not necessarily working on one thing for this opponent or that opponent.  Just polishing my overall game, because when you go in the ring who knows what you're going to get.  You just got to be ready for whatever.  I understand and know the style of my opponent, so I know how I want to box him and how I want to execute against him.
ZL: Who are some of the other guys in your weight class that you look at and respect?
SP:  Well, you know, I like Verno Phillips.  He's been looking very good.   I'm very impressed with him.  And Kassim Ouma, he's another guy who's been looking pretty good.  Kofi Jantuah is another good guy.  Besides those three guys, it's wide open for me. 
ZL: Break a leg Thursday.
SP: Thanks a lot.
Send questions and comments to: zlevin@nyc.rr.com