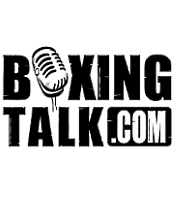 Press Release:
The recent bout in which Paul Malignaggi fought and won with a broken hand is set to be broadcast on various cable networks. Madison Square Garden Network (MSG), Fox Sports Net New England (FSNNE) and HDNet have announced six air dates for DiBella Entertainment's latest installments of Broadway Boxing Presented by Turning Stone Resort & Casino both of which were taped at the Hammerstein Ballroom at Manhattan Center on August 25th. These broadcasts will feature Malignaggi's win over Jeremy Yelton (16-2, 8 KOs) and also a regional junior welterweight title bout in which Dmitriy Salita (23-0, 14 KOs) stopped Shawn Gallegos (15-2, 8 KOs).
Malignaggi improved to 20-0 with 5 KOs but the broken hand will keep him out of action for a while. The air dates will be MSG: Friday, September 9th at 8 PM and Saturday, September 10th at 1 AM and FSNNE: Thursday, September 15th at 11 PM. A separate broadcast will feature a battle between Sechew Powell (17-0, 11 KOs)and Santiago Samaniego (36-10-1, 29 KOs) and also Edgar Santana
(15-2, 10 KOs) squaring off against Donnell Logan (8-5-1, 4 KO's). This show will air as follows: HDNet- Friday, September 9th at 9:30 PM and Saturday, September 10th at 12:30 AM and FSNNE: Saturday, September 24th at 8 PM.