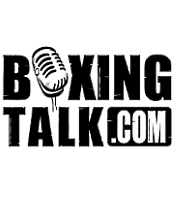 "I don't fight prospects older than me!"
After the release of Vinny Maddalone's response, former linear heavyweight champion, Shannon "Brooklyn" Briggs 43-4-1(37) contacted Boxingtalk.com to give his take on the cancellation of their scheduled for October 1st  bout on the Jones-Tarver III televised undercard. "He just confirmed everything that we said, that they never signed the contract and that basically they pulled out" stated disappointed Briggs from his home in Florida. In this one on one exclusive, Briggs also responds to 2000 Olympic Gold Medallist Audley Harrison's recently released press release bashing many of the top Heavyweight contender. You don't want to miss what else he had to say
RC: Shannon, what's going on? Give us your thoughts on the Vinny Maddalone interview he here on Boxingtalk.com?
SB: It was cool, it's funny because he just confirmed everything that we said, that they never signed the contract and that basically they pulled out. He basically reconfirmed everything that we had to say. It is funny that he is fighting somebody else, which is (Brian) Minto, I don't know why. I think he tried to say it was a money issue, and I don't think that was the case. I wasn't getting that much money for the fight, they were offering me $50,000, what's that? That's pennies. I was taking the fight just for the television exposure and to be fighting at home here in Florida. I mean I still live in New York and New Jersey, but this is where I reside also. So it was a great opportunity to fight here and be on HBO PPV.  So I was like let's do it!
RC: How disappointed are you that you are no longer getting that opportunity to fight him on that card? And do you feel as if your name made that much of an impact on ticket sells even though the fight was in Florida, oppose to it being in NY where you are a much bigger draw?
SB: You know I was at the Jeff Lacy fight a few week ago and I got a nice response as far as people saying "That's Shannon Briggs" and a lot of people were happy to see that I am fighting, that I am being active. People were happy to see that I am back and it was cool being in Tampa at the Lacy fight, so I am not going to say…. you know I don't know who said that, I didn't know if it was my manager or my trainer venting being angry and saying that. I don't think that I would have made a huge difference as far as ticket sales go... Well actually I don't think I would make a difference at all to be honest with you. But I just think that was just frustration on their part because we were looking forward to the fight, and I think it was a great fight.
And you know, to be honest with you, I love this fight in NY. This is a great fight (Maddalone-Briggs) for New York so thing happen for the best. Hopefully he beats Minto, and we can do this shit right at home.
RC: How would you a fight with Vinny Maddalone and Shannon Briggs play out?
SB: It would be great; he is a puncher like he said. He is going to come out swinging from the gate; just swinging wild punches and that is perfect for me. That is what I want to do, I hate boxers, when guys box me they give me headaches. So that is great, a perfect action packed fight, especially for New York. I am from Brooklyn, he is from I think his is from Long Island or something like that.
RC: (Cutting in to correct him) Howard Beach, Flushing area.
SB: Ooh great even better. Even better, it is great man I would love to do that fight. Especially in New York that would be a great fight. A Great fight for Brooklyn.
RC: While I have you here with us, why don't you give us your thoughts on your performance and against (Ray) Mercer and when can we expect to see you back in action?
SB: Versus Mercer I felt good, I felt 85-90% of myself. There is a lot for me to work on as far as me coming back, and getting my timing and everything together. I feel good, I feel like I am on the right road, I had three fights this year, three by K.O. But the important part Ray is I am in the gym, oppose to before I was hanging out in the streets. I was doing movies, I was doing real estate, I was doing Stock deals, I am a hustler I make it happen. I take care of my family and me, I live a high lifestyle and in order for me to do that I got to work. If I don't work, I don't eat. So I work really hard, and I have been criticized for that, for going out doing the Modeling, doing the marketing and doing the television and stuff like that. Actually a movie I did a couple weeks ago just came out, it's called Transporter 2. I got another one coming out with Peter Faulk and Coolio (Rapper/Actor). It's called "The Retirement"
So basically I have been getting my hustle on, and getting my grind on and I have been criticized for that, but for me to be so active and have three fights in a row, back to back to back I am feeling pretty good.  I have been in the gym, I have been training for the Maddalone fight, unfortunately that feel through. But I will be right back in November, maybe late October I will be right back in there fighting. I did K-1 a couple years ago. I do it all, if the money is right, I will fight a bear.
RC: Very reliable sources have informed me that you might possibly be headlining a card soon to be announced in New York City, in early November, is there any truth to that?
SB: Yeah they are talking about November 4th in Manhattan, and that is great I fought my first comeback fight this year in the Garden (The Theater) against Demetrice King, so hey it is nothing for me. I am in better shape now than I was then and that was a tough little soldier, he had never been stopped other than when I stopped him. I am feeling good, I am coming back strong, and I also changed my name. I'm not the cannon anymore. It is now Shannon "Brooklyn" Briggs
RC: Will there be any television networks involved in you next fight that is supposed to take place in November?
SB: I hope so, my last fight was on Showtime PPV, my last fight before that was on ESPN, so I am jus trying to be on T.V. and be highly visible. My goal is to bring old fans back and news fans to the sport. Boxing has been getting beat up in comparison to other sports as far as money and prestige. So my goal is doing the acting, doing the commercials, going to Japan fighting in K-1, becoming a bigger person, a bigger star and of course for me to blow up, but also for my sport. I love boxing. I am trying to show other fighters that we can do this. It is sad that we watch a Gatorade commercial and they don't even use actual boxers.  So I am trying to be that guy, I am trying to step up and let them know hey look we need endorsements, we need sponsorship money, because that is what every sport thrives on.
Quite honestly me being young, immature and just goofing off and me doing Hollywood, I gave all of these heavyweights opportunity to make money and feed their family. The (Hassim) Rahman's the Monte Barrett's, and everybody that is out there right now they don't have my talent. Now I am 33 about to be 34 years old, I have matured, I am ready, I am focused and I am ready to do what I gotta do. So now it is time for me to take away their money and take away the spotlight from these guys.
(Shortly after I concluded this interview, Shannon caught wind of a press release issued by Audley Harrison on his official website. He once again contacted Boxingtalk to speak his mind on that matter.   
The actual quotes below are that of Audley Harrison are taken from audleyharrison.com:
"My last fight should have been against Calvin Brock or Shannon Briggs, but both turned the fight down"  
Then added
"And Shannon Briggs he should just be happy that I am even mentioning his name. After beating up an old man Mercer, I hear he's trying to get it on with Vinny Madalone. WHAT A JOKE?! No broadcaster should accept this fight as how many more warm-up fights does Shannon need before he wants to fight a real fight? My representatives are still looking to make this match if he wants a real payday and good exposure on US television. There is no reason not to take a fight with me unless they think I am going to beat him down - which I will surely do"
RC: Shannon, give us your thoughts on what Audley had to say?

SB: I was surprised actually, I ran into Audley a couple of times and he was always a nice gentlemen like how most English people are. I was quite surprised to hear him saying things about me, and you know this is boxing I guess he is trying to get a fight. The unfortunate thing is for him is you need to let him know I don't fight prospects that are older than me. Audley Harrison is an amazing guy because here he is a heavyweight Gold Medallist and he is unknown. He has done nothing; he is actually an embarrassment to being a gold medallist. I mean what heavyweight gold medallist did you ever see that didn't go on to prosper and make it.
(He puts me on hold for a second, then comes back)
SB: You see look, I am at a light driving my car doing an interview with you and a guy ask me "Are you Shannon Briggs? Did you win your fight?" People don't know who Audley Harrison is, people don't care, he is a Heavyweight Gold Medallist, and now a 40year old prospect. His biggest win is over Robert Wiggins, who lost to Eric Kirkland and Monte Barrett. I mean what can you say, I guess he is trying to make headlines and he is trying to criticize me for fighting Maddalone.  Maddalone chose me, they called me and said listen "Maddalone wants to fight you, blah blah blah," And if he (Harrison) wants to fight me that's cool too, but he needs to step up his game. Whoever is managing him or promoting him needs to do a better job. He needs to fire them actually and have me promote him.
I mean Harrison is nobody. Vinny Maddalone is more famous than Audley Harrison so that shows you, he is an Olympic Gold medallist and a guy like Vinny Maddalone is a much better match than it is to fight this guy. People know who Vinny Maddalone is from what he has done on Friday night fights. No one knows Audley Harrison.
RC: Well one of the things he said was basically if you are ready to step your game up, he would be more than willing…
SB: (Cutting in) No one knows who Audley Harrison is, he has to step his game up. They all know who Shannon Briggs is. Tell him to go see Transporter 2. Tell him to ask anybody who Shannon Briggs is and they will tell him. I am more famous in his house than he is.
RC: He mentioned that if you want to make this match for a real payday on television, then you should take the fight and fight him. And personally I think …
SB: You can tell him, I am rich I don't need him. He needs me, (Rhetorically) so step my game up? He needs to step his game up; Audley is nobody, who is Audley Harrison? He is an Olympic gold medallist that nobody knows. How old is Audley Harrison 40 years old?
RC: (Stopping myself from laughing) Actually the two of you are the same age (33).
SB: What benefit does he do for me, now one knows who he is, I am a former Heavyweight champion of the world and he is a prospect that is older than me. He is a southpaw and his fights are boring. He fights like he is scared; he has never been in an exciting fight. Tell him to step his game up, get his career in order, get someone that is going to promote him and manager him right, and then we can talk when it is worth something. Because right now it is worth nothing to me fighting him, it is worth more to fight Vinny Maddalone than it is to fight him; at least people know who Vinny is. No one cares and no one knows who he is.
Send questions and comments to: rayocampbelljr@hotmail.com