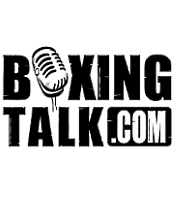 Shannon Briggs TKO3 Chris Koval...
Promoter Cedric Kushner's return to New York City's Hammerstein Ballroom was capped with an explosive finish when heavyweight Shannon Briggs blasted out trash talking Chris Koval in three one-sided rounds. At 273 pounds, Briggs looked like he was getting winded, but his punches never stopped coming. For two rounds, Koval mocked Briggs after nearly every punch Briggs landed, but Briggs continued to unload the heavy artillery. By the third round, the damage took its toll on Koval, who went down twice, getting up the second time with blood spewing from his nose and mouth. The fight was stopped after the third round ended, leaving Briggs with a 47-4-1 mark and Koval at 23-3. Briggs is being talked about as an opponent for Wladimir Klitschko, and HBO executives were ringside for the bout.
Martinus Clay W8 Matt Vanda... Minnesota's Matt Vanda got a rude welcome to New York City as unheralded Martinus Clay flipped the script on what looked like a mismatch, at least on paper. Vanda entered with a record of 34-1, compared to 11-12-1 for Clay, but Clay hurt Vanda at least once in their junior middleweight bout and went on to win a decision by scores of 79-73, 77-75 and 76-76.
JD Chapman W10 Edward Gutierrez... Heavyweight JD Chapman bested Edward Gutierrez for the second time, winning a decision by scores of 97-93 (twice) and 96-94.  The win came at a price, though, as Chapman suffered a cut that will likely keep him off a planned bout on the Jermain Taylor-Winky Wright bout next month. Chapman's record remains perfect after 23 fights, while the smaller Gutierrez still has a 15-2-1 recrord, with both losses to Chapman.