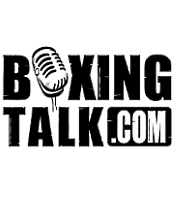 ": I got better, and he stayed the same…. I don't see it going past five or six!"
RC: What's going on Brian? How was preparation leading up to your rematch with Vinny Maddalone?
BM: Everything is good so far. Things have been real good; it was a good training camp with good sparring partners that simulated Vinny Maddalone's style very well. So everything went real good.
RC: Just over a week or so ago you found out that you will be fighting Maddalone due to the fight between him and Shannon Briggs falling through. Were you already training when you found out that the rematch is on between the two of you?
BM: I am always in the gym. I was training way before this, when he beat Shannon Miller, I thought I was going to get the fight so I kind of took that as my initiative to get back in the gym. I stayed in the gym and have been eating right. Then I heard he was fighting Briggs but I still stayed in the gym, so I have been in the gym for a while and I am very ready.  I went ten strong rounds my last day of sparring so I am feeling ready to go.
RC: You won the first match via 10th round TKO in a fight you were loosing. How do you keep from saying to yourself, I beat him before so I have the upper hand? And possibly underestimating him this time around?
BM: Because I know it was a tough fight. But from that fight then, until now I am totally different fighter; I got a lot better and from what I seen from him there wasn't much of an improvement. For me there was, and as far as the opponents go, I didn't fight total……. Like with his last few opponents he was protected really well. With me I got good work in my last few fights.
RC: So I am guess you feel this fight isn't going to be as difficult for you as the first?
BM: I am not going to let it be as difficult, I am not going to get hit as much. I am not going to run around the ring like I did the last time. There was a lot of things that …you know I was trying to box him but he is a pressure fighter and he kept coming, but now I know what I got to do this time to make it not as hard of a fight like the last time I made, I made it hard on myself before.
RC: How?
BM: I thought I moved around the ring a little too much, burnt my legs up, plus I got knock down in the first round, so I think that had a lot to do with me getting exhausted early. I mean you seen my face my face wasn't marked up at all, I wasn't bleeding like him, my eyes weren't swollen, I just had a bloody nose that's it.
RC: As the winner of your first bout, do you feel at somewhat of a disadvantage because you can work on new things, but he knows what he did to loose that fight and now you don't know what his game plan is going to be? Mainly because he is probably going to correct a lot of things he did wrong in the first fight?
BM: Well I don't really think…. I mean what can he do, He can't really box, so I don't think they are going to try to make him into a finesse fighter. What you see is what you are going to get out of him. He is just going to come and put pressure and he throws a lot of punches and a lot of wild shots. He may have think he has gotten better but he has been fighting professionally for five years, so how can he change? If he hasn't learned anything now as in his sake, he is never going to learn nothing.
From what I seen when he got hit last fight, he resorted back to his old ways so that tells me he didn't learn nothing.
RC: You said you plan on going out there and making it an easier fight, but do you feel any pressure to go out there and…
BM: (Cutting in) yeah a little bit, but I am not going to let that pressure get to me, Because that will take my mind out of the fight, and that is not really what I want to do. I wanna go in there and relax, I am on a big stage and I want to show everybody, that I am good network fighter. In addition, I want to show all the improvements I have made. No matter what anybody says about me, it is till going to be a hard fight for anybody. He has got a chin, he can punch and he comes to fight. I mean, it is not going to be a cake walk, I am not expecting a cake walk, but I know I am not backing up, I can tell you that. I am not backing off him one-step.
RC: Your first bout ended in a victory for you via 10th round K.O., now you mentioned earlier that plan on making it an easier fight. Is that because you plan to just outbox him all night, or break him down and get him out of there sooner that you did the last time?
BM:  Well I think my ability now, I think that I am going tot be hitting him a lot easier because he gets hit a lot. I think maybe five or six rounds, if I am on my game and I am catching him, I don't really see it going past that. If it does, then whatever, I am ready for whatever.
RC: Initially he felt that he will win every round if the Knockout doesn't come, but he seem to have a slight change of heart and told me the other day  that he feels he is going to get the Knockout, with that on his mind do you think that plays into your favor?
BM: I mean you don't go out there to knock people out; you have to set people up. Boxing is a chess match, and what I see is like…. It is like a baseball, when you hit a homerun you never really try to. Guys just get up there and take a nice swing and the ball goes out of the park and they weren't even trying. That is just the way it goes, you can't look for it, or it aint going to come.
RC: Do you feel that in the back of his mind, him wanting to get you out of there early plays into your favor?
BM: Yeah it does, I can tell you that right now. Because he knows I got him, I knocked him out. I am the only guy that ever put him on his back, so that has got to be in his mind; if not, then there is just something wrong. That is just human nature. He said that it was a lucky punch or this and that, but he forgot from the seventh round what kind of damage I was doing to him. I am not going to sit here and talk crap about him, Vinny is not a bad guys, but business is business right, especially when you are on this type of stage, it is all or none.
Send questions and comments to: rayocampbelljr@hotmail.com