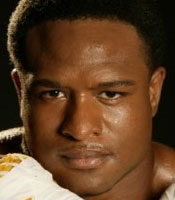 Following the fallout, or more accurately, the lack of fallout from the Hasim Rahman-James Toney draw last weekend, the heavyweight division remains in desperate need of a leader to emerge. The division, and the sport that it carries on its large, square (or round if you're Toney) shoulders is in desperate need of somebody, some fighter to step out of the mess and prove to the world that he is the one and only heavyweight king. The heavyweights all have something to prove now.The next opportunity will happen on Showtime on April 1, 2006 in a match-up between WBO titlist Lamon Brewster and Sergei Lykahovich. The conference took place today, and Boxingtalk was on hand.
The hard-hitting but soft-spoken Lamon Brewster, 33- 2 with 29 KOs, says he is already the champion the division needs, the world just doesn't know it yet. One reason for that was the major setback Brewster suffered when losing to Clifford Etienne in May 2000. However, what most people don't know about that loss is that Brewster says he fought "ten rounds with a torn ACL. I tore it in the first round." If there is one thing everybody knows Brewster has, it's heart. He says, "I can't make anybody like me or not. Nobody really loved Lennox [Lewis] until he retired." And it is Lewis's retirement that left the division in its current state of shambles.
Brewster has big plans to change all of that, starting off with  Lakhovich, and after that, hopefully title unification. He says he is not looking past Lykahovich, but Brewster already "been campaigning for [unification fights]. In order to be a great champion you have to beat good opposition." That has been a source of distress for Brewster, and all of Don King's heavyweight fighters. But now that King's stable of heavyweight champions has dwindled from four to one, the possibility seems much more promising. Although King was not on hand for the call, one high-ranking staff member made sure to chime in about an embrace with Don in the locker room after his last fight, a win over Luan Krasniqi.  The DKP employee continued, "we appreciate Lamon's loyalty and he is a top priority at DKP."
Brewster replied, "I cannot complain" about his current promotional situation and that he "hopes" that Don King "will be pushing for unification." Brewster has been training with Buddy McGirt for this fight, which he says, "has been a dream of mine. I have utmost confidence because I have confidence in my corner for the first time in a long time." Brewster parted amicably with former trainer Jesse Reid. Brewster insists that there was "no falling out whatsoever. He's a great motivator... but I needed more than just a great motivator. I needed a great technician. Skills sharpen skills."
McGirt added that, "Lamon doesn't know how good he is yet. They haven't seen the best Lamon Brewster... so much natural ability, so many tools." Brewster says he will give, as always, 100%, and McGirt said to expect "to see a little bit of everything... show some razmatazz."
Meanwhile, Sergei Lykahovich, 22-1 with 14 KOs, exuded quiet confidence throughout his time with the media. If you don't realize the credentials and talent of Brewster, then you certainly don't know Lykahovich, who hasn't fought since December 2004.  Trainer Kenny Weldon attributes that to Sergei being "the unluckiest human being in the world" following the cancellation of two possible bouts in 2005 with Chris Byrd and Owen Beck.
Lykahovich said that despite his inactivity, ring rust wii not be a problem.  He has fought coming off an eight-month layoff in the past. "When you stay active in the gym, it won't affect me."
Although hesitant about revealing Lyakhovich's strategy, Weldon stated, "If I was Brewster and McGirt, I'd think Sergei was made to order… but that's not the Sergei they will be getting. It's not being aggressive, it's when you're aggressive and when you're not. When the opponent does something wrong, you need to capitalize on it... it's very important to be in position to punch."
Both fighters seemed focused and ready for battle on April 1, and both threw some jabs at Toney, a 237-pound former middleweight who seemed less than fully prepared Rahman. While making his case as the preeminent heavyweight, Brewster went on a brief tirade. "I'm the only person in the division knocking people out. Do you want to see that, or two guys throwing a bunch of punches, breathing hard and holding onto each other?"
The public will be able to decide for themselves, as Showtime will be in the midst of a free preview weekend on April 1, so a big opportunity just got a whole lot bigger for both men, the state of the heavyweight division and the entire sport. An exciting and competitive fight, in front of a large free-preview audience would do a lot to erase the image of the 5'9", 237-pound James Toney fighting to a draw with the WBC champ.