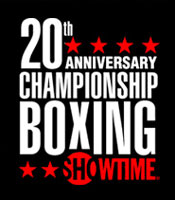 The most exciting and courageous heavyweight champion in the world is returning to America's No. 1 Boxing Network on Saturday, April 1. Lamon Brewster may not be the division's most hyped boxer, but he makes for the most interesting, entertaining, crowd-pleasing scraps and he does not care where he fights. "I want to be universally known as the world champion, not a United States or regional champion, or somebody who just fights in his backyard," said Brewster, who is nicknamed "Relentless,'' but might as well be known as "Fearless." "That means fighting anybody, anywhere."  
"Boxing is not a beauty contest. It is not the Olympics where you get points for style and grace. It is all about winning, and all I do is win.''  
Brewster (33-2, 29 KOs), of Los Angeles, by way of Indianapolis, Ind., will make the fourth defense of his World Boxing Organization (WBO) title when he takes on once-beaten Sergei "The White Wolf'' Liakhovich (22-1, 14 KOs) Saturday, April 1, 2006, on SHOWTIME CHAMPIONSHIP BOXING (11 p.m. ET/PT, delayed on the west coast). The 12-round world title fight will be promoted by Don King Productions and take place at the Wolstein Center at Cleveland State University in Cleveland, Ohio. This will be the first heavyweight world championship bout to take place in the city since 1983.  
Brewster, who rallied to score a dramatic fifth-round TKO over Wladimir Klitschko to capture the WBO crown, has been victorious in his last nine starts, including eight by knockout. To illustrate his willingness to compete anywhere, the 2005 WBO Fighter of the Year traveled to Hamburg, Germany, in his last outing to defend his crown against local favorite Luan Krasniqi. The bout drew more than 10,000 fans on Max Schmeling Day, Sept. 28, 2005. In a thrilling, give-and-take battle, Brewster exited with a hard-fought, ninth-round TKO. However, the champion had to rally and survive "a long count" to do it.  
Brewster was losing through seven rounds. In the eighth, he turned the fight around by landing a hellacious left hook with 30 seconds to go in the stanza that left Krasniqi stiff-legged and crumpled against the ropes. The match nearly ended there, but the referee appeared to provide an extremely long count that allowed Krasniqi to get to his feet before the bell sounded. Television replays estimated the count to be between 13 and 17 seconds.  
"I should get credit for two knockouts because I knocked him out twice," Brewster said.  
Outboxed during the first six rounds and knowing he needed a knockout to win, a nearly exhausted Brewster ended matters when he floored the determined challenger again with 12 seconds remaining in the ninth round. This time, the referee quickly waved the fight off without a count.  
"It was just my willpower and my determination," said Brewster, who has won 83 percent of his starts by knockout. "Krasniqi was a good fighter. He landed many good shots. But I proved I am a world champion by going to Germany and defeating a game challenger.  
"I always fight from will, not always from skill."  
In a sensational performance on May 21, 2005, Brewster successfully defended his title with a devastating 53-second, first-round knockout over Andrew Golota. The fight took place in Chicago, but it might as well have been Poland. Nearly all of the 20,000 in attendance cheered on the Polish-born Golota.  
Aside from the ovation they afforded Golota during introductions, Brewster gave the Golota fans nothing else to cheer about. Ten seconds after the opening bell, Brewster dropped Golota with a sensational left hook. The challenger made it to his feet, but was knocked down again from another crunching left hook. A third left hook finished the challenger and ended one of the quickest and most stunning heavyweight title fights in history.  
"They cannot see me," said Brewster after registering the 13th opening-round knockout of his career. "When God is with you, they cannot take it away. If we cannot work and make it, we can still take it. Golota was the only thing keeping me from the land of milk and honey. I was an F-16 and he was a B-52 bomber and I shot him down.  
"I am not saying I am great, but there was Lennox Lewis.  Before that there were Evander Holyfied and Mike Tyson. Now, there is me. I need to stand up and be a great champion. I am here to stay."  
Liakhovich, of Scottsdale, Ariz., by way of Minsk, Byelosrussia, has won six in a row, including a 10-round unanimous decision in his last start over Dominick Guinn on Dec. 3, 2004. A boxer-puncher with excellent overall talent and skills, Liakhovich outpointed the then-highly regarded Guinn by the scores 97-93 and 96-94 twice.  
Now, he gets Brewster.  
"This is exactly the kind of big fight that I have always wanted," said Liakhovich, who compiled an excellent 145-14 amateur record and represented Russia in the 1996 Olympic Games. "The heavyweight division is wide open.  All I have ever looked for is a chance to show my skills and talent.  
"I am not worried about ring rust. I am sharp. I stay in shape."  
Liakhovich has fully recovered from an injury that forced him to withdraw from a September 2005 fight against Owen Beck on SHOWTIME.  
"I suffered from bruised cartilage, but I am fine now and definitely will be 110 percent for Brewster," Liakhovich said. "This is the opportunity of a lifetime. I will be ready. I am supremely confident."  
A patient boxer-puncher with excellent movement and good overall talent and skills, Liakhovich is not easily discouraged, and seems to wake up when he is hit. He likes to shoot combinations from all angles, but may be at his best when he can press forward and work the inside. He surprised some onlookers, however, in his match against Guinn by effectively moving off his combinations and exhibiting nimble footwork, particularly for a big man. At six-feet-four-inches tall, Liakhovich possesses a significant height advantage over the defending champion.  
"This is going to be a great fight for me, but not for Brewster," Liakhovich said. "Brewster is making a big mistake if he thinks this is going to be an easy fight. If it is an easy fight for anyone, it will be me."  
The most recent world heavyweight championship bout in the Cleveland area took place on Sept. 23, 1983 in Richfield, Ohio, when World Boxing Association (WBA) Champion Michael "Dynamite" Dokes was upset by South Africa's Gerrie Coetzee and knocked out in the 10th round of a scheduled 15-round bout.  Prior to that at the same Richfield Coliseum, Muhammad Ali scored a 15th-round TKO over a game Chuck Wepner for the WBA & World Boxing Council heavyweight titles on March 24, 1975.  Both fight cards were promoted by Don King.  
            SHOWTIME CHAMPIONSHIP BOXING's Steve Albert and Al Bernstein will call the action from ringside with Jim Gray serving as roving reporter. The executive producer of the SHOWTIME telecast will be David Dinkins Jr., with Bob Dunphy directing.  
SHOWTIME CHAMPIONSHIP BOXING celebrates 20 years of hard-hitting, explosive programming in 2006.  In March 1986, SHOWTIME CHAMPIONSHIP BOXING was born when "Marvelous" Marvin Hagler defeated John "The Beast" Mugabi in a spectacular and unforgettable 11th-round knockout in Las Vegas.  Since that time, the network has aired some of the most historic and significant events in the sport including both Holyfield-Tyson bouts.  
Always at the forefront of boxing, SHOWTIME has set itself apart by telecasting "great fights, no rights" on the first Saturday of every month.  SHOWTIME is the first network to regularly deliver live boxing in High Definition.  In addition, SHOWTIME continues to be a pioneer in sports television with a number of interactive features across multiple platforms making SHOWTIME CHAMPIONSHIP BOXING telecasts the most enjoyable, immersive viewing experience for the boxing audience.  
            For information on SHOWTIME CHAMPIONSHIP BOXING and "ShoBox: The New Generation" telecasts, including complete fighter bios and records, related stories and more, please go the SHOWTIME
website at
http://www.sho.com/boxing