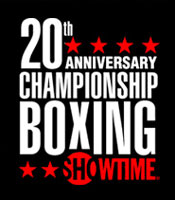 The 20th anniversary celebration of SHOWTIME CHAMPIONSHIP BOXING continues on Saturday, April 1, when "Relentless" Lamon Brewster defends his WBO heavyweight title against Sergei "The White Wolf" Liakhovich. The 12-round world title fight at the Wolstein Center at Cleveland State University, Cleveland, Ohio, is promoted by Don King Productions and will air on SHOWTIME at 11 p.m. ET/PT (delayed on the west coast).
Opening Comment
Liakhovich:  This is exciting for me and everything is great right here.  This is the best camp in my life.  So I am 110 percent ready right now.  Everything is fine. 
Question: Kenny, give some background on working with Sergei and how training has gone?
Weldon:  We have been training about seven weeks now.  When we started, he was in pretty good shape already.  He had been running and such.  We spent about two weeks in Arizona before we came to Las Vega. We have worked really hard.  He has had great sparring.  He is looking outstanding.  I really like the way he is looking.
Question: Sergei was supposed to have fought Owen Beck last September on SHOWTIME but he had to pull out.  Was it a bruised cartilage and has he fully recovered?
Liakhovich:  We trained for two and a half months to fight Chris Byrd and then Byrd pulled out and they put us with Lamon. We just continued to train. Keeping a heavyweight in a gym for four months, you are going to have injuries and what happened is he got hit in the middle of his chest and tore a cartilage in his chest.  It was extremely painful and we had to take off five weeks before he could even do road work because it hurt for him to breathe deep. But he has been in the gym preparing for fights all this year. He has gotten much better over that period.  He has not taken off any long period of time and his skills have greatly improved. 
Question: Kenny, how is Sergei's work ethic?
Liakhovich:  I think Sergei probably is the only boxer, I have worked with that has as much dedication towards training and hard work as Evander Holyfield.  I was with Evander a long time, and I believe that Sergei is of the same type.  He sets goals for himself.  He knows what he is chasing.  He will not go in the ring unprepared. 
Question: Sergei, you have been off for a long time.  Do you feel the layoff is going to affect you?
Liakhovich:  No, because I stay active in the gym and train and spar. I do not think this will affect me.
Question: Do you feel like you are catching Brewster at the right time?  He has made a lot of changes in his camp, or does that even matter to you?
Liakhovich:  It does not matter.  We are prepared for a 100 percent Lamon Brewster and we think he will give 100 percent. 
Question: We have had some terribly boring heavyweight fights lately.  Sergei, do you feel this has to be more than an average fight in order to spark more interest in this division? 
Liakhovich:  I will do what I will do.  I will be prepared for this to be a great fight.
Question: Sergei, in your opinion is Brewster the best of the champions out there.  Why do you say he is the best?
Liakhovich:  I do not know whether I would say he is the best, but he is a real, real good champion.  He has fought all of his fights with the power that he has.  (But) if he fights the same fight like he fought before, it will not be enough to fight me.
Question: Sergei, what makes you think you are going to win?  What do you hope to capitalize on?
Liakhovich:  I will not make any prediction for this fight, but I will be ready for 12 hard rounds.
Question: Kenny, could you expand a little bit about your strategy against Lamon. 
Weldon:  Lamon has an oddity in his style.  He throws a pull hook.  He is a sort of play around body puncher that looks for the big shot continuously. There are a lot of different things that you can work on to get ready for him. But you always have to be aware that he's very capable at any time of taking you out. Sergei is the same way. He is very capable of taking anybody out at any given time. Between the two of these guys, this is going to be a great fight because their styles sort of clash.
Question: Kenny, why do you think their styles clash?
Weldon:  Sergei is thought of as a Russian fighter, a tall guy, that gets up a lot, and at times he has.  So if I was Brewster and if I was his trainer Buddy McGirt and I was looking at video at Sergei, he would be made to order for me.  But that is not the Sergei he will be fighting. He is very prepared to do whatever it takes to win, and that is what it is about. He knows he has to put forth everything to win. You know, you have (trainer) Buddy McGirt and Lamon Brewster.  That is a pretty good team there.  We will see what happens.
Question: Sergei, Brewster has capitalized on fighters who are cautious and stand up straight. Can you change your style and be more aggressive? Or do you think you can beat him the way you have traditionally fought?
Liakhovich:  Not like I have fought traditionally, but we will change a lot.  On April 1, you will see a different Sergei Liakhovich. 
Question: Do you feel you are going to have to be more aggressive against a guy like Brewster?
a. A lot of boxing is capitalizing when your opponents make mistakes. If you are not in a position to do so, you have a problem.  Especially with heavyweights, when one shot can take you out. It is very important to be able to get into position to punch. 
Question: Sergei, how do you think the training for many months with no fights will affect you? 
Liakhovich:  Like I said, I do not think it will affect me. I am ready right now.
Question: Kenny, do you agree? 
Liakhovich:  You have to keep in mind, Sergei had almost 200 amateur fights and he is an Olympian. We prepared for Byrd and then we prepared for Beck.  Sergei can fight any way he needs to fight to win, and that is always what it is about.  Until we get in there, you know, all the talk does not mean anything. 
Question: Kenny, when a guy switches a trainer this deep into his career, can there be that much of a difference?  With McGirt, do you expect to see any real or subtle changes with Lamon?
Weldon:  I think Buddy is good at working on the things that he does bad as opposed to the things that he does good already. I think he might add a little thing here and  there. I do not think he teaches boxers to be as aggressive as Jesse Reed does. He is not going out and preparing his boxer for anything real specific.  He is going to get him out there and have control of him.  Get him to do a few simple things better than he was doing in the past.
Question: Kenny, when you prepare a fighter to face somebody, do you keep in mind who is training him and does that make a difference in how you prepare your fighter?
Weldon:  It does not make any difference who somebody has in a corner if my boxer can do what he needs to do to win, and that is my job. We are fighting our fighter against the other fighter, and I can assure you that in title fights or in major competitions like this, I would think any trainer at that level does the same thing.
Question: Sergei, what would winning the title mean for you. 
Liakhovich:  When you win, it is just amazing. You will be the best guy, and it means a lot for my country. I fight for my family and for everybody who supports me and are in my corner.
Question: Do you know what the reaction would be back home? 
Liakhovich:  I do not know.  I spoke with a few of my friends and they will go to the nightclub and they will watch the fight there.  I think the whole world will be watching.
End press questions for Sergei Liakhovich.  Begin press questions for Lamon Brewster.
Question: Lamon, how is training going and what are your thoughts going into this fight?
Brewster:  This is the best training camp that I can honestly say I have ever had.  Working with Buddy McGirt has been a fulfilled dream of mine and I think he is the best trainer alive.  Going into this fight, I have the utmost confidence because for the first time in a very long time, I have confidence in my corner as well going into a fight.
Question: Buddy, how is it for you working with Lamon for the first time, and what are your thoughts going into this fight?
McGirt: The only thing I have to say is that Lamon has been great to work with. The funny thing is that Lamon really does not know how good he really is. Once he finds out how good he really is, then the heavyweight division is really in trouble. They have not seen the best Lamon Brewster yet.  There is room for him to get better.  He just has so much natural ability and so many tools that he has not used, or that he has not used in a long time.  It is key for me to keep just reminding him of certain things that he can do, and once he does them, it just makes my job much easier. 
Question: Lamon, what was the problem with your previous corner with Jesse and the guys?
Brewster:  Without going into detail, I did not have any problem with Jesse.  He is a great motivator and that is what I thought I needed at the time. Everything was good with Jesse, but I needed a great technician.  So I did the very best thing that I could do by coming to Buddy McGirt to be sharpened. 
Question: Lamon, you have had a lot of success against big European fighters.  What do you attribute that to? 
Brewster:  I do not look at them as European or anything other than a man in a ring trying to take what's mine.  I just do what I have to do to win. I have a saying, "Get in where you fit in, and if you can't stand, sit in." So my solution is that if I cannot work and make it, then I will fight and take it. Sometimes it is hard, but I have no limit to how far I will go outside of not cheating. I am not a dirty fighter.  But if I cannot beat a guy on skill, well, then we have to take it to the street.
Question: Buddy, why do you think he is so successful against these big guys?
McGirt: He mainly just did what he had to do to win. I watched the Klitschko fight and Lamon did what he had to do.  He pulled out all the stops and got him out of there.  The key is to not sit there and wait for one punch, because if they do that, they know they are going to be in for a surprise.  Lamon has more to offer than that.  I know that Mr. Weldon, being the great trainer that he is, has had Sergei prepared for anything and everything.  That is what they are going to see next week.  Lamon is going to go out there and use those skills that he has always had that he has not used in a long time.
Question: Lamon, could you clarify about the trainer situation?
Brewster:  No, there was no falling out whatsoever.  Like I told Jesse, I said, "Jesse, I have been wrong many times in my life," but my spirit has never been wrong, and my spirit has called and has been calling for me to come to Buddy and seek Buddy even before I was with Jesse.  But due to circumstances, I waited.  But all things work together for good and I just thank God that he delivered me and I thank God that Buddy was accepting of me. 
Question: There has been a lot of talk and your name always comes up, but it never seems to be the first name that comes up in the heavyweight division. Do you feel a little under appreciated? 
Brewster:  I listen to opinions, but they do not bother me because I think every man should be entitled to his own opinion. But I will say this: Whoever you think can beat me, just put them in front of me and ring the bell. I do not have to talk. I talk with my fists. That is the best answer I can give you or anybody in the whole world.  
Question: Do you feel under appreciated?
Brewster:  I do. I will be honest and say that every time I fight, I fight to the best of my ability. It may be what people want to see and maybe it is not.  But if you look at my fights and compare them to anybody in the heavyweight division fights, mine are the most exciting.  I am the only one in the heavyweight division knocking people out.  What other champion is out there knocking people out?  Is that not what you really want to see?  Or do you just want to see two people just throwing a thousand punches at each other, breathing hard, holding onto each other? 
Question: Do you feel like you have not been given the proper respect?
Brewster:  Well, as I say, I cannot make anybody like me.  It does not matter because at the end of the day, I am taking care of my family, the most important thing in the world.
Question: Lamon, do you think that is to your benefit that your promoter now only has just one heavyweight champion out there that he can concentrate on?
Brewster:  Well, I would absolutely hope so to be totally honest with you. But you never know. I would think that it would work to my favor and advantage because then he would really be pushing to get unification because he knows those other guys cannot beat me. So I can only say I hope.
Question: Are you pleased with how your career is progressing right now at this point?
Brewster:  Well, I cannot complain. I still have my title and I am getting a chance April 1 once again to show that I am the best heavyweight in the world?
Question: What did you think about last week's fight with Rahman and Toney?
Brewster:  I just hope that made more fans for me and I just hope that people will look at those fights and then compare them to my fights and make their mind up about whether they still underestimate or doubt me.  All of my fights have been more exciting than those fights. 
Question: What do you think about Sergei?
Brewster:  I think Sergei is a good fighter and I will not take anything away from him.  It is not what you do in the past, it is what you do that night. I am not going into this fight expecting anything less of him than to put his best foot forward because guys do tend to get up when you are fighting for a world title. But he ought to know that he is fighting the best heavyweight out there and I feel as though I have transcended. It is almost like I can say I have been reborn again because I have been reminded of how good I really am as opposed to just depending on my punching power.  Now, there is so much more added to me that it scares myself. 
Question: Buddy mentioned about the skills you have not used in a long time.  What kind of skills are those?
Brewster:  Well, just go back and watch my tape with Klitschko. Then just try to put that with the confidence of being a world champion and the power of being a grown man, and a hunger that I now have.
Question: Lamon, can you let us in on anything new that Buddy is bringing to you that you really enjoy working on?
McGirt: I taught him how to do the Ali Shuffle.
Question: Buddy, do you feel he has even more talents that we are going to see in the ring now that you are bringing to the fore?
McGirt: It is me bringing it out of him.  I really cannot say.  I just have to tell you that you will just have to see it on Saturday night.  I know Kenny's listening in, so I cannot say too much. 
Question: Lamon, do you think that you two guys need to provide a great fight so that people will talk about it a little bit?
Brewster:  I do not quite know how to answer you there.  Every fight I get, I give 100 percent You cannot every look at me and say I am boring.  So I do not know if you are talking to me as much as you are talking about the man I will be fighting or a man in the future I will be fighting.
Question: Lamon, if victorious, do you think your next fight should be against one of the other three champions?
Brewster:  I have been campaigning for that for awhile now.   I have to be honest and say that I by no means overlook Liakhovich because I think that he is my greatest challenge. He is the one that makes me do what I do everyday.  I think that he is a good fighter and I think any fighter can be a good fighter if they have proper training and if they have it in them to do it.  But this fight for me, right here, is more so about me just going out continuously to show that I am the best fighter in the world.  So I will just take every fighter as a challenge.  Ali would say that in order to be a great champion, you have to fight good opposition. 
Question: Lamon, do you feel that to a certain extent that you are still tainted a little bit because you have loss to Clifford Etienne on your record?
Brewster:  Not whatsoever.  I do not even care because if people knew the real story, they would not feel that way.  I fought for 10 rounds with a torn ACL.  I tore my knee in the first round and that affected the whole fight.  If people choose to hold on to that, I could really care less because at the end of the day, they do not feed my family.  It is what I continue to do everyday striving as a man, which takes care of my family, and use the God-given talent that he has given me.
Question: Lamon, there almost seems to be a race thing – that white guys cannot fight.  Do you ever hear that?
Brewster:  Oh, and I absolutely disagree with that because my first trainer was a white guy.  He was a bare knuckle brawler who fought in the Depression days and he hoboed with Jack Dempsey.  So I totally disagree with that.  You have a lot of great trainers and a lot of great fighters too.  You cannot take anything away from that. To be honest with you, I have never had the decision on who I was going to fight.  It was just this is who I was going to fight, this is who they put in front of me, so that is what I did.  I do what I have to do.  If it was up to me, I would be fighting post office workers and firemen.  Whoever it is they put in front of me,  that is who I fight. 
Question: Lamon, not only do you have a new trainer, but also a new management situation.  What led to these decisions to be so drastic in your mind?
Brewster:  Well, I moved back to Indianapolis because my wife is pregnant.  I knew I was coming down to Florida to work with Buddy. I do not have any family in California.  So it was no point in me staying here and be worrying about her being pregnant and being so far away.  She is around my family and her family and so she is safe.  I feel good about that, as opposed to being so far away with no family.  The changes are just changes that have been natural.  It has been beautiful.  I jumped out of lukewarm water into a warm, nice, soothing jacuzzi in Buddy McGirt.  I feel home.  I feel so good and I am just so happy.  In my opinion, this is the best I have ever been in my professional career.
Question: Had you been feeling about your previous team like it was OK, but it could be better?
Brewster:  Yes, absolutely.  I have my family to take care of.  My loyalty should be to my longevity for my family.  I want to be able to talk to my kids 20 years from now.
Question: Lamon, you are known in boxing as a man of deep faith.  How has your relationship with God made you grow as a fighter?
Brewster:  Well, God gives us all a talent in life and some people find out what it is and some people do not.  Some people know what it is and they do not use it.  Well, I come to recognize that God gave me a road to travel on and that road was boxing.  Now, I could choose that road or I do not have to choose that road.  At a point in my life, I tried to turn away from boxing.  I tried to do other things, but it was just my own will.  It was me out there trying to make it happen as opposed to just jumping in that stream that God would have and letting his current take me the way he wanted me.  So in my opinion, and it is just my opinion – I do not force my belief in God and what he's done for me on anybody – I just believe that God has given me a gift to box and I just try to use it the best I can and just allow him to guide me.  So to answer your question, my faith stands with God because I have been in a lot of situations in my life where I should be dead or I should be locked up or somebody around me should be dead.  But it was because of my prayers to him.  It was because of his mercy for me that I am still here and he brought me out of the situation.  So I am not going to deny God on any stage, on any level, in front of anybody, what God has done for me. 
Question: Do you have any reservations in fighting Chris Byrd in a title unification?
Brewster:  No.  After I fought Kali Meehan, who was my friend, Chris was like, 'Man, if you ever fight like that again, you are going to have to fight me without gloves.'  And he said, "I do not care if we are cousins or not, when you get in that ring, you better fight as hard as you can because I am going to try to fight you as hard as I can.'  That same night James Toney was fighting, and he saw me after the fight, and he said the exact same thing.  It really dawned on me at that time that it does not matter from this point on.  Anybody I fight, I am going to take care of business.  With that being said, we said, "Hey, we will fight.  You get a title, I get a title, and once we got the other titles unified, let us do it."  But I am not about to sit at the family reunion and fight this man for no money. 
Question: You mentioned being Chris Byrd's cousin.  How close are you? 
Brewster:  I do not know if it is his great great grandfather or his great great grandfather – but my great great grandfather and his great grandfather or great great grandfather were brothers.  So that is how we are related.  We are all from Jackson, Mississippi.  My grandmother's maiden name is Byrd and she told me a long time ago in amateurs that we were cousins. One day, Chris and I started to do some research on it and just put it together. 
Question: Liakhovich has never fought for a world title before.  Does this make him in some ways more dangerous? 
Brewster:  Well, honestly speaking, I do not know because until we get in the ring, I can speculate all I want.  But I do not really know.  I know a lot of guys, they get up to fight for world titles.  But he has had a long layoff and he has never felt the power that he will feel against me.  That makes a big difference.  Sometimes you can get hit so hard that you start wanting to think about living as opposed to trying to prove that you are tough to win a title. It is not worth dying for. 
Question: How do you prepare for a guy that there is not a lot known about?
Brewster:  The way I prepare is I listen to what Buddy has to say.  I listen to him and I do exactly what he would tell me to do and what he would have me to do. That is the way I prepare. Buddy's record speaks for itself.  As a fighter, he was a great and he is a great trainer.  So I have no doubt about the information or advice that he would have for me to do. 
Question: Buddy, would you comment on that?
McGirt: We have prepared for Liakhovich as if he was the No. 1 contender.  We do not take anybody lightly.  I do not believe in that.  There have been a lot of fights where guys have been underestimated and taken lightly and you can see what happens.  When a guy has everything to gain and nothing to lose, those are the guys you have to look out for.  Lamon has worked very hard.  He has been a great student.  It is a pleasure to work with him. 
Question: Buddy, what might we see different in Lamon from what we have seen before?
McGirt: Well, one thing you are going to see is he is not going to be in a situation where he is behind the eight ball by the fourth or fifth round.  As far as anything else, I cannot tell you. 
Closing Comment.
Brewster:  I just want everybody to know that the decision I made to come work with Buddy was one of the best decisions I have ever made in terms of my whole professional career.  I am happier now in my professional career with not only my skills but with my esteem than I have ever been in my whole career.