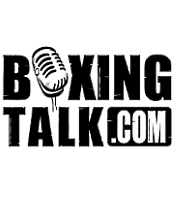 Brewster: "I am the hardest puncher in the division!"
While the clouded heavyweight division continues to search for one clear champion, WBO titleholder "Relentless" Lamon Brewster and contender Andrew "The Powerful Pole" Golota took time to discuss their upcoming bout, scheduled for later this month. "Chicago will host its first heavyweight world title fight in twenty four years on Saturday, May 21," said Alan Hopper of Don King Productions, the event's promoter.  The title fight will be the main event on HBO's World Championship Boxing, live from the United Center in Chicago.
Brewster (31-2, 27 KOs and rated # 11 by Boxingtalk), who will make the second defense of the WBO strap he won from Wladimir Klitschko, was his usual insightful and humble self. A man of great faith, Brewster believes the guy upstairs will always give him the courage he needs to prevail. "It doesn't matter where I go because God is always going to be with me and I feel if he's behind me, can't nobody be against me," said Brewster.  
Coming off a controversial win against Kali Meehan last September, Brewster acknowledges that perhaps he could have done more to demonstrate his abilities in that fight, a twelve round decision many feel came out the wrong way. "Every fighter has an off night. I prepared for Kali (Meehan) but I let personal things get in the way." When asked what issues played into his
lackluster effort, Brewster pointed to his close friendship with Meehan yet reinforced the fact that he's learned from his mistakes. "You don't mix friendship with business. I'll never do that again because I got my family depending on me and I'll never let them down or even let them feel like I'm letting them down again...I don't look back at the past." 
Perhaps because of the Meehan fight, boxing fans tend to overlook Brewster as one of the titleholders in the division, but Brewster says he understands why he gets "the dark light, the back of the room."  Nevertheless, he feels as though his big punch can change things in the heavyweight division. "I am the hardest puncher in the heavyweight division. Unfortunately I haven't gotten to show it but I will show it."
Now working with a new trainer in Jesse Reid, Brewster believes he has rejuvenated his career. "This is a new day, I'm a new person, I got a new trainer and I just feel great about everything so I think it starts here for me," said the WBO champ. Reid thinks that his role in Lamon's corner and thier close relationship will have a big impact on the fight.  "The closeness that he and I have is going to show in this fight...Lamon is coming ready."
Golota (38-5-1, 31 KOs, rated #5 by Boxingtalk) has been no stranger to controversy in the past. Perhaps best known for two disqualification losses against Riddick Bowe in 1996, "The Powerful Pole" came back in 2004 with a bang. While naysayers doubted his composure, Golota demonstrated in his last two fights that his antics were many miles behind him. Unfortunately, the newly patient Golota proved to have bad luck as two hotly contested decisions against Chris Byrd and John Ruiz went against him. "I asked for a rematch for both title fights but I didn't get one."
May 21 will be Golota's fourth title fight (he also was knocked out by Lennox Lewis) and "The Powerful Pole" knows that this time he has to deliver a win convincingly or else become a sort of heavyweight gatekeeper. However, Sam Colonna, Golota's trainer, believes Golota has taken all the right steps to finally claim a portion of the heavyweight crown. "We're focused…we've been training on all different techniques to beat Brewster and Andrew's on top of his game right now." 
Both Brewster and Golota having a big fan base near Chicago, and Colonna says, "We're going to bring the title home to Chicago."
Meanwhile, Brewster's manager Sam Simon says the outcome will change how the press sees Brewster.  "We're hoping that this fight is going to be an eye-opener and it's going to give Lamon the respect that the press has been a little reluctant up until this
point."
And what of a heavyweight unification tournament? Not only does Brewster think it is necessary, his outlook on the heavyweight picture is bound to the history of the sport. "I do think there has to be a unification because if you look back in the history of boxing, every ten years in every division, something spectacular must take place—and the ten year era is up. And it's time for some great things to happen in the heavyweight division…we got to make it happen for the people and for the sport of boxing."  
On the same Chicago show, Boxingtalk's #6 light heavyweight Paul "Hurricane" Briggs from Australia faces Tomasz Adamek from Poland (Boxingtalk #20) for the vacant WBC light heavyweight belt. Tickets are on sale now at the United Center Box Office in Chicago and at all Ticketmaster outlets. Tickets can also be charged by phone by calling (312) 559-1212.  The event is being promoted by Don King Productions in association with the United Center.