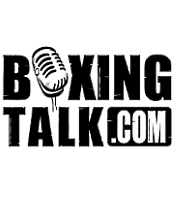 In Thompson Boxing Promotions' main event at the Doubletree Hotel in Ontario, California, unbeaten prospect Timothy "Desert Storm" Bradley, 140 1/2, Palm Springs, CA, made a successful return to the junior welterweight division by pounding out a unanimous technical decision win over tough Jorge Padilla, 141, Lakeside, CA, by way of Mexico City, Mexico.  An unintentional butt in the ninth round left Padilla with a cut over the right eye and he was deemed unfit to continue. Official judges Ray Corona and Max De Luca scored it a shutout for Bradley at 90-81, while James Jen Kin III had it 89-82.
With a nickname like "Desert Storm" one does not expect much subtlety, and true to the moniker, Bradley did not show much in the bout's early stages. He spent much of the first two rounds in close with his taller, slower foe, ripping hooks with both hands to the ribcage and coming up top with hooks and uppercuts. Padilla was a willing accomplice, choosing to work on the inside with his 5'6 opponent instead of attempting to box from the outside. Padilla was landing some nice shots of his own, but he was outscored in both the quality and quantity departments.
The third round saw Bradley boxing effectively from the outside, moving in and out on a coming forward Padilla. Bradley returned to the inside in the fourth and did some effective work to both the body and head. Padilla returned to his corner with a bloody nose, but bounced back to seemingly win the fifth after maneuvering Bradley into the ropes and flurrying effectively.
The sixth saw Bradley again box effectively from the outside. He was on his toes, popping the jab, and again going in and out on Padilla. Later in the round, Bradley again went to work on the midsection. Padilla was trying to catch the smaller man coming in, but Bradley was able to slip his punches and get inside to work him over.
Things became a little heated in the seventh. Bradley drew two warnings from referee Raul Caiz Jr. for hitting behind the head in close. A weary Padilla's mouthpiece was visible, as the body shots had appeared to have taken a toll. It was more of the same as the faster, stronger, Bradley continued to control the action at both long and short range.
By the ninth, going to the scorecards seemed a certainty. It happened a round earlier than expected however, as an unintentional butt in the ninth would leave Padilla with a cut over the right eye. At the end of the round, Caiz Jr. waved off the bout as Padilla was deemed unfit to continue. Ray Corona and Max De Luca scored it a shutout for Bradley at 90-81, while James Jen Kin III had it 89-82. Bradley improves to 10-0 with 5 knockouts, while Padilla, who gave Donald Camarena some tough moments in August, drops to 6-3 with 1 knockout.
"We both come in with combinations wide, so our heads collide. It wasn't my fault, I don't use my head as a weapon," said the victor when asked about the clash of heads. "He was a tough SOB, I give him all the credit. He wanted to win. I was victorious tonight. Thank God for everything". Look for Bradley, the current WBC Youth Welterweight champion, to continue to campaign at junior welterweight in the near future.
Thompson Boxing Promotions matchmaker Alex Camponovo was pleased with Bradley's performance. "Every time out is a learning experience for him. This was a great way of working. He's improving, maturing in the ring. We're gonna move him up. We're already in the top 30. He's gonna do just fine". The plan is to keep improving the young Bradley's opposition incrementally, with a fight against a top fifteen opponent possible by the end of 2006.
The card was rounded out by two six round bouts, as well as a couple of four rounders. In the chief support, ringwise Horatio Garcia, 14-5-1 (9 KOs), Lakeside, CA, spoiled the unbeaten record of Juadiel Zepeda, now 8-1 (8 KOs), Indio, CA.  Garcia earned a six round split decision in a back and forth middleweight contest. He picked his spots, conserving energy and letting his less experienced foe hit a lot of glove before coming back with more accurate combinations of his own. After a closely contested opening four rounds, Garcia pulled away in the final two. Raul Caiz Jr. and Max Deluca had it for the winner 60-54 and 59-55 respectively, while James Jen Kin III dissented at 58-56 Zepeda. 
It seemed as if unbeaten James Parison, 156, Chula Vista, CA was on his way to his first defeat after getting beaten to the punch by Ramon "The Killer" Espinoza, 160, Pacoima, CA by way of Sinaloa, Mexico. The two fighters exchanged right hands in the third round with Espinoza's getting there first and knocking Parison to the canvas. Parison, nicknamed "El Chocolate", rose and proceeded to floor Espinoza moments later with a combination of his own. Espinoza got up but was breathing heavily, and a follow-up flurry put him down for the second time. Time of the knockout was 2:12. Parison improves to 4-0 (2 KOs), while Espinoza drops to 6-5 (3 Kos). The bout had been scheduled for six rounds in the middleweight division.
Local favorite Danny Garcia repeated an earlier victory over Cromwell Gordon, but it wasn't easy. Garcia, 166, Pomona, CA, had to dig down in order to score a come-from-behind victory over a motivated Gordon, 167, Las Vegas, NV, in a super middleweight four rounder. Gordon appeared to win the first three rounds, landing the harder punches in the first two and flooring Garcia in the third with a right hand as Garcia was backing up. Garcia came out in the fourth looking to close the show and keep his perfect record intact, and he did just that. A pair of body shots hurt Gordon early in the final stanza, and the follow up had the Las Vegan's gas tank on "E". Late in the round, a doubled over Gordon got hit by a left hook and referee Ray Corona waved the fight off. Garcia is now 5-0 (3 KOs), while Gordon is still looking for his second win at 1-4 (1 KO).
The first fight of the night ended in just 26 seconds! Ivan "Sitting Bull" Stoval, 165 ½, Pomona, CA, landed a pair of  right hands to the side of the head of Reuben "The Rocket" Loustaunau, 169, Barstow, CA, downing Loustaunau for the ten count. Stoval improves to 3-0 with 2 KOs, while Loustaunau is now 0-1.
Before the main event, Thompson Boxing Promotions chief Ken Thompson honored veteran athletic commission official Dean Lohuis with a Lifetime Achievement Award for his contributions to the sport of boxing.
Among those in attendance were Jack Mosley, junior middleweight Carlos "El Elegante" Bojorquez, Bobby Chacon, former welterweight contender Antonio Diaz, former WBO junior welterweight champion Zack Padilla, and famed cutman Chuck Bodak.