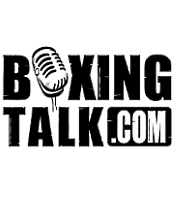 Boxingtalk.com spent a few days in San Antonio Texas with former World Champion "Jesse" James Leija. The trip to S.A. had multiple purposes, both business and pleasure. Pearl Boxing Club located in Pearl Mississippi has a young National Champion fighter in Darryl Nichols, who is not to be confused with Boxingtalk's Darren Nichols. Nichols has dreams of becoming a World Champion, has been fighting for 6 yrs, has over 150 amateur fights under his belt already, and already holds two National Titles. I have known Darryl Nichols for over 3 yrs now, and the kid just keeps getting better and better each time that I see him.
About a month ago I was speaking with Darryl Nichols coach ( father ) Stan Nichols, and we discussed getting an outside non biased assesment on Darryl. After some discussion and thought we decided to pick up the phone, and ask former World Champion "Jesse" James Leija if he would be interested in spending some time with this kid. Being the well known gentleman that he is, James Leija agreed to work with Darryl, and so the trip was planned.
We pulled up to the Leija gym about 2PM on Saturday afternoon, and James Leija arrived about 5 minutes later. After some brief introductions we
headed inside the gym. I was curious to see how this young kid from Pearl Mississippi  would do in front of a former 2 World Champion. Darryl went
and changed into his workout gear, and warmed up for a while. After a good warm up session, Leija put on the mits and told the kid to hop up into
the ring. You think the 17 yr old from central Mississippi was a little nervous at this point? Well if you said yes, than you're right.
James and Darryl worked on several things and it was nice to see how patient Leija was with the kid. James taught Darryl several things from balance, to throw techniques, to the mental aspect of the game. It was actually pretty nice to see Leija in the ring again as well. Leija moved around the ring with a smooth yet brisk pace, and without being able to put a finger on the word to describe it, he just had that look about him that said "Former World Champion here".
The second day ended up just like the first day, very productive and a lot of fun. Darry Nichols will never forget the two days that he trained with a former World Champion, and one of the best guys in the boxing world (James Leija).
LEIJA TO OPEN UP NEW BOXING GYM IN SAN ANTONIO
James Leija is putting the final touches on a state of the art boxing gym located in San Antonio Texas. Although work is still going on inside the new Leija gym, it's quite easy to see that this gym is going to be the place to be. The gym has two sides to it, one being a state of the art Martial Arts center, teaching Brazilian Martial Arts and additional styles. The other side of the gym has a beautiful Everlast Boxing Ring, heavy bags, speed bags, upper cut bags, and everything else you ever wanted and needed out of a boxing gym. Leija is targeting November 2005 for the grand opening.
LEIJA SHOWS WHY HE IS A CHAMPION OUTSIDE OF THE RING
One of the things that most impressed me about James Leija was his selflessness. James Leija could run for Mayor of San Antonio and win in a landslide. It's pretty common for celeb types to fall into the ( it's all about me ) mode. Not with James Leija.. This guy just goes from one project to the next project, all with the intentions of helping other people. Leija currently is working on what he calls his "Miracle League". The Miracle League is a baseball season and league for people with disabilities. This is just one of many projects that this world class man is working on. Boxing should be very proud, and honored to have James Leija affiliated with it. Stay tuned for an exclusive one on one interview with James Leija.
Send questions and comments to: bradcooney1@bellsouth.net