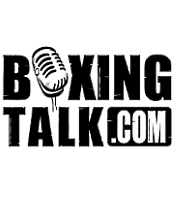 Williams sees action tonight in Cicero Illinois
RC: Aaron before we begin, why don't you tell the people out there on Boxingtalk.com a little bit about yourself?
Aaron Williams: Well I am 19 years old, and I am 5-0 with 4 knockouts, one draw, and I'll be fighting this Friday in Chicago, I am up and coming and I am the next big thing in the Cruiserweight division.
RC: Who will you be fighting Friday?
Aaron Williams: James Johnson out of Louisiana
RC: What can you tell us about your opponent James Johnson?

Aaron Williams: I don't know much about him, all I know is that he is a good veteran with a lot of ring experience and that's all I pretty much know about him so far
RC: This will be your 6th professional fight, how have you prepared yourself to go in there with a guy that has 41 professional fights?
Aaron Williams: I have been sparring with former light heavyweight contender Derrick Harmon for this fight, and I have been sparring with Tye Fields who is a 6'8" heavyweight. I have also been sparring with Willie Chapman and couple other guys, so I feel that am very prepared for this fight. I know I am just going to try and be smarter than him because I know he has been in the ring a lot, and he has more ring experience than I do. But I know my skills are better than his, so I plan on just boxing him and if the Knock out comes, it comes
RC: You had a pretty good amateur career, tell us a little about it?

Aaron Williams:  I had a pretty decent amateur career. I won the national silver gloves four times. I won nationals titles twice. I won one on the senior level and I won one on Jr. Level. I won the under 19 national championship. I lost in Olympic trails to Devin Vargas. I thought I won the fight, but you know how things go.
RC: How did it go?
Aaron Williams: I dropped him with a body shot, I had him beat and I won every round on the computer scoring, then in the last round they said the computer was broke and they had to switch to paper scoring and they had me loosing on paper scoring, so I lost.
RC: From what I understand you hold three victories over Matt Godfrey, is that correct and do you hold wins over any other notable fighters as an amateur?
Aaron Williams: Yes I did. I stopped Charles Ellis in the first round of the U.S. Olympic championships in Colorado Springs, and I beat Devin Vargas but they took that one away from me. I fought Joe Greene he was a top amateur (undefeated professional now with a 6-0(5) record.) He beat me the first time in his hometown and I thought I won, and then I came back and beat him in the national championships in the Junior Olympics.
RC: Those are all decent and respectable names, but in the pro ranks things are a little different. What was the transition like for you from amateurs to the pro ranks?
Aaron Williams: Basically it was like I am going to have to be in REAL good shape. You have to go more rounds in the gym, and I had to slow it down a little bit. The amateur style is a much faster pace, whereas in the pro's it is a much slower pace, so I had to really settle down, pick my shots and try not to waste punches and make everything count. Really it is just pacing myself, and slowing things down, but at the same time working even harder on everything.
RC: Even though your opponent James Johnson has only won about 50% of his fights, he still has been in there and has quite a bit of experience. Can this big a bit much at this stage of your career considering guys like BJ Flor….
Aaron Williams: (Cutting in) I think this fight is perfect for me. I have four wins in the first round and I need to fight somebody who can stand up against me and get me to go the rounds. I basically want to test myself in this fight before I start trying to go more rounds. I look at it like this, everybody that I have fought was a good fight for me, I am still learning and I am still trying to get better.
RC: If all goes well can we expect the same type of progression?
Pat Doljanin: I think so…. One of the advantages that we have with Aaron is he is a very mature young man. Aaron is mature beyond his years and we are on the same page as far as how he needs to progress. We want to keep him busy and we want to keep him fighting fighters that are going to be of resistance, that aren't going to fall down after the first punch. Guys that are going to be logical progression as far as talent is concerned. We are not in any rush. Aaron is a young guy, only 19 years old with has Jessie Reid as a trainer. And we are very confident that the combination we have between trainer, fighter and manager, that Aaron is going to do fairly well and he is going to progress extremely well.
RC: Aaron, what are your thoughts on the unification bout that took place this past weekend between Bell and Mormeck?
Aaron Williams: It was a good fight, but I think when the time comes for me I think I will be able to beat both of those guys with my skills and ability. I think two years from now those guys are going to be good fights for me.
RC: What are your goals for 2006?
Aaron Williams: My goal is to fight and learn as much as I can, and get better. I hope to fight every month so that I can better so that I can get in line for a title shot in two years.
Pat Doljanin: We want to keep Aaron busy about once a month providing there are no injuries or anything like that. A young guy like him can fight once a month, we want to keep him busy, keep making his logical progression in talent to help him grow that way. Aaron is also not signed with anybody, so we are certainly looking at sometime this year signing with a promoter and I am sure we will get all of those things accomplished.
RC: I know it is difficult when you don't have a promoter, but can we expect to see Aaron in televised action anytime soon?

Pat Doljanin: We are working on it. He has another off T.V. fight in February. That is one of the goals for the first six months of this year, it not the first four months of this year is to get Aaron on T.V. so that everybody in America and the world can see what a fine young fighter he is.
RC: Aaron, before I let yo go why don't you give us your thoughts on the division overall?
Aaron Williams: It is a lot of better now, the division is starting to get a little bigger, and hopefully when the time comes I can make a name and build it up even more.  
Doors Open at 6:30pm       First Bout at 7:30pm.
For tickets call 773-290-8272 or 773-716-9111
Prices are $30 for general admission, $50 for ringside and $75-$100 for V.I.P.
For more information visit
www.windycityko.com
Send questions and comments to: ray@boxingtalk.com