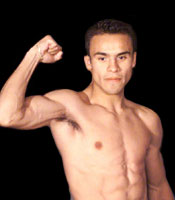 Ivan Montiel: Some fans are starting to say that Canelo Alvarez is the best Mexican fighter of all time. I still believe that honor goes to Juan Manuel Marquez (pictured). What are your thoughts on this since Marquez is one of your all-time favorite fighters?
Russ Anber: I am a huge Marquez fan and if you ask me who would I watch, it's Marquez. Juan Manuel Marquez is special to me. I loved the way he conducted himself, I loved his heart, I loved his warrriorship, I loved his ring intelligence. I loved how hard he fought and how he took on all comers. Canelo suffered only one [official] loss to Mayweather, but there have been a few questionable decisions. I was there when Canelo versus Cotto took place, it was a close fight but in the end Canelo won. Canelo's resume is filled with a lot of great names and those opponents are better than what Gennadiy Golovkin [GGG] has on his resume. It's not GGG's fault because he simply fought whomever was there at the time. At that particular time, the middleweight division wasn't hot. We can see Canelo's evolution I am just looking back at his loss to Floyd Mayweather and then up to his most recent win over Callum Smith [Anber worked Smith's corner for the fight]. It's like watching two different fighters in that ring. Canelo has improved so much over all these years. Canelo has become a much better fighter he's become an intelligent and gifted fighter. But in the end when I think about the best Mexican fighter of all time, the first guy who comes to my mind is Salvador Sanchez.
IM: (Laughs) You're talking like my father
RA: (Laughs) Maybe you should pay attention to the old guys. Sanchez was great. To think that Sanchez died at 23 years old... imagine how much better he could've even been. Sanchez was truly great, he truly was fantastic.
IM: Speaking of Canelo the one question I always ask everyone is what did they think about Canelo versus Lara. Personally, I thought the decision for Alvarez was a robbery of Lara. What are your thoughts on that particular fight?
RA: I will try to say this in a way to make you to understand that I am not anti-Lara nor am I anti-Canelo. I just feel watching Lara's career I see him give rounds away, I see him do things that don't endear him to the fans or the judges or to the preconceived notion that we all have of what it takes to win a round. One of the oldest things in boxing is that if it only takes fighters to move six inches from a punch, you shouldn't move 12 inches. But Lara moved 36 inches. Lara makes his opponents miss punches but then he runs which is a bad look. Now by doing that it reduces the action time that there is in one round. Now from the three minutes which Lara spent running around in such little action time all it takes is his opponents to land a good punch to possibly sway the judges tin how they award that round. Yes I felt that Lara could have got the decision versus Canelo. The talent that Lara has he could've put a stamp on that fight. Lara could've made it so convincing that the judges could not have taken away that fight from him. Lara has the boxing ability, it's not like he would do something and have to get away out of trouble. Lara went for a walk. When a fighter has that type of talent, you will never see him take a walk. A fighter who never takes a walk is someone like Juan Manuel Marquez.
IM: It's that Cuban style.
RA: I think a lot of it comes from not necessarly Cuban style but from that amateur style of hit and move. Fighters who don't make that transition properly, as great as they were before becoming professionals, they don't get popular. A good example of that is Guillermo Rigondeaux who I covered extensively as an amateur. He was the best boxer in the Olympics. During the Olympics I don't remember Rigondeaux being a runner, he stood right there, he was blasting everyone out of the building. Rigondeaux has a small frame yet he was obliterating everyone. Then something happened in Rigondeaux's professional career.
IM: Yes, Vasiliy Lomachenko happened.
RA: Even before Lomachenko, Rigondeaux could've been such a dominating fighter, taking his opponents out of there. Instead Rigondeaux would hit them and run. Eventually it looks like Rigondeaux has arrogance as if he wants to punish his opponents instead of finishing the job. Trying to humiliate his opponents instead of finishing the job. In professional boxing we like to see fighters finish their work. Once a fighter is beating his opponent, finish him. As soon as a fighter lets his opponent off the hook, it looks bad.
IM: You sound like Emanuel Steward who always told his fighters to go for the KO.
RA: There's a difference of going for the KO, don't misinterpret that. Whenever fighters are in a war, in a close fight, one has to do whatever he has to do. When a fighter is dominating his opponents, whenever a fighter can stand in front of his opponents and dominate by letting his opponents attack without getting hit, then there's no reason to run. There's no reason to move, you should get him out of there. Let the referee come to the other guy's rescue. Put your punches together, show your dominance. That's what sells tickets. That's what makes one a professional fighter. That's why boxing fans pay to watch fights.
IM: What do you say about Felix Verdejo who was winning versus Masayoshi Nakatani yet once he decided to trade punches, he got caught and knocked out.
RA: I am not saying fighters need to take punches, I am not saying Lara and Rigondeaux have to do that. I am saying look at their fights, the time they punched and moved, was all that movement necessary? Now with Verdejo he shouldn't have been standing and trading punches. Verdejo shouldn't have done that but at the same time he wasn't dominating that fight. Verdejo was in that ring with a real fighter in Nakatani who was punching back. When professional fighters are winning, they have to try to win. Let me bring up Oleksandr Usyk versus Dereck Chisora, after that eighth round, Usyk was moving way more than he had to. If Usyk would've stood his ground he would've got Chisora out of there. [Usyk won a decision].
IM: Speaking of Canelo versus Lara, I believe that Lara moved due to Canelo's bodywork.
RA: Maybe that's the case, if Lara was hurt then Lara had to move that much... but then he shouldn't cry about getting robbed. If Canelo hurt Lara and part of making him run was Lara's game plan it helped Canelo win rounds. That was a tough call to make.
IM: I still believe that Lara beat Canelo but the record says something else.
RA: The record says something else. You can say Lara beat Canelo but I remember when this fight took place. I also didn't think that Canelo won but when people say Lara won I don't come to thier defense. It's like a guy who has a luxury vehicle and leaves his doors unlocked with his keys inside. Nobody is supposed to steal it, it's wrong to steal it. But you can't leave your vehicle unlocked; you can't leave for anyone to take that big opportunity from you.
IM: Now before I let you go where does Callum Smith go from here?
RA: I think Smith is on vacation; I am not sure where he is from here on in. I think it's time for a rest and see where he goes from here. Only Smith and [his head trainer] Joe Gallagher know that answer. Smith is recuparating and resting, let's just see what he has to come back for.
IM: I really thought Smith was going to make it a tough fight for Canelo.
RA: I think that there are a lot of fights for Smith, there's not shortage of super middleweights. There's no shortage of British super middleweights. But Smith is now a marked man; those fighters who didn't want anything to do with him before will want to fight him now.