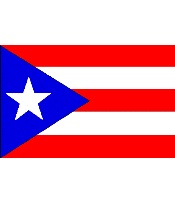 The following Boxingtalk interview with Jonathan Oquendo, the Puerto Rican junior lightweight, was conducted before his WBO 130-pound title challenge against Jamel Herring was postponed due to Herring's positive COVID test. Herring-Oquendo is being rescheduled, hopefully for later in July. Here is what Oquendo (31-6) had to say about his big opportunity:
Ivan Montiel: Good day! I hear you have an upcoming world title fight.
Jonathan Oquendo: Good day, Ivan. Yes on July 2nd, vs. Herring for his WBO world title. This is my second shot at a title. I feel that I have matured as a fighter. My first time around, vs. Jesus Cuellar, I wasn't able to win. This time around I have a great opportunity against Herring, and we are training to the fullest... may it be what God wants.
IM: What are your thoughts about Herring?
JO: Herring is a complete boxer, he knows how to move around that ring. He's a technical boxer, a tricky southpaw. He has all the advantages with his height and reach, there's no secret who he is. It's an opportunity we couldn't refuse. I can't wait to the sound of that bell in order to demonstrate what I am made of. I am getting up in age (36), however I still have a few more fights left in me. I want to thank Miguel Cotto Promotions for this big opportunity.
IM: [Promoter] Miguel Cotto gave you another opportunity at boxing simply because he believes in you the same way many fans believe in you, including myself.
JO: Thanks Ivan. Yes, and thanks to Cotto for giving me another opportunity at boxing because without boxing I wouldn't know what else to do even though I have worked other jobs. I have purchased a few houses which bring in money for me. My goal is to continue buying homes in order to earn money. Thanks to Miguel Cotto for giving another opportunity in which we have won and made more money.
IM: You are making money but what you most want is to win a world title, right?
JO: Yes of course! I believe that I deserve a world title shot, especially at 36 years old. To win and defend a world title that is my goal. I want to be another world champion for Puerto Rico.
IM: At the present moment Puerto Rico is suffering to have another star, another world champion [other than WBO 105-pound champion Wilfredo Mendez].
JO: Yes, that's what I am here for, to get into that ring with the hunger which I still have. I want to win that world title, I am very positive. Let that bell ring come July 2nd! [now postponed]
IM: You mentioned Herring has both a height and reach advantage...
JO: Yes of course Herring has talent, but I have better experience, a big heart. We are working very hard in the gym in order to get that big win.
IM: Speaking of your experience, you fought guys like Juanma Lopez when he was on top of the world.
JO: Yes, but when I fought Juanma Lopez [a stoppage loss in 2008], I had only 13 fights. I was still too young at that time. I am making no excuses although I did at the time have many problems but now I am ready. I have my family now in which I want to take good care of and of course I want to win a world title before retiring from boxing.
IM: Also speaking of the Jesus Cuellar loss [2015], many guys seemed to have avoided him yet you were willing to get in the ring against him.
JO: Cuellar was knocking guys out including Juanma Lopez, but I went the distance-- 12 rounds-- with him. I traveled to Brooklyn for that fight, it was a tough fight. Yes, I lost due to not pressuring Cuellar a little more. If I would've pressured Cuellar more than I did it would've been a different outcome. I gave Cuellar too much respect.
IM: Talk to us about Lamont Roach Jr., a 2019 loss which many thought you won.
JO: Lamont Roach Jr was with Golden Boy Promotions so I believe I had to beat him convincingly [in order to get a decision]. I wanted to drown him, boxing is not always about knocking guys out. I felt that referee favored him a lot, especially the times I had him cornered. That ref didn't let me fight my fight. Yes, I felt I won that fight but at the same time we have to respect the judges. In the end, the fans won having seen a good fight, which is important.
IM: You mentioned winning money as much as winning that world title...
JO: In boxing, there's lots of money to be made unfortunately some fighters don't know how to invest their well-earned money.
IM: Speaking of money, Floyd Mayweather Jr is a good example however there seems to be many fighters wanting to earn that same amount of cash, what's your thoughts on that?
JO: Floyd Mayweather Jr deserves it, he was dedicated, he's smart at investing. God blessed him.
IM: What's your thoughts on some fighters only taking offers if the money is right?
JO: I once had a scheduled fight to be done in Las Vegas but it fell apart. I was being promoted by Golden Boy Promotions at the time. Oscar De La Hoya paid me my full purse bid. But I felt bad since I really wanted to step into that ring. I can assure you that fighters like myself who fight for pride, for their country with their hearts feel bad when stuff like that occurs. When a fighter wants to be a champion, the money doesn't matter. Yes of course we fighters need to make money for what we do but I have also got paid very little for some fights. I've got little paydays for fights which I believe I am going to win.
IM: We all know you got into boxing because you love to fight, right?
JO: (Laughs) Yes you know it! My mom put me into baseball, my family is all about baseball. I used to fight everyone in baseball and eventually I was told told not to return. Thanks to Luigi Santana in Brooklyn who took me to a boxing gym at the age of 11. My mom didn't like it but I began to win boxing tournaments. My mom was always worried simply because boxing has seen many deaths. If someone gets into boxing for fun then things aren't going to end very well. In boxing, we have to train hard like run, spar our lives are on the line. Look at my face I have quite a few scars, if one doesn't want to get hit, simply don't put on those boxing gloves. If one doesn't like to train, don't get into boxing.
IM: With boxing one has to be dedicated 100%.
JO: I train a few times per week however when I was much younger I used to train 3 times per day. I began running then would go to school then it was boxing with work in between. I became a young father at the age of 18. It was tough times but I was able to make it through. Later on, I was signed with Golden Boy Promotions and from there on everything began to get a bit easier and well here I am still boxing.
IM: That's dedication, it's called hunger!
JO: I've been able to win 7 [regional] titles so all I want is a world title! First time was with Jesus Cuellar, the time is now or never with Herring! My first world title shot was five years ago I sure don't want to have to wait another five years for another world title shot.
IM: Your most recent fight, a win in November vs. Charles Huerta many said it was do-or-die for your career.
JO: Yes, that's correct thanks to De La Hoya Promotions for giving me that opportunity! Oscar De La Hoya has always been part of my boxing career, he's wanted to sign me back. I am very grateful with Golden Boy Promotions. I am also very happy to be part of Miguel Cotto Promotions. Oscar De La Hoya and Juan Manuel Marquez are two of my all-time favorite fighters!
IM: Juan Manuel Marquez is also an all-time favourite fighter of mine!
JO: He has some set of balls, he's a warrior! Julio Cesar Chavez Sr. and Erik Morales are also all time favorite fighters of mine! I get along very well with Mexicans! Mexican's always bring everything to the ring. Even the worst Mexican fighter will take you the distance!
IM: What about Abner Mares, a Mexican fighter which you shared the ring with in 2014.
JO: Yes, indeed I had the pleasure of sharing the ring with a tremendous fighter like Abner Mares [who won by decision]. It was a fantastic fight! It was a great experience him, Johnny Gonzalez and Jesus Cuellar... it was after those fights in which I thought I am ready to fight the best!
IM: Talk to us about the rivalry between Puerto Rico versus Mexico
JO: I've always loved fighting Mexicans! Whenever having to fight a Mexicans the money comes second first comes the fight! We were born for those types of fights!
IM: Going back to your most recent fight with Huerta. Many Mexicans thought you weren't going to win that fight. As you know Mexicans strongly support their Mexican fighters as much as Puerto Ricans strongly support their fighters!
JO: Look Ivan when I arrived to that stadium everyone was against me. I had everything to lose. I said to myself let's see what this guy is made of! Once I got into that ring I put the hurt on Huerta, his face was bruised up. I didn't even want to knock him out instead I toyed with him. I have fun in that ring that at times I prefer to go the distance, I love fighting!
IM: Does your age concern you in anyway?
JO: No not at all although I have suffered major accidents outside of boxing. There are times when I say I must stop boxing at some point. At the present moment, I feel stronger than ever, my training is extreme! I have matured as a fighter. Until I have not accomplished with what I have in mind and that's money I won't retire from boxing. I am hunger, I train hard, it's hard work, my diet is on point, I have the passion for boxing. I also enjoy training the younger generations. I want to eventually dedicate myself to training the younger generations. As a trainer, I feel like a father by simply giving them good advice. Telling fighters, the truth even if the truth hurts. Giving good advice not just about boxing but also about those who run the streets.
IM: At times, do you slap those kids that don't listen just like Felix Trinidad's father did?
JO: (Laughs) I've had to do that before
IM: Now going back to your upcoming fight, what if the fight goes the distance with the scorecards all going in favor of Herring?
JO: I am going to try my best not to let that happen.My fights with Abner Mares and Jesus Cuellar were steps back but my fights with Juanma Lopez and Wilfredo Vazquez Jr were frustrating losses.
IM: Yes, I can see it has been a very frustrating journey for you, so I sure wish you all the best versus Herring.
JO: Thanks Ivan much appreciated.
Send questions and comments to: latinoporvida2003@yahoo.ca