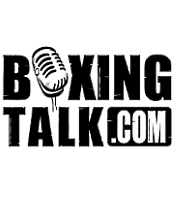 Moore faces Manji Conteh November 4th at the Hammerstein ballroom
On November 4th at the Hammerstein ballroom, when Jr. Middleweight/Middleweight prospect "Irish" John Duddy 12-0(11) makes his NYC return November 4th, to the delight of his large contingent of extremely loud, shamrock wearing, Irish fans. He won't be the only Irishman they'll be rooting for that night. Boxingtalk.com would like to introduce to you another undefeated Irish born fighter, who like Duddy is trained by Harry Keitt and managed by The McLoughlin brothers. Perfect so far at 3-0(2), James Moore, 27, is a promising Jr. Middleweight prospect with over 300 amateur fights… well read on and you'll find out all about him. In this one on one, he gives us his thoughts on his most recent fights, his upcoming bout on November 4th and him wanting to possibly avenge an amateur loss against one of Philadelphia's top prospects. 
RC: What going on James?
JM: (Heavy, I mean heavy Irish accent) Ooh not so bad.
RC: James, there has been a little buzz going on about you. Your good friend John Duddy feels you're the real deal, and has credited you for helping him out in his last two couple outings. Some saw for themselves when you defeated a highly regarded at one point Olympic hopeful from New York name Corey Jones, give us your take on that fight?
JM: Corey Jones was a good one because he did good on almost making it on the American team and he was a New York Golden Gloves champion. So he was pretty fairly well known around here, I was kind of the opponent for him in that fight.  But Harry (Keitt) knows him, and he knew that I had too much goods for him. So he put me in there and I walked out with my hands up, and I was pretty happy about that.
RC: Tell us about your most recent fight against Hollister Elliot, which took place on the undercard of a show John Duddy recently headlined in Mansfield, MA a bout in which you won but you tasted what it felt like to be on the canvas
JM: It was my first time I had been dropped in my professional career. I have been down a few times in the amateurs. Normally when I get knocked down it is just a wake up call. Most of the time when I got knocked down I actually get up to win the fight. In that fight I just made a little mistake that I cant be making. One that it is probably better for me to learn from now, rather than later. I just dropped me (my) left hand and got caught with a right hand over the top, and then I went out and finished him off in the next round. That was pretty good for me because that guy had 21 fights and that was only my third fight.
RC: From what I understand you were amateur teammates with John Duddy back in Ireland, coming to the United States and fighting on all of his undercards, do you feel any pressure to live up to what he has done so far (Which is an impressive 12-0(11))?
JM: No no, I was actually glad the second fight went the distance because there was a monkey on my back about knocking people out and stoppages an all of that. Because you know how that can be, when John (Duddy) had had about eight or nine knockouts in a row. Then when he went the distance, everybody was telling him "Ooh your run is over", but that is not the way. You don't go in the ring thinking you are going knock everyone out, because when you do that is the time it doesn't happen.
RC: Why don't you tell us a little bit about your amateur career and what you plan on accomplishing as a professional here in the United States?
JM: Well my amateur career was a very long one; I had my first fight back in 1986. I started boxing when I was 6 in 1984. My dad was me (my) coach, and he was coaching the guys for the Olympics in Los Angeles, and it kind of took off there. I had a pretty good amateur career with three National titles, and I won eight multi national titles.
RC: What is a multi national title?
JM: That is where they probably had France, and Italy and Germany and Ireland. The peak of my career was winning a Bronze medal in the world championships.
RC: What was your amateur record?
JM: Ooh geez, I have no idea. I had over 300 fights.
RC: Wow, that's a lot of fights….
JM: I like to be active. That was the only thing that worried me about going professional, it was the fact that professionals don't fight so often. When I came over here I have had three fights in seven weeks which is great, that is what I like, I like to be active because I know when I am active, I am better. I fight much better. I am happy now because I have a good team here with the McLoughlin Brothers and Harry Keitt training me, so everything has worked out for me.
RC: Have you fought any notable names as an amateur?
JM: I fought and beat a few guys who recently fought for European titles in the last year or so.  I don think too many Americans are familiar with them, I can't think of any Americans off hand. I did box Anthony Thompson. He beat me in the semi finals of the world championships. I think he might be 16-1 or something like that (Actually 19-1)
RC: Is that a loss you'd like to avenge as a professional?
JM: Well you know down the line, right now I am just thinking about the next fight which is November 4th. I am just thinking about that guy, I have not really planned anything past that. I just plan to take them as they come and hopefully they come fast, that is all I am looking for.
RC: Any idea who you will be facing November 4th?
JM: I think I will be fighting a guy name Manji Conteh
RC: Do you know anything about him?
JM: He actually trains in Gleason's so I have seen him in there a couple of times training and working out. I think his record is 5-5; he has a pretty average record. So hopefully I just get in there and get the work squared away,
RC: For your fourth professional fight, how does it feel to come back and fight in New York City where you made your professional debut?
JM: It's a cool thing; I don't mind wherever I am fighting as long as I am fighting. But it just makes it easier for all of my family. I have a whole lot of family from the Bronx and a lot of friends from Queens. So it just makes it easier for them rather traveling all around the country, because they all want to see me fight. So it feels good to be back in New York.
RC: How has the experience of living in New York been for you?
JM: Oh great, there is always stuff happening. I like it over here, with all of the fans and plenty of action in the gyms which back was kind of a bit of a problem. I always had to travel 100 miles for sparring, and I was always giving away weight to the guys I was sparring.  SO over here it is not so bad, you can work with a whole range of fighters.
Send questions and comments to: rayocampbelljr@hotmail.com