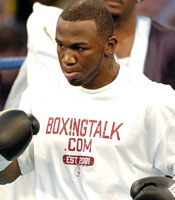 GRAND PRIZE WINNERS:
LACY WINNER: Andrew Wadhams
Jeff Lacy is going to win this fight by sixth-round TKO. There are many factors into why Jeff Lacy is going to win. First, when I saw the clips of Calzaghe's fight with Byron Mitchell I knew right away that Lacy was going to win. When Calzaghe started throwing down with him, he got knocked down for the first time in his career. If Calzaghe starts throwing with Jeff he is going to fall right into Jeff's game plan and Jeff would be going forward the whole time pushing Calzaghe to the ropes where Jeff will throw those bombs that Joe would not get up from.
Second, Joe is scared of Jeff. Why has this fight taken so long to make? Lacy and Gary Shaw have said they made an offer to Joe at the end of 2004 I believe, and Joe and his promoter declined. Then the fight was made for November but Joe took a fight that he didnt need against Evans Ashira and "broke his hand". It was kind of funny that he was talking about getting injured right before the fight and then he gets injured and has to move their fight to march.
Then there were doubts that the fight was even going to happen in March because Jeff was getting tired of Joe's games and wanted the fight to be in Florida but Joe and [his promoter] Frank Warren refused and Jeff was like, "OK, let me kick your ass over there." Third there is the Robin Reid factor. Joe won his match but some people question it. Jeff took apart Reid. Knocked him down 4 times and made Reid's corner throw in the towel.
Though Reid said that Calzaghe was stronger and would win against Lacy, do you believe him? After he just got humiliated by Lacy, does he want to give props to the kid or try to make it look like it was nothing and build up the guy that some people say he beat? I think it will end in the 8th by TKO because Joe will run for most of the fight trying to box Lacy until Lacy finally catches him against the ropes and starts landing bombs until the referee decides he cant let one of England's favorite sons be dismantled like that.
 
CALZAGHE WINNER: Phillip Hernandez Calzaghe TKO 10

Calzaghe by TKO in the tenth. Yes, I'm going out on a limb here. Conventional wisdom favors Lacy because he has the momentum going into this fight. He has dismantled two top contenders in his last couple of fights. Since December, 2003 he has defeated 7 fighters with a combined record of 187-18 for a 91% winning percentage. Lacy has youth, strength, power and a solid chin. For such a young fighter he has taken a lot of punishment barring his last two fights. He is relentless pressure fighter which may be his downfall in this fight. Lacy has good power in both hands, but his defense is susceptible. He gets hit way too much and he won't be able to take too many clean shots from Calzaghe for twelve rounds. Now, Calzaghe is a seasoned veteran.
He has shown he can box or bang. He has great power. He does get criticized about his record and level of opposition, understandably so. But, he has fought some very good opponents and the past 7 fighters he faced had a combined record of 195-13 for a 93% winning percentage. There is nothing in the ring that he hasn't seen. He's tasted the canvas to comeback furiously and has fought through injury.
The deciding factor in this fight will be Calzaghe's jab and southpaw style. Lacy will come out looking to apply constant pressure and body attack. Calzaghe will neutralize Lacy's pressure with a strong jab and foot work. Calzaghe knows how to box and is no stranger to fighting a full twelve rounds. Lacy will follow Calzaghe around the ring getting pop with that jab and when he gets close a uppercut or a quick slip to the side and a left cross will be the order of the day. After a couple of rounds of that Lacy will be frustrated and reckless. And that will only add to his demise.
Lacy won't stop trying because he is a true champion with a lion's heart, but once and for all the "The Pride of Wales" will prove to all the naysayers that he is truly the best super middleweight in the world. Regardless of who wins, this a great fight for boxing and I want to thank these champions for showing their courage in accepting such a great challenge. Peace 
Second Prize winners (Boxingtalk t-shirts):
Wayne Matthews-Stroud, Greg Rowe, Tracy Smith, Scott Cargill 
EDITORS NOTE:
WINNERS MUST SEND THEIR MAILING ADDRESS TO GREG LEON AT
gleon@boxingtalk.com