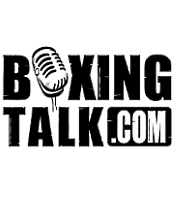 This past weekend, Travis Kaufman blew away all the competition at the PAL Nationals by taking the title and scoring one of the fastest knockouts in tournament history.  "I don't fight like a white guy either, but I got the complexion for the connection." explains Travis.  The 19 year old Kaufman believes he has the boxing ability to fight for a pro title one day and is also confident that his complexion (white) will give him the marketing ability that few heavyweights possess.  Like it or not, white heavyweights are an extremely marketable commodity, especially if they have the talent to reach the top ten.    
 When I asked Travis what he has that will give him the ability to be successful as a pro, he stated that, "I'm a white heavyweight.  I dance a lot and I stay on my toes.  I don't fight like that bum Joe Mesi.  I don't fight white either."  Travis did compare himself to jr. welterweight phenom, Fransisco Bojado.  "I'm a counter puncher.  I'm a boxer." 
 Travis' strength and conditioning coach Joe Pastore explained that "Travis' counterpunching is excellent.  He's a pocket puncher.  He's got balls!  He'll spar anybody, but perhaps his quality is his anticipation in the ring."  Conceivably, it is this type of confidence and ring generalship that help Travis score the fastest KO in PAL tournament history.  Travis' opponent in the semifinals, Nagy Aguilera, who lost by one point to Victor Bispal in the Olympic trials, came out swinging.  Travis walked right up to him, waited patiently until Nagy punched himself out and cracked him.  18 second KO.  Nagy was hit the canvas at eight second mark and it was over.  
Travis Kaufman is on his way to Azerbaijan for the Russian Duel.  Then he will enter the U.S. Championships and the National Gold Gloves, if all goes well, Joe Pastore and Marshall Kaufman will make that ever-familiar call to their stapled promoter, Main Events.  Here comes Travis Kaufman.