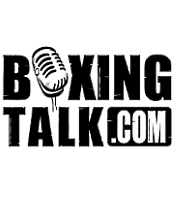 Puerto Rican cruiserweight Francisco Palacios is undefeated after eight pro fights, he is managed by WBO junior middleweight champion Daniel Santos and trained by Alejandro "Poopi" De La Torre. Nicknamed "The Wizard," Palacios hopes to rise up the ranks of the 200-pound division and bring excitement in the heavier weight classes to Puerto Rican boxing fans. Boxingtalk sat down with Palacios, who has fought all eight of his pro bouts in the state of Florida.
Boxingtalk: Why do they call you the Wizard?†


Francisco Palacios: Because it's magic the way the way I move like a middleweight.†
BT: How did Daniel Santos become your manager?


FP: I've known Daniel since we were kids.† I started boxing a after I got hurt playing basketball. † I was ranked #2 as an amateur at heavyweight.† I saw Daniel at the gym and we hadn't seen each other since we were kids.† I knew Daniel was one of the only people I could trust. † I started using Daniel's trainer and I have improved more in 6 months than I have in 5 years of boxing.
BT: How have you improved in the last six months?
FP: I have improved in my boxing skills, my jab, the right hand, combinations, and how to relax myself in the ring.† I have improved in everything.
BT: Right now, you are 8-0 with 4KOs. Why is it so tough for you to land a fight and how do you plan on getting a fight?


FP: I don't know. I see a lot of other people moving.† Since I've been with Danny, in the last 2 months I've had 2 fights and we are going to start moving. Before that, I had not fought in a year.
MG: Why should the fans pay attention to you? What's your advantage over all of the other cruiserweights?†


FP: I don't really like talking about it because it comes of naturally.
MG: So you're saying that you can adapt to any style in the ring?


FP: I'm not going to say anything because I don't have much experience.† But I am learning. I got a great trainer in "Poopi" and I got a great mentor and manager in Danny.† Danny must be doing something right because nobody wants to fight him.
MG: In terms of Puerto Rican fighters, it's not common to see people at such a weight.†


FP: It's not common, but I am going to do what I got to do.† I like that people talk about me and criticize me because when they see me in the ring, it will be different. † I just got to keep sparring all day long.
MG: Do you plan on moving up to heavyweight?


FP: Eventually, yes. I want top do my thing down here first and let people know I exist. I want to make a name for myself, get the money and get out early.† I don't want to be all twisted up.† I want to do the same thing up there (heavyweight). † Everybody fights for money, but I want to be the best.† And I'm going do what I got to do to be the best.†
MG: What do you want the boxing world to know about you?†


FP: I just need the opportunity to make it up there.† The boxing world won't regret it. † I'm a good man and I take care of my responsibility.† I don't have kids, but I'm taking care of my brothers' kids, because my brother passed away. † He passed away last year 3 days before my birthday.† I know he helps me a lot.† I am the type of guy that I never say anything bad about anybody.† If someone thinks they can beat me then let's get in the ring and see if they can beat me.
Send questions and comments to: boxingtalk@gmail.com