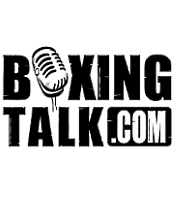 The city of Chicago was incorporated in 1833 nearly 15 years after Illinois, was admitted into the union. According to Illinois, historian A.T. Andreas, The name "Chicago" is derived from an Indian word. In fact its original spelling is Checagou. However no one can say exactly which Indian tribe, can be credited for this name. Nevertheless many theories have advanced to explain its origin. One generally accepted is that the name means either wild onion or skunk, but some historians believe that the word, Chicago denoted "strong" or "great. I personally lean towards the later definition, because I like the windy city, but I hate the White Sox. Now let's fast forward to the present, and to promising Chicago, native and pugilist Donovan "Da Bomb" George. It will undoubtedly be left upon the public at hand to decipher, weather or not "Da Bomb" stinks or if he is as powerful as the definition of his hometown and his destructive nickname.  
George, who is campaigning in the Super Middleweight division, currently owns a professional record of six wins with zero losses, with five of his wins coming by way of knockout, and one draw. The 20 year old George has recently inked a promotional deal with Cestus Management. Cestus Management is the same company which is navigating the career of undefeated junior welterweight contender "Mighty" Mike Arnaoutis.  
George is not out to just be another fighter who puts on the gloves for a paycheck. In fact being one day being a world champion will not fully satisfy "Da Bomb's" appetite for success. In 1983, Tony Montana aka, "Scarface" saw the Pan American blimp spell out "The World Is Yours," that would be a nice start for this ambitious prospect.  
"Boxing needs a new star and I want to be a star. I can fight, I'm handsome. I'm better looking than De La Hoya," said George as he broke into laughter.   
However before, George's celestial dreams can become a reality he has to first leave the atmosphere of the prospects. The undefeated George will next see duty on October 28th versus an opponent to be named later, at the Orleans Hotel and Casino in Las Vegas, Nevada. Cestus head honcho Mike Michaels who is never at a loss for words is very excited about the newest member of his stable.  
"Boxing is undergoing a changing of the guard. There are new faces popping up in the pound for pound lists. You see the men that ruled roost starting to fade away, Trinidad, Roy Jones, and so forth. There will be a void there to be filled and I have that filler, if not the man who will rule the roost," stated Michaels.  
"In 18-24 months we had "Mighty Mike" ranked you will see the same type of development from the "Da Bomb". Don will be a legend, it's a bold statement I know, but I "Da Bomb" is ready to explode," said Michaels.   
Michaels feels that the grooming of "Da Bomb," may be an easier task than the current evolving of his aforementioned Greek ace. George is an American born young man. Who is of half Irish descent by way of his mother, and the other half is Greek descent through his father. Michaels feels that this will lead to a tri-cultural marketing operation that will be unique.  
Donovan George grew up in the North side of Chicago and says that he has been involved in sports his whole life. He credits his high school wrestling background for cultivating his work ethic and discipline. A self described gym rat is George.  
"I played everything growing up as a kid. But wrestling really helped me out. It made me love to workout and to be in a gym, and it helps in my dieting and when I have to loose weight, I learned a lot from it. I still use some of those things, now when I'm preparing for a fight," said George.   
"What I love most about boxing is that it's an individual sport. There are no teammates out there to save you or make you look good. You either sink or swim when you are out there in that ring, I love that", said George.  
George was introduced to boxing at an early age, by his father and current trainer Peter George. The elder George when he isn't training his son by day is a member of the Chicago, Police Department. George has served the city of Chicago for the last 24 years as one of its finest.  
"We have one of those good father and son relationships. I know only really the troubled ones get much ink. But we are in this for the long haul. He is my best friend, in and out of the ring," said George.  
"My father is the best unknown trainer in the sport today. He's like me the best kept secret in boxing. He's a dedicated man. He works long hours sometimes and when he is not at work he is in the gym with me. When he is not in the gym he's watching tapes and reading books. I will be a world champion. I will not let him down," said George.  
"I love boxing it's in my blood. My dad was a fighter, I'm a fighter. I'm a fanatic, 100%, ever since I was a kid. I can't tell you the number of hours, upon hours that I have spent watching old tapes with my dad, studying old fights. And breaking down my fights," said George.  
George classifies himself as a boxer puncher who is not afraid to mix it up. A pedigree for success has been there ever since he was 15. George holds 3 Chicago Golden Gloves titles on his resume. He has also been sparring with pro's ever since high school. One of his proudest moments recalls George was a meeting that he had with current New York based rising prospect Jaidon "The Don" Codrington. George recalls facing Codrington several years ago in his 10th amateur bout ever. George was unsuccessful in this meeting, but it made him realize that he belonged amongst the other elite fighters. He states that Codrington was one of the most talented fighters he faced coming up through the amateur ranks.  
"I think he is really good. He's the real deal. (Jaidon Codrington) I could definitely see me and him down the line in a world title, big money fight," said George.   
"At this stage in my career it's stupid and disrespectful to call anyone out. I'm 6-0 and I know I have a lot to learn. My management team I am sure will set forth the best path of success for me," said George.   
"I promise to put on entertaining fights and no tomato cans. My fist and my work in the ring will do my talking," said George.  
"I'm going to make history one day. I am going to be the only fighter to be ranked in the top 10 pound for pound list and be in the top 10 People magazine, most beautiful people list," said George.  
BoxingTalk would like to thank Don "Da Bomb" George for his time and want to wish him continued success in the future.
Send questions and comments to: spjr21@yahoo.com