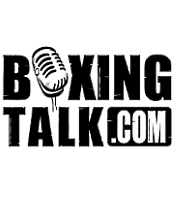 Boxingtalk is bringing to you, EXCLUSIVE FOOTAGE of Friday Night Fights from River Edge Restaurant in Reading PA. This is the first time these recent matches are being broadcast. The first matchup of the evening is between highly touted jr. welterweight prospect Keenan Collins 3-0 (3 KO's) and Marvin Greethouse.  In the exclusive footage provided by boxingtalk, courtesy of King's (Kids In Need of Guidance) Promotions, Collins comes out on fire and scores a knock down in the first fifteen seconds.  Check out our exclusive footage as Collins senses the desperation on his latest victim before going in for the kill. 
Our second featured matchup is between the hard hitting Jeremy Stauffer 5-0 (5KO's) and Jason Burrell.  In the course of Burrell's career, he has went three rounds with "the Magic Man" Antonio Tarver and drawed with cruiserweight title contender Louis Azille.  Can the hard hitting Stauffer land a knock out before "the Magic Man?"  Check out the footage of the hard hitting slugger out King's Gym. 
Our final feature is well known slugger Julian Letterlough 21-5-3 (20 KO's) vs. Eric Starr.  Coming off of a draw with Daniel Judah, which some boxing pundits thought was controversial, Letterlough seems to enjoy taking his frustrations out on Eric Starr.  See what happens when bad timing puts you in front of a yet another knockout artist from King's gym. 
Boxingtalk is also bringing you footage of undefeated middleweight prospect, Giovanni Lorenzo 14-0 (7 KO's).