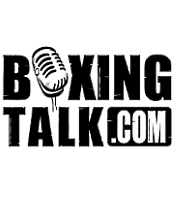 What's cracking G! Man great great show on HBO PPV last night. 1st of all, I see why BoxingTalk.com is the best site in the World... all these other pretenders write articles based on personal feelings and friendships and seem to forget to examine events based on talent. I'm pretty sure you know a lot of the other sites where picking Gatti by KO and Floyd by UD if he runs. Well hell, Gatti better thank God for Buddy McGirt because he was on his way to getting seriously hurt. Did Floyd ever miss? I take my hat off to Gatti, because he took a true beating and wanted to continue. Honestly, I don't see anyone at 140 touching him... I think Hatton gets exposed and Cotto's only hope is to come in @ 175lbs. I want HBO to pony up the dough and let's see Zab and PBF. I give the edge to Zab because he seems to have settled in @ 147 and hits like a 12 Gauge Pump but I would love to see that. Have you got a hold of that legendary sparring session they put on last year? Please post if you have it.   Also, wassup w/your boy Vivian Harris. Did he really get KO'd out? Not just KO'd but counted out. I know that he may have choked under the spotlight or been a little rusty due to the lack of activity but dang I was waiting to actually see this guy and he was less than impress w/his lack of conditioning and skill. Have you had a chance to talk with him yet I would love to hear his side of the story before I completely dawg him? I now that he does possibly have the goods but didn't capitalize.   AJ from Dallas, TX
Leon's Response: After the third round I was telling those around me that they better stop this fight before Gatti gets hurt. Last week I told one of the mailbaggers that Mayweather would've done some long term damage to Gatti had that fight continued. I hate to be the one to point this out but Gatti still hasn't beaten an A level opponent and I doubt he ever will. I didn't hear what was going on in the corner, but Buddy made the right choice. Maybe he'll make another great choice by handing Arturo a cigar. Buddy always says when he feels a fighter is done, he hands them a cigar to let them know. Harris told me he overtrained for the fight. When you guys read the interview we're dropping with Harris, I'm sure you're going to feel he's making excuses. At the end of the day time will tell us who the real Vivian Harris is. As a reporter I give Harris credit for calling me to do an interview and handling every tough question I threw his way.
Whats up G?  I saw the PPV Saturday and being Floyd Jr. #1 fan I must say the was beautiful.  He said Gatti was a C+ fighter and he made him look like a F fighter.  That had to be the best ass whooping I ever saw.  I know everyone is going to say thats what he was supposed to do, but nobody and I mean nobody thought it would go down like it did.  I couldn't tell if he was hitting Gatti or the speed bag LOL.  But that is why he's the true P4P KING.  Manny Steward always say "a good big man would beat a better little man any day," not Saturday.  The only problem that I have is the guy who you guys claim as the true champ at 140( Whats has to be the most ridiculous thing you guys ever printed) was at the fight and after what Floyd did to Gatti, he got back on that plane and out of this country before the Ref could raise Floyd hand and I guarantee we wont hear from him anytime soon.  He's going to hide behind his belt and in his country to make sure P4P KING don't find him.  Lil Floyd no no I mean Floyd is the best thing that has put on a set of gloves in a long time.  He does what a champ supposed to do, Go out and fight the best.  Not just in 1 weight class. I can't remember a time when a boxer in his prime and true weight class was destroyed like Gatti was Saturday night.  It's not like when DLH beat him, he was out of his weight class.  What happen Saturday was like a man coming in your house with your family sitting in the living room and turn your TV, kiss your wife, slap your kids and dare u to say anything.  What next?  I know once again unlike BHOP Floyd is going to have to move up in weight AGAIN to find a challenge because Hatton is a scared chicken and Cotto isn't ready.  Give my man his just due no other boxer active can say he cleared up 3 weight classes in his prime.  No other fighter on your P4P list has to fight and destroyed fighter naturally bigger than him because no one his size will fight him.  I would like to say my Congratulation to the TRUE P4P KING FLOYD MAYWEATHER JR.          PS Did Vivian Harris ever wake up?  Did he honestly think he wanted some of Floyd?  He must of was talking just to hear himself talk.  Thanks  Gerald  Lafayette,LA
Leon's Response: Now some of the Floyd haters know why we call him the pound for pound Picasso. Not too many people thought it would be that easy, but I have to pat myself on the back for knowing that it was going to be a Ferrari versus a Volks! Floyd is the best fighter at 140, but Hatton is the true champ at 140. Mayweather himself called Tszyu the man at 140 before the Hatton fight and Hatton beat the man. Until he's beaten in the ring or goes on another bum of the month circuit, Hatton will remain the man at 140 until proven otherwise. Of course, Mayweather will remain the most talented at 140 BY FAR until Hatton feels he's ready to prove otherwise.
G, Can we now please stop the Vivian Harris hype?  The man doesn't even belong in the 140 top 20.  He could not take out a guy who had his hands down and his head one foot from Vivian.  I guess the debate on who has fought the better competition between him & Cotto is a moot point?-KG
Leon's Response: Any fighter that makes it a point to get on Boxingtalk.com as much as Harris has will get on Boxingtalk.com as much as Harris has. Sure I look like a jackass right now because of my lofty opinion of Vivian, but other than the opinion's I relay in the mailbag, he hasn't been HYPED. We've simply given him the same ink we'd give to any other fighter to express his thoughts, if you haven't figured that out by now you're probably still wondering why some consider us the best boxing website in the world.
How are you doing Mr. Leon?   First, my hat is off to Floyd Jr. He did what he said he was going to do to Gatti. I wanted Gatti to beat him up but It did not happened. Just too much hand speed. Watching that and the other 140 pounders, being Boricua I would like to see Cotto kick his butt. But he is too technical and I don't think he will put the pressure on Mayweather to take him out of his fight plan. I hope that if Cotto fights Mayweather he proves me wrong because I still want him to beat Floyd. Now I think that the person that might get Floyd out of his fight plan is Hatton. The way he fought KT, he just did not let him catch a breath. I think he is the man right now for that, strong and puts a lot of pressure. He might be the man to shut Mayweather's trash talking mouth.   On the so called boxer that said that Cotto would not last six rounds with him, VIVIAN HARRIS, he got Knock the F.... Out by some one Cotto sent home in 8 rds. All that trash that he was going to take Cotto to school and that he was going to knock him out in six. And he is the one that was going to beat Cotto. The funny thing is that you GL agreed with comments similar to that along with other viewers of the site. And to top it all Harris still he is the greatest 140 when he said that Maussa was all that because he beat him, so where Cotto stands in Harris eyes when the man who beat him got knock out by Cotto who is not suppose to last 6 rds with him. All I got to say for Harris is "Becareful what you wish for, because you just might get it"  If Harris fights Cotto mark my words, Cotto will break his skinny ass in half. Saludos   Juan Carlos
Leon's Response: I would pick Floyd over any 140 pounder in the world, but I do believe Hatton would give him the most trouble. Did I just say that? Seriously though, Floyd has enough speed to neutralize that pressure but Hatton's pressure is serious and that makes for a great fight. Also for the record, I think Hatton did a tremendous job next to Baseball Tonight Brian on Friday Night Fights the other night. After meeting Hatton, I must say the kid is a very likeable person. He's clever, witty and seems to have a future in analyzing boxing matches if he so chooses. Harris and Cotto has a better chance of happening now than ever before, but I definitely think Harris has to get his title back first.
G what's up?  I have been long time fan of your but never sent in an email.  Nevertheless I am not going to asking you questions about Harris I am sure your email is full of people saying "I told you he was no good etc"   My question is, has a fighter ever confronted you after you picked them to loose but they won?  For example the Harris fight I think you called that guy he was fighting a bum.  I know fighters' read your what you have to say about them and just wondering if that has ever happened before. Keep up the good work.  Ray K Mpls, MN
Leon's Response: They've poked jokes at me or tried to question my logic many times, but I've yet to feel confronted. If Maussa frequented the internet, I might not be able to say that. LOL.
Sup G Leon!! I emailed you a few months back stating Zab Judah being with Don King wasn't in Zabs best interest. I knew he wouldn't be able to fight big names. Just mandatories, or fighters signed to Don King Productions. The fans want to see Zab vs Margorito. Zab vs Mayweather. I think Zab is a top fighter, but will never get a big fight unless he signs with another promoter. Zab signing with another promoter, will never likely happen. Don feels like since he signed him after the Tszyu situation "I own you" Next time you see Zab, tell him to leave Don King. Who do you see Margorito fighting next? Also is Carlos Maussa signed to Main Events?, if he isn't I'm sure everyone is looking to sign him just to get a belt Thanx in advance 
Leon's Response: DKP is the reason Zab Judah was able to become the undisputed welterweight champion of the world so quickly. Love him or hate him, King is about getting that money and the mandatories and DKP fighters won't generate eight figure pots. Surely if I know this, Don King does also. Zab wants to fight Margarito, but I would look to put him in there with Mosley, De La Hoya, Tszyu, Hatton, Cotto, or Mayweather first. I can definitely see a Mayweather-Judah fight happening within the next year and a half as long as both of them continue to win. By then they'll each make enough money to put their friendship to the side for 36 minutes.
Well, you nailed this one on the head.. We all knew gatti was not in the same class as Mayweather, but I thought he would be able to make a fight out of it and land something big and take mayweather out. Apparently I was way off, that fight reminded me of Paz vs Roy Jones.. One thing worth pointing out is that Gatti looked horrible from the first round on. he wasn't bouncing and moving and he wasn't coming in throwing bombs, he just jabed with Floyd. What kind of game plan was that? I know people will say he wasn't throwing because Floyd made him pay every time he did, but thisis gatti we are talking about, i figured he would be willing to eat punches in order to land punches.. Hey, hats off to Floyd, he showed once again that he is the best fighter in the world right now. However, i will never be a true believer in a fighter until he is tested and he passes the test. Guys like Floyd, Roy, Whitaker, etc.. you never know what they are made of because they are so good nobody ever gives them a chance to show their mettle.. Odds are when you are as good as Floyd and when you have been fighting since 2 yrs old, you end up being pretty tough. Good  thing is Floyd is in a division that will test him, and we will all see if he has the heart and balls to go along with the incredible talent that he has..Oh yeah, sorry your boy got destroyed, I was hoping he would lose but i think the ref should have given him 5 minutes to recover. That was one of the worst jobs of officiating i have ever seen.
Leon's Response: I think your thought was borderline hope. You know like spending a dollar for a Lottery ticket expecting to wake up a millionaire the next day. Ben Thompson hit this one on the head even better than I did. He said it would be like Jones-Paz and he said it would end in six like Jones-Paz. I just knew it was going to be Mayweather impressively.
I would suggest to Chico to stay in the 135 pound division.  If he fights Mayweather again, he will be soundly defeated like their 1st fight.  I don't see anyone defeating Mayweather in 140s, including Cotto, and I'm a Cotto fan.
Leon's Response: Both guys have improved since that first fight and Corrales wouldn't lose as badly as he did the first time. However, it's hard to see anyone dealing with that kind of speed and I probably wouldn't expect Chico to turns the tables on Mayweather in a rematch either. But unlike Gatti, he REALLY has a punchers chance.
Greg, so much for Vivian being better than Cotto huh. I mean damn Greg he got knocked out by a guy who Cotto already murdered earlier in his career. I also want to mention that this was the biggest stage of his career and he blew it big time in front of all his 140 peers (Cotto,Hatton,mayweather,gatti). Cotto would have knocked Vivian out in 3 rds. All of a sudden Cotto is not looking so bad after all. And as far as Vivian beating all of Cotto past opponents, I doubt it. Tell Viv to keep his head up and you do the same greg. I know you guys must be having a tender moment together. Congradulations to Mayweather on an electrifying performance against a great competitor in Gatti. Damn Mayweather looked unbelievable. If I'm Cotto I would go snatch that belt from Moussa. Your still the man greg but you know I had to get into you for that one. Mark 
Leon's Response: He who laughs last laughs best. And something tells me that I'll be laughing last on this one. Hopefully Cotto and Harris fight one day. Cotto won't be able to snatch that belt from Maussa due to Harris having a rematch clause. For now though, you got it. I didn't think it was an "unbelieveable" performance by Floyd, he's a much better fighter than all of the little guys that beat Gatti and Gatti is much older now than he was then. We saw Floyd dismantle much better fighters than Gatti so why would this be surprising. Honestly, I think Emmanuel Augustus would beat Gatti.
What's good Senor Leon,  Floyd look great again this past saturday and I know that he was fighting Gatti but what a display of talent he put on. I believe he beats Hatton and many others at 140. By no means am I saying he is unbeatable but Hatton,Cotto and others are in danger of getting a loss at the hands of Floyd. About Floyd going over seas to fight Hatton I don't think Top Rank or Floyd would want to do that. Hatton is difenately a good sell over there but if none of the top fighters at 140 go over to fight him, what does Hatton do to maintain the the title that he is the man at 140? Also, is that the Harris you were talking about that would beat Miguel Cotto? He had his chance to shine and he CHOKED big time against a nobody. He is lucky that it was not Cotto in front of him because he would of really gotten an ass whoopin. If you were Floyd's manager who would you want him to fight in his next fight and who do you think Cotto should fight next? Thanks for giving us the best 411 on the net and you guys are doing a great job with all these hot videos. BOXINGTALK is P4P the best on the web....    David Reyes -Pawtucket,RI
Leon's Response: Floyd looked tremendous against Gatti and I was far from surprised. Harris looked horrible and I was completely shocked. Maussa is the kind of guy Harris should have blasted out of there. Some of guys are doing a great job of making me feel stupid about my lofty opinion of Harris, but I expect him to get his belt back in impressive fashion. He better because if he doesn't, it will be very difficult for him to return to the top level.
Whats up G, I was keen to watch the Vivian Harris fight on the weekend, mostly due to the fact that Boxingtalk have hyped him up to be sooo great and I have never seen him fight before. I have seen Cotto fight a number of times and believe he is pretty good, and to have Boxingtalk say Harris is better than Cotto and even stand a respectable chance of beating any top 140 pounder, I had to watch this guy. I was dissapointed. I thought Harris's punches looked very wild and it didn't seem hard for his opponent to make him miss, although he did score good on a number of occassions. Well my question is: Does Harris have much more to offer, or was that a typical display of his skill depite the loss? Was that just a bad night for him, which can be understandable, or was he exposed? This is not a knock on Boxingtalk, just wanted to know if Harris was still the real deal who had a bad night, seeing that I never watched a fight of his before and cant make an impression off of 1 fight.
Leon's Response: The only Hype I know is my webmaster Ben Thompson. That was the WORST I've ever seen Harris look. It's unfortunate that it happened on a big stage because the rematch with Maussa probably won't. In other words, even if he gets his belt back he's going to have to hope that one of the other champions or top level fighters wants to get it on for HBO to accept him. I believe he has much more to offer and I'll believe he'll get his title back. And if I see the Vivian Harris I'm used to seeing in the rematch, I'd still pick him over Cotto.
Whats up G, I know you get plenty of nagging emails questioning your p4p list, but I couldn't help but send you one from me. How could you drop Tszyu from 2 to 12 following a WWF wrestling match? Hatton wrestled, oops I mean fought a good fight, but even blind freddy knows that on neutral ground with an unbiased referee the result would most likely have been different. With the great performances of Mayweather and Winky recently I probably would drop Kostya to below them even if he had of won, but to remove him completely from the top 10 is shocking. From memory, fighters who will never get a mention in the Hall of Fame like Spinks and Tarver didn't even drop 10 spots following their losses, and there was no controversy following those losses! Sorry to be a pest and I know p4p is only opinion, I just wanted to put my opinion out there.
Leon's Response: Tszyu dropped from three to twelve. Tszyu looked flat and may have gotten old overnight. Some people might think I left Tszyu too high since it's been nearly four years since he defeated another pound for pound top twenty fighter. Spinks didn't drop ten spots, he dropped twelve. Spinks went from #4 to 16 following the loss. Tarver dropped nine spots from #2 to #11 and Tszyu dropped nine spots from #3 to #12. Disagreeing with me is one thing but please don't try to tell me I've been inconsistent.