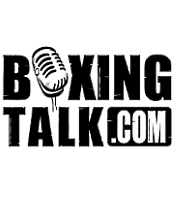 I enjoyed the free mailbag with Spinks. He is a credit to boxing and refreshing. He has earned everything he has done and I feel that he has already passed up his father in terms of history. His uncle, Michael Spinks, was a bad ass 175 pound champ and a brave heavyweight. Cory has some work to still do to get to uncle's level. Cory will make it to the hall of fame even if he suffers a defeat. Champions are the ones who can make great comebacks and stay driven. Peace,
Aaron (Precise) BlountOnFire's response: Cory Spinks, the undisputed welterweight champion of the world, is humble enough to take the time to answer your questions. This in the mist of training for Zab Judah. He earned everything he has but I must say he earned that IBF title twice. We all know that he should have won it the first time he went Italy. His dad Leon is in the history books because he was able to defeat "The Greatest" in only his eighth professional outing. His uncle Michael was undisputed at light heavyweight and then stepped up to defeat Larry Holmes. Cory is right where he uncle was, undisputed champion, but he needs that big fight ala Holmes for Michael and Ali for Leon. So far there has been no need for Cory to make a great comeback but he has stayed driven and if you ask the champ he plans to drive Zab Judah right out of his hometown.
Hey what's going on Jose? This Robert. Hey I just want to say that Boxingtalk is boxing at it's best. You guys definitely keep it coming. I had a question for you. With Tito facing Winky wright in May will Klitschko-Rahman be on the undercard? And also I've heard rumors that since Winky is giving up his WBC belt that Javier Castillejo will now be the champion and that him and his people have contacted Don King about the possiblity of fighting Ricardo Mayorga in their first title fight. Is there any truth to that? If so that would be a great feature on the undercard of Trinidad-Wright. I saw from a Dominican newspaper that Joan Guzman could be a likely opponent for Barrera in April or May. It said that Guzman wanted his people to try to make this fight happen and that Barrera wanted to get back in the ring in April rather than May, and that either date would be to quick of a turn around for some of the other fighters that had been mentioned as possible opponents earlier. Could Juan Manuel Marquez be a choice? And finally is Freitas-Diaz on if Diaz wins in Feb. and what about Cintron-margarito is that a go for April 23? As always Keep It Coming!!!! Peace.
OnFire's response: What's good Robert? We appreciate the props and you can believe that the best is yet to come as we keep it coming. I don;t think we will have the pleasure of having these two fights on the same night, let alone the same card. The WBCrap threatens to strip Wright for his facing Trinidad then want to say that their champions are the best champions. How so if you don't give  them that chance by allowing them to face the best fighters possible? Since we're on the WBCorruption, why do they elect to strip some champions (Tarver, Winky)  and not others (De La Hoya, Mosley)? In terms of a Ricardo Mayorga comeback I can't say that I've heard any solid word to this day. But then again many in the know said he would return. Looks like Joan Guzman will likely face Oscar Larios if all goes well for the WBC super bantamweight champion in his fight with Wayne McCullough on Feb 10th. Guzman will be in the city this Thursday and Boxingtalk plans to get with the WBO super featherweight champion. I'm anticipating Guzman's return because you know he's explosive and any fight with him should be exciting. Juan M Marquez facing IBF champion Israel Vazquez were just rumors. But there has been no other word from the camp of Marquez on his next move. Julio Diaz is set to face Levander Johnson but is also the front runner in a fight with Jose Luis Castillo. Acelino Freitas was rumored to be next in line for the title but that wasn't the case. That's the word on Cintron-Margarito.
What's up OnFire!? Every time they talk about a possible Mayweather/Cotto fight, they talk about  in 2006. PBF's uncle, who sees Cotto as the biggest threat just talked about "if they fight in a couple years…" Well, Cotto can barely make 140, so I would think it makes sense to match them by the end of this year. Say PBF beats Bruseles and then the winner of Gatti/Leija in the summer. Say Cotto beats Corley and unifies against Harris. That way they could meet later this year. I left Tsyzu (who might move up to welter) and Hatton out, but if you throw them into the equation, we're talking early 2006. Boy that seems like a long time. I hope that fight happens before either one leaves the division.
OnFire's response: Floyd Mayweather Jr who toyed with Henry Bruseles is looking to shoot it out with Arturo Gatti should the WBC junior welterweight champion get by Jesse james Leija. With Floyd saying he will be fighting four times this year wouldn't it be wonderful for two of those fights to be Gatti and Miguel Cotto. I don't think so but I hope I'm wrong. I don't know that Cotto would face Vivian Harris at this point in his career. Vivian Harris can box and he has a punch. There are alot of fights out there for both Cotto and Mayweather for the one hundred fourty pound division is littered with solid talent. Sometimes fight just get made too late one way or the other."
Wanted to drop you a line and let you know that as a paying subscriber of your site and big fight fan, you guys do the best job of any site I have come across. Keep up the good work. I am a big fan of the heavyweights, but just can not seem to get over the ridiculous amount of inactivity on the part of the champs, contenders, journeymen, etc. What is wrong with these guys that they will not get in the ring more than three times a year if we are lucky? Recent examples are: Oquendo, Lance Whitaker, Audley Harrison (injured hand but come on), Tony Thompson, Ray Austin, etc. Do you have any idea at all on upcoming bouts for any of these guys? What about Toney, Byrd or Ruiz? I thought Goossen was going to have an opponent lined up by the end of this week? I have been in attendance at all four of Byrd's last four fights on the East Coast and would love to see him in vs. Toney. Finally, great job w/the predictions portion of your site. I look forward to your response or at least some updates on your site.Thanks,
DerekOnFire's response: Thanks for the line and thanks for the accolades. The heavyweight division is in a turmoil right now. Three of those champions are with Don King. One stands alone. We seem to have some rumblings as Vitali Klitschko is set to defend against Hasim Rahman, Lamon Brewster will get it on with Andrew Golota and hopefully this year sees James Toney challenge Chris Byrd. These fights should set things in motion and hopefully we'll have a solid  fighter we can call The champion. Thanks again.
Some of these crooked promoters think they fooling us wit some of these over hyped fighters.Thats just like those crooked record execs trying to make us believe some wack rappers don't use ghost writers.It's a shame cause I'm sure Jermaine Taylor and Miguel Cotto wants to face top notch opposition. And its crazy fucked up fights can't be made because some promoters want like 3 or 4 options. How promoters be making more than the boxers themselves? Why 1 punch knockout artist who train hard like Vivian Harris can't even get a fight on ESPN 2 and keep getting put on the shelf? Why is Don King always in and out of court? Why the public think boxing is like wrestling and not even a sport? And why the pound 4 pound king Mayweather don't talk to the press? And why is Bernard Hopkins who doesn't challenge himself and move up in weight even considered the pound 4 pound best?  Sup!! Do you think Forrest will come back as a welterweight? Also is Kelvin Davis still fighting O neil Bell on the undercard of the Zab Judah fight? Thanx in advance
Jalik Poet/Rapper DelawareLeon's Response: They're not fooling US, but unfortunately knowledgeable boxing fans are few and far between. Vivian Harris has a big right hand but I wouldn't necessarily say he's a one punch knockout artist. Vivian Harris turned down $750,000 to fight Hatton and $200,000 to fight Abdullaev on HBO. If he would have taken those fights I don't think he'd still be on the outside looking in. If boxing were like wrestling, perhaps we'd see more sold out arena's. LOL. Mayweather isn't the pound for pound king, Bernard Hopkins is. Mayweather doesn't talk to the press at all, probably because he's afraid the majority of them are going to focus on his personal and legal troubles. In either case, he'll NEVER be a PPV star if he doesn't mesh with the press A LOT better than he is right now. With all the money going back down to 147, I'm pretty sure he'll at least try to make the weight. If he doesn't there's still a lot of attractive, though not really lucrative, fights at junior middleweight. Unless something drastic happened over the weekend that I don't know about, I don't think they'll be fighting this weekend.
Hi, I'm a LOYAL Boxingtalk member, and have been for since membership was first offerred. I have to say I llove the site, and could not imagine life without it HONESTLY. I used to have 2 or 3 boxing websites that I would visit about 5 or 6 times a day each. But now I have a browser window open all day long, and Boxingtalk is the site loaded on it. The only reason that I visit any other boxing site, is to see a schedule of Televised fights. Which leads me to my suggestion. I'd like to see boxingtalk have a page, which contains a schedulke of TV fights, for the upcoming month, or whatever amount of time you deem necessary. I know this could be a dufficult task, when you consider, fights are broadcasted all over the world at prety much all times. But all I really need is a scedule of TV fights in the US, and if you want to narrow it down just Direct TV in Riverside California :) Thank you very much for your time, I want to thank you for all of the time you take to inform fans like me, as to what goes on in the sport of boxing, I reallly appreciate all of the hard work you do to get the major scoops. Oh as I finish this email another request dawned on me, I would like to request some information on how to attain some Boxingtalk gear, I 've always wanted one of those Boxingtalk T-Shirts, and would love the opportunity to get other Boxingtalk gear. Either free or for money (the first choice is the preferred :) Thanks. Always been a Boxingtalk member, always will be.
Michael CorreaLeon's Response: Thanks for all of your support Michael, we truly appreciate it. Boxingtalk.com gear will soon be available to all, I'm in the process of working on a few things, but rest assured, we've got a lot of surprises in store.
I am a boxing fan and i was wondering if you could get any kind of information on Juan Manuel Marquez and the fight that fell through with Pacquiao? I was wondering what the deal was? Did he really feel he could get 1.5 million? Was he not really interested in facing Manny again and purposely priced himself out of the fight? Was he just negotiating to try and get purse parity? Why doesn't he call someone out and try to set up a fight with Barerra? Or anyone at all? The man complains about being obscure and wants the big money fights but he basically a boxing hermit. He needs to be in the limelight a little more and fight moreif he wants the recognition. I am a big fan of his but I have to admit I am very disappointed in the way Nacho Beristein has been guiding his career. Not enough exposure to the public. Seems like a waste of talent to me. He gained a lot of respect for the way he toughed out a draw with Manny after getting hammered in the first round. All that momentum will soon be gone. Thanks and I hope you can dig up something or even get an interview with one of them two. Have a good one!
Leon's Response: This is the kind of juice that you'll only find in a Boxingtalk mailbag. I wouldn't be surprised if Juan Manuel Marquez was the next Top Rank fighter to appear on Showtime. Remember Where You Heard It First. Marquez was not satisfied with the money so he didn't take it. Boxing fans suffer, but Marquez is entitled to do what he feels is best for him. I'm sure Top Rank was crying over it, since they're probably making more money off of Morales-Pacquiao, and in addition to that Arum received Feb. 26 from HBO for his next mismatch between Miguel Cotto and DeMarcus Corley.
I like Chico a lot, and I understand that he was probably being d__ed around a little bit, but if he really wanted to fight the best he would have signed the contract. But the Artie guy apears to be the problem, but hey, he gave him the options when he fought Freitas, so he knows he has to live with it. How many options did he give up, and when do they expire?
JBLeon's Response: He didn't get the contract until last week. It's not as if he was sitting around with the contract for a week. He received the contract and was told that if he didn't sign it in an hour the fight was off. This after two weeks of behind the scenes conference calls between many of the involved parties. He received two or three options. Diego wanted the fight and I still think him and Castillo will mix it up one day. Chico's never been one to duck anybody. Chico feels he should have gotten a $1M purse, after beating Casamayor and Freitas in consecutive fights, and I'm pretty sure many boxing fans probably agree with him.
What's up it's Deadlyonetwo3, I gotta say, that Zab Judah TNT chat was by FAR the best one EVER done and published on the site. If Zab Judah wins this fight, (and I truly expect him to) GET THIS MAN OUT THERE, BRING him to BOXINGTALK as much as POSSIBLE because he is CHARASMATIC. This guy's been slammed for his in ring antics, but in truth, he's an extremely talented fighter. Add to that his obviously fan friendly mouth and this guy should be one of the superstars in this sport. You guys got a real POTENTIAL BLOCKBUSTER of a buildup going on there between Judah and Cintron. This website can PERSONALLY make this a big fight! You guys have been on it since day 1, and I know Zab loves calling him "Kermit the Frog" and I guarantee you it's a can't lose situation. MUCH respect for getting Judah in the chat, I'm sure you recognize as I do how well it went. On a little bit of a side note, I'll be at the Gatti-Leija fight and weigh in with press credentials. My trainer wants to introduce me to the Main Events guys, and I'm gonna be working with Gatti's strength and conditioning coach in the near future, but KEEP AN EYE ON DENNIS SHARPE (I've mentioned him to you BRIEFLY before) in his bout vs Giovanni Lorenzo. This is a big fight for both men, Two undefeated Middleweights battling it out. Dennis is an EXTREMELY crowd pleasing fighter, never in a dull one. If he wins this bout, he'll definitely be seen on national television in the near future. Depending on how the bout turns out, maybe you'd like to get him on the site? Let me know what you think, AND KEEP UP THE GREAT WORK
Leon's Response: What's going on brother? Glad you enjoyed that chat. Judah always makes it hot in the chat-room and he seems to have a tremendous following of fans on the internet. Hope everything works out with you and Main Events, they know what they're doing. As is the case with every promotional outfit in boxing though, be careful what you sign. LOL.
DEAR BOXINGTALK,MAN IM GLAD I FOUND YOU GUYS . ALTHOUGH I AM NOT A FULL FLEDGED MEMBER (DUE TO THE BOSS, MY WIFE, NOT LETTING ME SPEND THE FUNDS) I AM AN AVID VISITOR. ANYWAYS, DIEGO IS A TRUE PEOPLES CHAMP BUT IS OBVIOUSLY REPRESENTED BY THE WRONG PEOPLE. DON'T LET HIM BE A HAGLER OR HOPKINS I KNOW YOU GUYS TALK TO OSCAR AND BERNANRD ALOT SO TELL THEM TO PUT DIEGO ON THEIR STABLE . AND WHATS UP WITH PANCHITO BOJADO. I LIKE THAT HE HAS A NEW TRAINER BUT WHATS UP WITH MAIN EVENTS INACTIVITY FOR SOME OF THEIR KEY FIGHTERS. ANY WAY I HOPE THAT YOU FIND TIME TO DROP A LINE BACK OR POST IT TO YOUR WEB SITE.
Leon's Response: In a recent discussion I had with Diego's promoter Gary Shaw, I was informed that Diego's contract is IRON-CLAD. Suggesting that he should go anywhere else while Gary has him under contract would be foolish of me. Boxingtalk will keep you posted as more information regarding Corrales immediate future comes in so stay tuned to the front page at all times.
Calvin Brock ought to be ashamed of himself calling out Mike Tyson. What would Mike Tyson do to further his career?! I saw his fight with Black Rhino and I was not impressed by him. He may hit solid but he was very sloppy. Not to mention he had a suspect chin in front of him. Calvin reach for the stars in this game. Tyson's time has gone. Call out Monte Barrett, Jameel McCline, or Samuel Peter. Someone that will ensure you of where you are or rank.
Big T BklynLeon's Response: I don't think he should be ashamed of himself. Love him or hate him, Tyson fights bring big bucks. Brock would probably make more money fighting Tyson than ANY of the four champions. Brock is still a work in progress and I don't think him beating Etienne establishes him a serious heavyweight at all. I'd like to see Brock fight Michael Moorer next, maybe even Vassiliy Jirov if Jirov plans to stay at heavyweight.
Floyd Mayweather just dont make no sense to me. He fights Henry Brusles for what? No gain in that fight. But he wont fight Vivian Harris, who if Mayweather believes the words that come out of his own mouth, should be able to beat easily. And so what if there is no reward in fighting Harris in terms of $$$ just cause Harris is little known. The reward is the WBA belt and recognition as a genuine threat to the division! What reward was in the Brusles fight, no money, no belt, no recognition. Pretty Boy talked about the fight as a tune up, when he fought 8 months before then. Gee if people took tune ups cause they hadn't fought in a measly 8 months, then we'd never get a chance to see any superfights. What a disappointment, lets just hope the Gatti fight doesn't fall through.
Brad, AustraliaLeon's Response:  Mayweather fighting Harris, ELIMINATES him from the running for a Gatti fight. You can't challenge for the WBA title and maintain mandatory status in the WBC. Mayweather-Bruseles was a joke, but for Team Mayweather, it was high reward NO RISK, so they did a great job getting HBO to pay for that garbage. HBO oughta be ashamed of themselves for consistently putting on Bob Arum mismatches. Cotto-Corley? Can someone get me a barf bag!
CLICK HERE FOR MORE...IT'S FREE TODAY
Send questions and comments to: gleon@boxingtalk.net