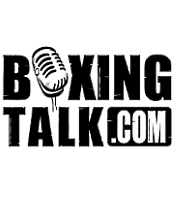 On Aug 4 Welterweight Paul Delgado (14-5, 2 KO's) takes on Demetrius Hopkins (19-0-1, 6 KO's) at the Borgata Hotel & Casino in Atlantic City, NJ. Boxingtalk spoke with Delgado about his upcoming fight and more. See what he had to say!
Jose Aguirre: Tell us about this fight coming up on Aug 4th. How's training been going?
Paul Delgado:"Training is defenitely going great. We added another member to the team. We have another trainer and we're working on some new things. My whole career I have been sort of training  on a part time basis but now I have commited myself to training full time. I have cut back on the work and I'm highly involved inmy training. I decided to put everything else aside and focus on boxing. Ever since I made that transition it's been going great. I've never been in this kind of condition before in my life. I have a personal trainer now and I'm doing the right thing."
JA: So adding the trainer and doing it full time has been a plus for you?
PD:"Oh it has been a plus. My punching ability has been improving. I always improved on a part time basis and now I've really improved tremendously. being able to focus and train properly. I have never given myself that chance or opportunity or even attempted to do it at that level and I'm doing it now and it makes a world of s differnce."
JA:" You have fought twice this year so far. Tell those who were not able to see it how your last fight on May 5 against Marty Robbins. How did that fight turn out?
PD:"It turned out great. It was the first time working with the new trainers that I'm working with Delmon Smith. I'm still with Karl Davis but he's kind of taking on the responsibility of the head trainer. I've always been a decent boxer and we needed to add the ability to punch and some other things that I needed to add to my game and that's what Delmon Smith has bought to the table. That's what we worked on for that fight even though we didn't get him out of there. Had we had a couple more rounds we had him. He was stumbling all over the place and we were able to sit down on our punches and really work on throwing our shots properly."
JA: The judges gave you each and every round so it was you all the way.
PD:"Yeah pretty much every round. I had him wobbled just about every single round. He's a cagey veteran who held on and knew how to survive and it went the distance."
JA: On Aug 4 you'll be facing Demetrius Hopkins. Are there any concerns for you going into this fight?
PD:"No. Our only concern is we don't want to give him too much distance. We want to stay away from his range. He's tall and we don't want to stay on the outside. We want to smother him and his right hand. He has a decent straight right hand. That's the only thing we really need to watch out for. He's not a big puncher and we're just going  to smother him and make him fight 12 straight rounds."
JA: Has your team obtained tapes of his fight and if so which are you looking at?
PD:"We have four (fights). We have his last three and his pro debut so we're looking at how he started and how he ended. He's a solid boxer but nothing special. Not much of a puncher and he can't fight going backwards. We're going to make him fight. He likes to fight in spurts and pick his spots and we're going to make him fight all the time."
JA: Tell the people what we can expect from you come fight time.
PD:"You can expect to see a different Paul Delgado. Not just a boxer. I have shown most of the boxing world that I can box against the best of them but now I'm a puncher also. You're going to see a complete boxer puncher this time and this will be very exciting fight."
JA: You seem to be a guy who continues to take on undefeated fighters. What can you tell us about that?
PD:"I love the challenge. I've done great against undefeated fighters. First it started with Paul Malignaggi and everybody knows I beat him in that fight but they gave him the split decision. Then I went on to fight Wilmer Torres, an undefeated Kronk fighter and beat him who was 13-0 at the time. Then I turned around and fought Malignaggi again. He got that one, I give him that. Then Dimitri Salita. I've done well against undefeated fighters. Undefeated doesn't really faze me. I love the challenge. I don't duck anyone. I'm a fighter. I do what I do becasue I love it not because I need the money."
JA: If there is anything you've learned from facing these undefeated fighters what is that?
PD:"I've learned a whole lot. I've learned if you're going to fight these undefeated fighters you really need to train properly. That's what I haven't done in the past. What I was doing is working all day long and balancing family life, going to the gym for one hour a day and that's not enough. I wasn't giving myself a fair shot. That's what I really learned. That's the only differnce between the undefeated guys and Paul Delgado."
JA: Should you win what do you hope this fight does for you and your career?
PD:"It defenitely erases all the loses and that's what I plan to do, erase the memories of the past. I'm going into this fight looking at myself as if this is a new beginning for me. That it is and we're preparing for victory."
JA: Is there anything you want to say in closing?
PD:"Yeah, I would like to say that I'm back, I'm back, I'm back and I'm going to make a statement on Aug 4."