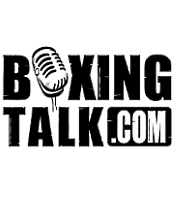 Undefeated Featherweight prospect Gary Stark Jr was scheduled to fight on the third installment of Dash/DiBella Promotions Broadway Boxing at the Hammerstein Ballroom on Thursday April 28. An opponent could not be secured within the required time so Stark will not be performing on this night. Disappointed and frustrated it's back to the drawing board for the young charge. Boxingtalk spoke to Gary who shared his thoughts on not fighting on Thursday's card and what it does to him mentally. He speaks about wanting to get into the ring and what he believes being out of the ring does or doesn't do to a fighter. See what else he had to say.
Jose Aguirre: Word is you won't be fighting Thursday at the Hammerstein Ballroom. What's the reason behind that?
Gary Starks Jr:"We tried to get some good opponents. I had alot of guys that backed out and alot of guys that said we'll fight him next time. It just didn't happen like we planned it.We had a long time to get an opponent but we tried and couldn' do it."
JA: How disappointing is it to you wanting to get it on in your hometown of New York City and have no opponent?
GS:"Aw man, I'm depressed over here. I was training hard. I had people wanting to go to the fights. Then you're with the hometown crowd. You have Dame (Dash) and Cam'ron expecting you to fight and you don't fight. It isn't meant to be now I guess."
JA: What does a situation like this one do to you mentally?
GS:"We just have to go back to the gym. I just went back to the gym today. Just have to get ready for the next one. It's hard for me because I'm not a big dude to get fights all the time. I'm just patiently waiting and see what's going on."
JA: How do you fell your training went and how prepared were you for the fight in which you were supposed to have?
GS:"Oh I was ready. I didn't know who I was fighting anyway. All I know is I was training real hard and whoever was going to be that person we were fighting they were going to get knocked off. It didn't really matter who I was fighting it was a matter if I would fight."
JA: Being a Golden Gloves champion where you never knew who you were fighting and what type of style they would bring I'm sure that not knowing who your opponent would have been wasn't a big thing for you.
GS:"Actually it wasn't. I have great sparring with Robert Semidei, four time NY Golden Gloves champion, Charles "Get Cracked" Vanderveer, Jason Litzau  and Allen Litzau. The big time prospect in the boxing world right now. Jason's 14 and 0 with fourteen knockouts and his brother's like 5 and 1. I had good sparring. I had tall guys, short guys, small guys so whoever I was fighting I was getting ready for. I had good sparing for thhis and it wasn't meant to be.  Hopefully I'll get a fight soon."
JA: What kind of negative effect can it be on you that you haven't been in the ring since January?
GS:"You know. The way this is right now I'm sort of used to it. The thing with me is that I can't get the ring rust and that's why I'm always in the gym. And the way I'm fighting now it's more back to back then it was last year where I would fight one month and then six months later I would fight again. You never get used to it but you can say I'm used to it."
JA: If there was one thing you could tell people about you that maybe thy do not know, what would that be?
GS:"I don't know. I guess that I'm a good kid. I'm a real humble dude but when I get in the ring it's all business. The evil dude comes out but as soon as I get in the ring it's all about trying to knock somebody out or beating up the dude real bad. My next opponent better be ready because I've been ready for a long
time now."
JA: Tell me what feeling you get in that ring as opposed to be outside the ring.
GS:"I love it. I love being the center of attention. I love people screaming my name. I like to be that dude and that's why I box and train hard all the time because I want to be that dude. I want to be the champ. Then I want people to recognize me when I go in the street and be like damn that dude "Kid" is  a cool dude. That's what I want to do."
JA: How does it feel to be one of the first guys to put the hip-hop world and the boxing world together?
GS:"Being with Dame for such a long time I see the people that are trying to get with Dame now and I'm just a fortunate dude to have known him before all that. And it feels real good being his first boxer. He even says I'm his first boxer, his O.G boxer. It feels good and I'm very fortunate. I'm happy that Dame took me under his wing for such a long time. When I first asked him to manage me he told me he really didn't know too much about the boxing business. I told him I wanted him to be my manager, to be my guide. He said he would do it just because he was a good dude. He told me not too worry about it. He said once he learned this business he was going to make me hot. Those were his words "I'm going to make you hot." I waited all this time and he was supporting me by paying for opponents. Imagine if I didn't have him in my corner I would have been three and 0, four and 0. Now it cost money to get the right opponent. These dudes want alot of money. That's why I didn't fight this time. Fighters want alot of money for six rounders, eight rounders. With him he said it and he did it. Starting to do a promotional thing. I owe alot to Dame. People don't know how a good dude he is. Dame is like my savior sort of."
JA: Dame said he would learn the game and make you hot and then got with Lou DiBella to learn it. What are your thoughts on that?
GS:"That's great. That's a great person to do it with. Lou's from New York. Everything happens for a reason. Now we doing this Broadway Boxing thing  and it's good that all New York fighters get established. Everyone always talk about the West coast and how they always have fights over there. So it's a great thing that Dame hooked up with DiBella but I guarantee you that even if he wasn't with DiBella he would have found a way to do it anyway. That's the type of person he is. Whatever he says he's going to do he's doing it. If it wasn't for him I wouldn't be on these tv shows and modeling gigs I have. People starting to really know my name and that's why they really don't want to fight right now. They think I'm like a Pacquiao or Barrera (laughing) I'm not like that yet."
JA: If there is anything you could say to all the fighters in your division, who are in your level and are up and coming or think they could deal with what you bring, what would that be?
GS:"Be ready. I'm from New York. I'm a tough dude and I'm hungry. Be ready for tough fight. You know me I don't put fighters down but just know that I'm always in the gym. I have a good stable of people around me. I have Lou Collazo the WBA welterweight champ. I have the Chin Checkers, Charles, Mint. I have Jason Litzsau. Everybody is working. We come from a good stable of fighters. They know when they mess with a dude from Starrett City or any New York gym they have to deal with something vicious."