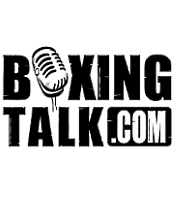 Darnell Wilson is waiting for his phone to "ding-a-ling" with an offer to fight anywhere, anytime, against anyone. He guaranteed he would make someone's head "ding-a-ling" if given the chance. Ding-A-Ling Man, as Darnell is known has been staying in shape and is ready now. If things go well for Wilson he should be stepping into the ring on March 10th in Glen Burnie, MD. He speaks to Boxingtalk about his last two fights which both ended in draws. He also shares his feelings on fights with Montell Griffin and Eric Harding as well as what he brings to the table in this sport of boxing. Don't miss out on what he had to say.
Jose Aguirre: Hey Darnell, how is everything going?
Darnell Wilson: "Everything is good. Just trying to fight."
JA: Have you been in the gym staying in shape?
DW: "I'm in shape. I'm ready to go right now. I'm actually in camp with Rubin Williams right now."
JA: Any idea when we can expect you back in the ring?
DW: "I may be fighting March 10th at the ballroom in Glen Burnie."
JA: Any names of a possible opponent?
DW: "Man, that's always the issue but they're going to try and find somebody."
JA: The last time you were in the ring was late last year (Aug 3rd) when you had a draw with George Khalid Jones. What can you tell us about that fight?
DW: "He was my big opportunity. I would say he was my first world class opponent. I went in there with the wrong game plan. The strategy went out the window when I got the headbutt. I kind of went off the gameplan and tried to take his head off. Then I actually ended up winning those rounds. Like round five, six and seven when I had nothing he outboxed me. Then I closed the show by almost stopping him in the eight round. i almost had him out. Then in the ninth round I hurt him bad again. I closed the last three rounds. It was a draw. One of  the ESPN commentators had it a draw, the other had me winning by a round. I still didn't go to the body as much and I didn't use my talent as I should have. But he (George Khalid Jones) was talking about how he was going to fight me again. I tried to fight him several times already. Even in his hometown willing to take alot less money than what I got paid that night."
JA: Looking back your last two fights have ended in draws. Is that disappointing to you and does it tell you something about yourself when in that ring?
DW: "Well the George Jones fight is what it is. Me, I don't even like to hear excuses and I definitely don't like making excuses but that fight was a bummer. My coach is a real tough, hard as nail guy. I was physically weak and he was going to pull me out of the fight. I was taking two water pills a day. I couldn't even spar a round. He had me stay home. I couldn't run or do anything. He was going to pull me out but I begged him. It was on SHOWTIME, please let me fight. This was my big opportunity. I did close the show though. Everyone thought I won but it wasn't me. I had no strength."
JA: Now the year has begun and you have yet to step in the ring. What can we expect from you once you steo into the ring in 2005?
DW: "You'll see my balance is much improved. Better boxing. I'll have a better finishing though. i'm known as a great finisher but I just feel i'm alot sharper with my puches. My punches are shorter and tighter. Everybody who has seen me fight knows if I catch someone clean with a sharper punch it's over. And that Montell Griffin thing is upsetting."
JA: Speaking of Montell Griffin, he's coming off a unanimous decision win over Sam Reese, a guy whom you knocked out in the 3rd round in 2002. Give us your thoughts about Montell Griffin choosing to fight Sam Reese.
DW: "First of all Montell is someone I always looked up to. Respected. Skills. Damn good fighter but I know I have the skills to catch him and get him out of there. I mean I know it. That's why I was willing to fight him for peanuts. And I knew he was fighting Sam Reese on that date way before the fight happened. I was trying like hell talking to his people to try and make the fight happen. Then they talked about how they had the opponent and then I find out they were fighting Reese and I was like what the hell!!? I said I would fight him for a thousand dollars less. Give me a thousand less. I'm a much more credible opponent. I'm rated. This is someone I stopped in the third round. It's just a little upsetting especially from that Dec 10th date when he was scheduled to fight and they lied and said he had an opponent. I was there waiting in line to try to fight him because I knew he was fighting on that date since a month before. I'm like damn, what's up with that. I'm a devastating puncher and I don't get hurt much. I don' go down."
JA: Your record shows your a pucher. Do you feel that causes hesitation from possible opponents facing you?
DW: "Not just the power, it's like I'm real gutsy. I could stop you late. Alot of punchers can't take a punch. Me, I walk right through punchers and I'm still trying to stop you. You know I stop guys late. I want to look forward to that. I started boxing pretty late so i'm only getting better."
JA: Share your thoughts on the light heavyweight division as a whole.
DW: "Aw man, I think it's pretty talent rich at the moment. There are a couple of good fighters over seas. It's just wide open right now. You have your veterans like Glen Johnson. Great guy, love that guy but he's talior-made for me thought. (Antonio)Tarver whatever he's going to do. My man Roy (Jones). Always love Roy. Still the best to me I don't care what happened. I know he's going to come back and spank those two if he gets the chance. You have Rico Hoye who is undeserving because Montell clearly, clearly won that fight. They gave me an offer to fight him before and I said yes immediately and they chose to fight another opponent but then that fight fell through because he got the shot with Richard Hall. I understand that decision. I want to fight whoever. i want to fight those that are considered the best. I don't want to fight no punks. It's not motivating. I need to get in the ring. I had some promotional issues that I had to deal with. I'm a free man now."
JA: Where do you see yourself fitting in at the light heavyweight division?
DW: "I'm going right through them. That's why I was trying to get a guy like Montell. Before I went with a promoter if I had a big name guy under my belt then it could put me right there instantly. See with George Jones, I spoke with the WBA and they're forcing him to fight me. But I learned that they're trying to get him to fight the winner of Fabrice Tiozzo and Dariusz Michalczewski for the WBA title. So I have people working on trying to get me and him to fight for the mandatory spot. I spoke with Nettles (Nasser), his trainer and he was kind of honest. He said we're really not looking forward to fighting you. You're real strong and we would rather fight you more down the line then next. he came real with it. I hurt him really, really bad. Everytime I caught him with a shot he was hurt. And everytime he caught me with stuff I just walked right through it. That's kind of discouraging."
JA: How anxious are you to step back into the ring?
DW: "I'm dieing to get inthe ring. It's killing me. Looks like I may have a couple of things coming up back to back."
JA: Is there anything you want to say in closing?
DW: "I've always gotten alot of support from the fans. I'm always going to give them everything I have. No matter what. Eyes cut wide open. Just look forward to me hopefully getting a title shot and taking it. I will unify the division immediately. I'm not impressed by the champs at all. Help me and get these guys to jump in the ring with me. I'm still learning but I think with what I know right now, I know I can beat whoever is out there. Eric Harding and I were at the Blue Horizon the other night. He's good people. I think he's probably stylisticly the toughest opponent for me but I know I can beat him. He can't handle going backwards to well. But he isn't a punk like the others."
CLICK HERE FOR MORE OF THIS EXCLUSIVE
Send questions and comments to: onfireboxing@verizon.net