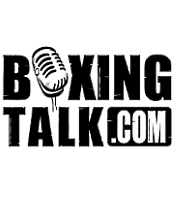 JA:  This being his third title defense, what do you as his trainer look for him to do in this fight?
RS:"I have to have Juan do what he does best. Juan throws alot of combinations. That's one of the things he does best so that's what we're going to continue to do."
JA: As a trainer do you study tapes of opponents in order to prepare your fighters to go up against them in the ring?
RS:"Absolutely, without a doubt."
JA: Can you elaborate if you have watched any of Ebo Elder's fight,? Which fights and why?
RS:"I like to watch all of them. I like to get as many tapes as I can and watch as many as I can. I don't specificially one fighter he fought or another because nobody that he's ever fought fight like Juan Diaz. I just watch different things just to see some of the things that he does good. But to say that I sit there and watch one fight, no I don't."
JA: From watching his fights what do you expect from Ebo Elder?
RS:"I'm expecting for Ebo to be in great shape. This is his opportunity to become champion of the world. When I'm watching a tape or studying anybody I expect them to be in top shape like I expect my fighter to be in great shape. I expect him to come in there and try to win the fight. He's not coming into a world title fight to lose. I know he's going to come in and try to give it his all. Juan Diaz is in shape all the time. I'm not worrying about the kind of shape Juan Diaz is going to be in because I know he's going to be in great shape."
JA: Did you get the chance to see Ebo Elder's last fight with Courtney Burton and if so what does that fight tell you about Ebo as a fighter?
RS:"It shows me that he has alot of heart. I did see the fight and it showed me that Ebo has alot of heart. He's a good fighter. You can't take anything away from him. He believes in himself and that sixty percent of boxing, to believe in yourself that you can do something. hen he was down and out he came back so that's a good thing."
JA: Juan Diaz is a high volume, come forward fighter as is Ebo Elder. What type of fight do you see this being or do you plan change anything that we've seen in Juan Diaz?
RS:"We're going to change a few things. We have to change a few things. if you look at Juan's last three fights he fought all three of them different. He has not fought the same and that's on purpose to keep people guessing. What are they going to do this time? What are they going to do that time? If you go back and watch Diaz' last three fights you will see they all look different."
JA: What could you tell us about Juan Diaz as the fighter that we don't see in the gym and outside of the gym and ring?
RS:"Inside of the gym Juan Diaz is one of the best conditioned fighters I ever seen in my life. He reminds me of a young (Evander) Holyfield as far as his work ethics are concerned. He never lets himself get completely out of shape. Always works hard. Sometimes we have to run him out the gym. He's that kind of kid. Ouside of the gym Juan wants to be a lawyer. He wants to be able to help professional fighters one day. He attends the University of Houston and he realizes one day that his boxing career is going to end one day so he wants to have something to fall back on. He wants to be a lawyer. I commend him highly for that. He's only 21 years old and he's a very, very smart kid. He realizes that his future in boxing is limited but his future in life has longevity. He realizes he could do the best he can in boxing but he also realizes he has a world in front of him. I highly respect him for that."
JA: You've worked with great fighters and champions. Name a few that you've worked with and how does Juan Diaz stack up to how those fighters were?
RS:"I compared one already in Evander Holyfield. I think he has the same work ethics as Holyfield did when he came up. The same with Pernell Whitaker, Meldrick Taylor, John John Molina, Vernon Forrest. Just all the guys. He has the same work ethics as all these guys. These guys that I just named were champions of the world. This is why Juan Diaz is champion of the world, because he understands the ins and outs of boxing. He understands in order for him to win the world championship each fight he has to progress. He knew it would be hard work and he did that. he went out and he showed everyone. He's was 20 years old when he won the title. He's the youngest champion in boxing right now today. That says alot for a young kid. He's much more mature than alot of people probably realize."
JA: What's the most important thing in between those rounds to you?
RS:"For me the most important thing is to make sure that I'm on the same page as my guy at all times. If he's losing or something I have to show that I have confidence in him. To stick to the gameplan and always make sure every fighter tha I work with sticks with the gameplan. If that doesn't work we'll have a second game plan. Then we'll switch to that."
JA: In your experience in the many years that yo've been in boxing wat has been the toughest thing for you with a fighter?
RS:"To stop a fight. To realize when my guy has had enough. That's probably the hardest thing in the world for any trainer. if you care about your fighter then you have to protect him. That's whay they hire you. They hire you to train him but the also hire you to protect him. I have no qualms in doing that because I've done that on many occasions."
JA: As a trainer what has been the highlight of your career?
RS:"I've had back to back highlights actually within the last year. The first being when Juan Diaz won his title. My second highlight was when another fighter I have, 115lbs named Ivan "Choco" Hernandez, knocked out Mark "Too Sharp" Johnson to win the WBO title. Right now Juan is 21 years old and he is the WBA champion and Ivan Hernandez who is the WBO junior bantamweight chmpion. I have two of the youngest world champions in boxing right now."
JA: What can we expect from Juan Diaz come April 23rd?
RS:"I'm expecting alot from Juan. He listens real well in the corner. We're just taking it round by round. We're taking Ebo very serious like we do everyone. Juan listens so if we have to make any changes we could make the adjustments. We are expecting a great fight. The public who are going to buy the pay-per-view and be there live are in store for a really, really good fight."
JA: Is there anything you want to say to the boxing public and people all around the world on Boxingtalk.com?
RS:"Yeah, just to keep on reading all the things you guys are putting on Boxingtalk because you guys do reall good work and I'm glad you're keeping up with the lighter weight divisions because the lighter weight divisions are the hottest in boxing right now. You guys are really doing a good on your website."
Send questions and comments to: onfireboxing@Verizon.net